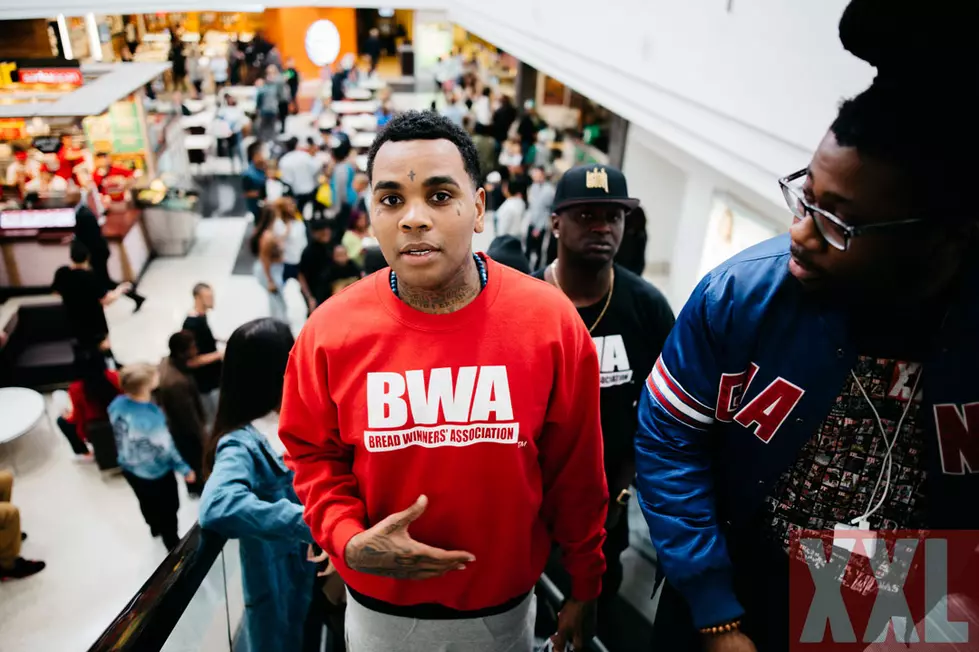 Kevin Gates Discusses Growth on 'Islah' Album and His Overwhelming Presence
Diwang Valdez for XXL
I Made It
He's carved out his lane in the game and now Kevin Gates is focused on expanding it.
Words Emmanuel C.M.
Editor's Note: This story originally appeared in the Winter 2015 issue of of XXL Magazine, on stands now.
After five hours of shopping at Atlanta's Lenox Mall, Kevin Gates is a bit tired. So far he's bought two-dozen Ralph Lauren black and white t-shirts, a bunch of colorful socks, a flight jacket, two fedoras and a pair of Nike Tech Fleece men's pants. Now in the ninth store, Champs, the 6'3" bulky street poet sits down to wait for the salesman to bring out some shoes he requested. Gates can't leave the mall without copping a pair of all white Air Force 1s, the last item on his list for the day.
It's a surprisingly warm mid-November afternoon and the New Orleans native is in A-Town on the second night of the 21-stop promo tour for his debut album, Islah. The LP, released in early December via Gates' BWA label and Atlantic Records, is a long time coming for the 29-year-old hardened rhyme slinger who's dropped well over a dozen mixtapes in the last nine years. The most notable being 2013's Stranger Than Fiction and 2014's By Any Means and Luca Brasi 2.
The former XXL Freshman has built a cult following for himself with the rawness and honesty in both his music and his social networking. On Instagram Gates has amassed over 2.4 million followers thanks to an immense amount of posts showcasing all sides of his life -- and some more outlandish ones that come up easily in a Google search for Kevin and the popular social platform. It's almost like must see reality television without a network and it's gained him a ton of new fans.
Throughout the six-hour trip in the mall, fans swarmed around Gates. Dudes gave him pounds and what ups, and many of the ladies were smitten with the tatted up MC, while others made it abundantly clear they had a crush. An hour later, while chilling in Downtown Atlanta in a black Infiniti Qx80 SUV outside of The Tabernacle, an old church that now acts as a popular night spot for live music in ATL, Gates talks with XXL before his sold-out show. He candidly discusses his recent marriage to longtime girlfriend Dreka Hayes and the importance of family, the arrival of his long-awaited debut album, his Instagram craze and what people really think of him. Not that he really cares.
So have you been scared about the album finally coming out?
I don't have that fear no more. I had that fear when I was first droppin' a project, the butterflies is kind of gone. I heard the album. The bitch is raw.
Who picked the songs? How was it put together?
Me and Dreka, really. We weren't going for the sound, it was the vibe, it was the feel, the feel [that] exhibits maturity, the feel exhibits growth. I can see where I've gotten better as an artist. So that's where my appreciation comes from. I like the body of work. I'm cool with it.
When you say maturity and growth, what specifically do you mean? How have you grown as an artist?
The song quality, it's just different. The way the songs are put together and arranged. I don't mean like the tracklisting or the body of work. It's not boring on the ears, the flow pattern and everything. It's just beautiful. I got better.
You named your album Islah, after your daughter. How come?
Because it's my first album and [Islah] was my first daughter. I'm kind of metaphoric when I think.
It seems like you're a real family man. Is that the case?
I always wanted a family. I used to live with my grandmother. I used to wonder why the other kids in school went home with their mothers and fathers. I wanted to be the guy that got married. I wanted to be the guy with the children and the white picket fence. I never had that. And these other people that say they come from the streets and don't aspire to have a family. What's good about the streets? Once you grow to the realization, that hold on the game is rigged. These dudes with money that's ballin' out here, they are rats. Once you see that it's really bullshit, why not want a family? I like being with my family. That's my party.
You got married this past October to your longtime girlfriend. How was that experience?
Marriage is the most wonderful thing ever. Like I be looking at women different. Dreka would come to me and sometimes say, "Kevin, thank you." And I would be like, "No, thank you." She be like, "No, Kevin, thank you for giving me a wonderful life." I say, "Dreka, you gave me a wonderful life because you was the first muthafucka to put me in college. I would of never went to college or never have the mentality to get out the ghetto if it wasn't for you. You the woman who made me want to live a better life and be better. You believed in me when I didn't believe in myself."
And she be like, "Kevin, thank you, because if it wasn't for you, I wouldn't experience what I'm experiencing right now. You're the man of my dreams." I look at other women and I want them to have the same thing that Dreka have. Like a good nigga, a nigga that's going to love you, a nigga that's going to rub your feet, a nigga that's going to pay attention to you. It saddens me that all women can't have that. Real women, not whores. It's only one Kevin Gates. And people be like, "Well, no, I don't want to get you in trouble with your wife." I can't get in trouble with my wife. I can only get in trouble with God. I made my vow under God. I always have been a one-woman guy type of person. I know that sounds lame, but the people that are players with the 10 women, you not happy, my nigga.
But now as a known rapper, women view you as a type of sex symbol. Look how they acted in the mall today. Not to sound crazy, but women run to you.
They run to the instructions. They like that because I give instructions and they run to that. Knowledge and wisdom is sexy. That's why Nas will always be attractive to women. Beyoncé probably looked at Nas before and was like, "Yeah, he nice looking, and he's intelligent, he could teach [me] things [I] never knew. He's something serious." Real talk.
What college did you go to?
I went to a community college. But had it not been for my beautiful wife, I wouldn't have ever attended college.
You and Dreka have been together for almost 14 years. How did you two first meet?
It was designed by the universe for us to meet. I never go to the place that I went where we met. I went somewhere in support of somebody else and I met her and we've been rockin' ever since.
You're kind of a wild guy to people. Why do you think some folks expect outrageous from you?
I'm so real to where...you speak the truth, a nigga will look at it as crazy. Ain't nothing crazy going on with me. My son speaks English, Portuguese and Spanish. My daughter speaks Spanish, Portuguese, Arabic and English. How am I not a good father? Now you got people that... white-collar individuals, their children are drug addicts, whores. I come from the gutta. I take my children to the gutta and show 'em. I never talk to my children like children. Islah is two. She can have a very intellectual conversation with you right now because I always talk to her. I don't talk that gangsta fly slang colloquialism with her. I speak to her correctly because I want her to speak correctly.
So does the general public -- who only see the occasional negative headlines about you and some of your crazier Instagram posts -- misunderstand you?
Everybody see it. It just the media chooses not to see it. People don't misunderstand me. You have negative people that paint me in a negative light because they are frustrated. But even though they are frustrated, let me tell you something. Love conquers all.
Your tenacity is very evident in your work ethic. You have put out a ton of quality music over the last few years.
I'm making it hard for these bitch-ass niggas out here. No disrespect to them but I'm applying pressure. One thing about Kevin Gates is that you're going to feel me. I know you feel it. You're going to hear about me in your street, in your city, because the earth is my turf. I look at the rap game like one big penitentiary [and] these rappers are police. They're going to tell on you when shit ain't going their way. But fuck it. They got some rappers I fucks with that's real niggas. I salute them, the other ones, fuck 'em.
Does your aura turn people off?
My presence is so overwhelming, a person that's not sure of themselves, they are going to be scared of it. 'Cause you know one thing, when I come in a room and look at your eyes, you know what Kevin Gates stands for. And I say that to say this, peace and blessings be upon everybody.