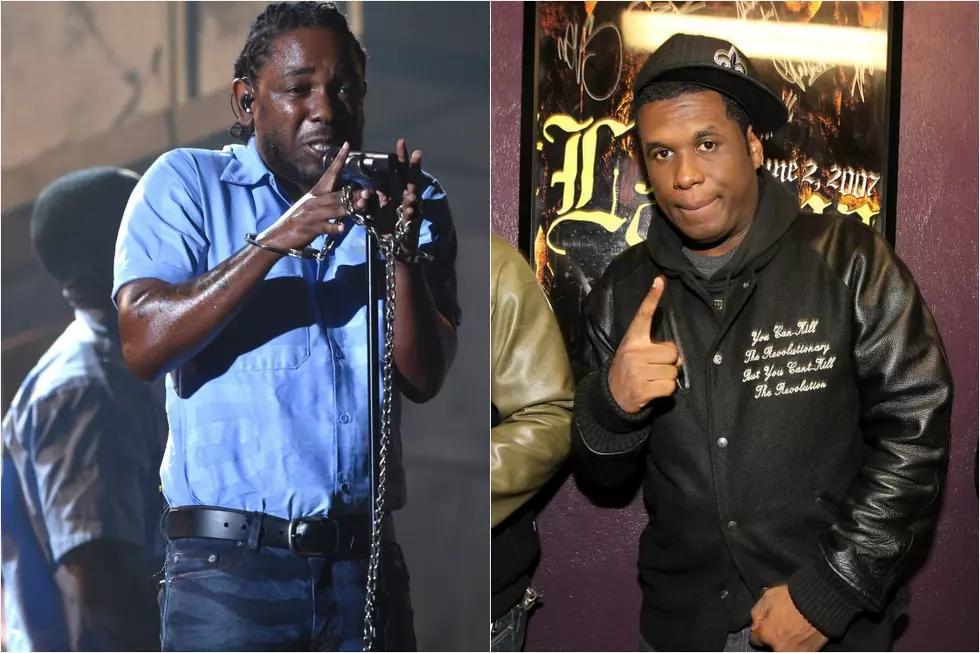 Kendrick Lamar Might Be Taking Shots at Jay Electronica on New Project
Chris Polk / Larry Busacca, Getty Images (2)
It looks like Kendrick Lamar has responded to stray shots fired by the one and only Jay Electronica via video chat weeks ago.
On track seven, the only one that mentions 2016 in the title, Kendrick seems to address detractors, and takes a special swipe at any who haven't been able to jumpstart their career yet. It might remind one of Jay Electronica, and the CEO of TDE seemed to confirm the thought when he tweed, "final warning. seriously."
The New Orleans native recently conducted a Periscope session with fans in which he touched on a number of topics and random ramblings, and gave some interesting answers. Concerning Kendrick Lamar, whom he rapped alongside on Big Sean's "Control," Elec doesn't seem convinced of his critical acclaim.
"Look, I like the one Kendrick song with Gunplay, 'Cartoon & Cereal,' but other than that we don't know what nigga talking about," Electronica said. He later added to the topic after one of his fans had some harsh words for Cornrow Kenny. "Don't say fuck Kendrick, that's still our brother," the rapper states. And moving further into the clip (at the 12:40-mark), he brings up Lamar again adding, "Kendrick is my son, Kendrick is my baby, Kendrick wishes he could be me."
Perhaps Jay Elect was mad about getting the spotlight stolen from him on "Control" all those years ago, but regardless, it looks like Kendrick isn't for all the games.
Kendrick surprise released his new album tonight (Mar. 3) to iTunes, Spotify, and other outlets.
See Kanye West's Recent Twitter Shenanigans