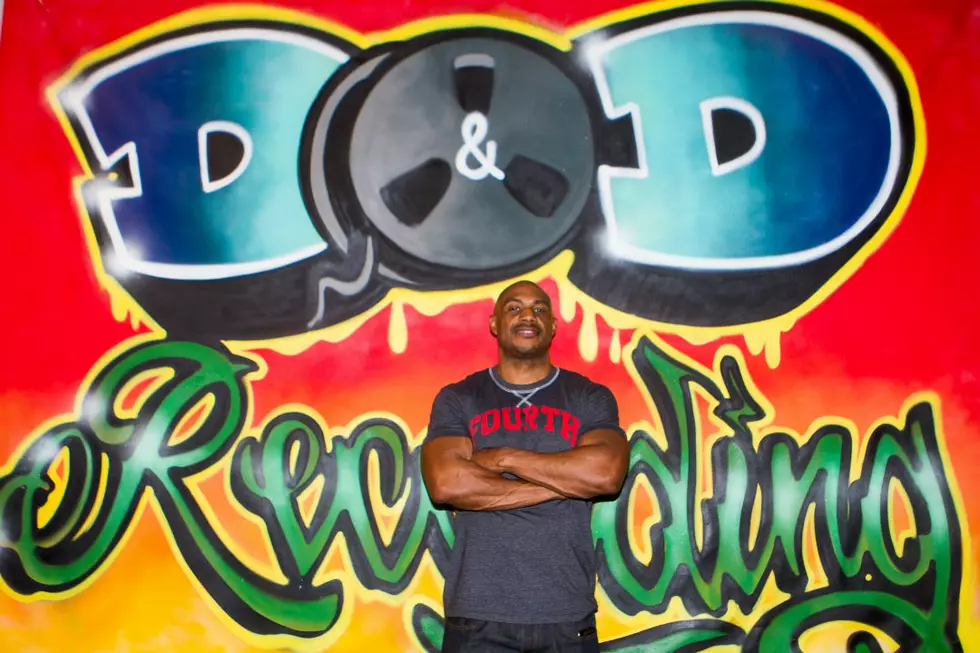 Kareem "Biggs" Burke Brings History to Life With 'Reasonable Doubt' Pop-Up Shop
Christian Fernandez
Kareem "Biggs" Burke is keeping the celebration going. The Roc-A-Fella Records co-founder continued to honor the 20th anniversary of Jay Z's debut album, Reasonable Doubt, with a pop-up shop in New York City this week following the success of the first pop-up launch in Los Angeles over the summer.
Biggs debuted a new collection in collaboration with Jay Z in honor of the classic 1996 hip-hop album and launched five new curated brand collaborations in partnership with Fancy.com, a company known for its music merch. Remodeled after the infamous D&D Studios, where the highly acclaimed album was recorded, the special pop-up shop showcases rare Roc-A-Fella and Reasonable Doubt memorabilia and original album artwork. With the original recording equipment from 1996 decorating the venue -- as part of a special art installation curated by Anel Pia -- those in attendance were taken back in time to the gritty New York studio.
With the Reasonable Doubt pop-up shop currently invading the city of New York, Hov fans can stop by 347 West Broadway in Manhattan to pick up exclusive Roc merch as well as clothing from Biggs new clothing line, Fourth of November. Open now through Sunday (Oct. 23), the pop-up hours run from 11 a.m. to 7 p.m.
XXL was in the building and got a chance to speak with the one and only Kareem "Biggs" Burke about the pop-up shop and the impact of Jay Z's Reasonable Doubt album 20 years later. Check out the conversation below.
XXL: How did the concept for the Reasonable Doubt New York pop-up shop come about?
Kareem "Biggs" Burke: I'll let her take the credit but Anel Pia, who's my chief strategist, she had this idea to do something really special for New York and when the Brooklyn Museum kind of fell out of place she came up with this idea of getting D&D Studios and recreate this whole thing that we did 20 years ago and just bring it to reality.
Although the album was recorded here in New York, you opened the first Reasonable Doubt pop-up in Los Angeles this summer. Why start in L.A. first and then do New York?
We did L.A. first and I was telling a lot of people this since they were asking why I did it outside of New York first. You see, when music artists tour, they usually don't do their home state first. You go on the road and you perfect what you're doing, so we decided to do that with the pop-up and we went through some kinks -- seeing what was good and what we could do better. I mean it was good to be on Fairfax, the Beverly Hills of streetwear, but we knew that with this one we wanted to knock it out the park, so we wanted to come to New York and give the people that New York feel and I mean what's more New York than D&D.
How involved were you in the creative process of the merchandise in the shop?
I co-designed some of the product, but a friend of mine named Chazz, I have another guy from Echelon Printing who really came up with some great ideas and the Fourth of November team, all my designers, they came together and we just talk back and forth. I might've tweaked some things, but I can't take all of the credit. A lot of that was Fourth of November.
How is this pop-up different than the rest of pop-up shops out there?
What we're trying to do is give the pop-up shop something a little different. It's an experience. It's not about, "Hey, just come in and see what we're selling." It's come get a piece of history and buy something that you can take with that was part of that history, so that's what we wanted to do.
Besides the Reasonable Doubt merch and pop-up you also have a clothing line of your own, Fourth of November. What's the story behind the brand?
Fourth of November, I acquired the company from a designer and a sister whose parents met in Ecuador on a street called Fourth of November so they wanted to pay homage to that love story and it just so happens that I'm getting married on the Fourth of November so the love story continues. It was about paying homage to denim, so we do a lot of things and T-shirts that are all based around denim like the denim jeans, all high-end selvage and, you know, we just give it that raw, good feeling.
The thing about Fourth of November is we wanted to have a brand that brings the lifestyle and the movement. A lot of people have clothing brands now, but when you have a brand, there's something behind it and a lot of people don't have the lifestyle or the movement. We have 20 years of history and we bringing something new to it.
It's been 20 years since Jay Z released his classic debut album. What memories go through your mind when you listen to the album nowadays?
I mean, we laughed all the time. Drinking 40s in the studio. Having Emory "Vegas" Jones coming through with Jack Daniels. Playing pool on a ripped up pool table and betting money. I mean, we just had so much fun recording this while eating Chinese food, chicken wings and fried rice and just being in the studio all night.
Nobody never really wanted to go home, especially when at that time we thought we was the best. And as you can see now, the best rapper, probably the best artist of all time, is recording, right? You can look back at that time and say, "Wow!" You just really appreciate those moments, so when you look around at this equipment and touch and feel this stuff that Jay Z recorded on and that DJ Premier probably recorded half of his history on, I mean it's a great feeling. It's a great feeling to be a part of history.
You've been a successful business man in the industry for so many years. What advice would you give those who are trying to break into the game?
For me, I think the best advice to give people is to worry more about the relationships than the business because relationships can build businesses and a lot of times when you think about business, it's all about the transaction. If you can build relationships with people, the fruit of that will go beyond business and if your intern and your employees see how you treat the people around you and they grow up and they have that same feeling, that's when things last beyond that.
40 Hip-Hop Albums Turning 20 in 2016