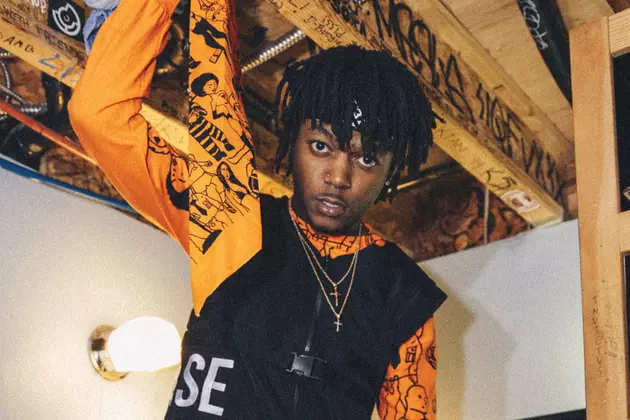 J.I.D's Years of Hard Work Have Finally Paid Off by Sticking to His Roots
@WABOOSH
Show & Prove
J.I.D has been grinding for a few years and it's finally paid off.
Words: Alex Russell
Editor's Note: This story originally appeared in the Spring 2018 issue of of XXL Magazine, on stands now.
J.I.D is pretty happy on this December day in 2017. He's checking out of his hotel in Melbourne, Australia, on his first trip outside mainland North America, and can't help but wonder where all the kangaroos are. "They got gift shops out here where you can purchase kangaroo hides," says the 27-year-old rapper, born Destin Route, during a call. "Like, they be killing them or some shit."
Being from the opposite side of the world—Atlanta's Zone 6—offers J.I.D a certain perspective and reminds the rap rookie of when his family regularly relocated when he was a child. That's the most frequent travel he knows, the hectic nature of shuffling around a city with six brothers and sisters. "My family big as hell, man," he explains. "If you know my real name, you definitely met some people in my family. I used to hate moving, but now it's like, I'm moving around doing what I love. I just feel blessed though, to be here because of music."
Music, however, wasn't his first career choice. "I've always been talented, always been able to sing or remember a song after hearing it one time," he says. But he also had more apparent talents. A career in football seemed promising at first, affording him a scholarship to Virginia's Hampton University. It was there that he met EarthGang members Doctur Dot and Johnny Venus, with whom J.I.D would eventually form the Spillage Village collective in 2012. Before things came to fruition, fate threw him down a flight of stairs. "I got kicked out of school because I was wilding," he says. "I've always been a lil' wild nigga. My folks kicked me out of the crib so I was homeless, living out the whip."
So it was back to square one: Atlanta. J.I.D had already started working with EarthGang, and a newfound focus on making music sparked inside him. This was in 2012, and at the time, something special was happening in Atlanta. A thriving underground scene gave birth to a number of collectives and new Atlanta rappers of various styles. When J.I.D moved into the EarthGang house on the West Side of ATL, he felt an intensity that had already been brewing. "There were so many people and so much talent," he explains. J.I.D references Two-9, Awful Records, OG Maco, 6lack and Raury as a part of this bubble, most of which ended up passing through the EarthGang house at one point or another. "I weirdly stepped into it late as fuck 'cause all these niggas was already doing this shit. I had left the city to be a college football player then came back like, uh...I'm finna rap now."
Being around all that energy, specifically that of his EarthGang friends, allowed J.I.D to get serious in honing his musical talents. "They helped me really lock in," he says. "When you doing something alone, it's a little bit harder. But if you got a few of your homies, you can be like, Fuck this we finna make this shit happen." And it did happen, but not immediately like some of the other Atlanta acts that popped with big, viral hits. It took a few years of hard work for J.I.D to make some noise in the hip-hop industry. "It just takes a little bit longer because our shit is potent," he says.
Ethereal, another Atlanta artist from the Awful Records collective, would agree. "J.I.D is special because he is focused on being a great artist overall and not just trying to make the next hit song or convince his peers that he is something he is not," he breaks down.
J.I.D's first two mixtapes, 2012's Route of Evil and 2013's Para Tu, got an early buzz for the aspiring solo artist. Spillage Village's three compilation albums—Bears Like This (2014), Bears Like This Too (2015) and Bears Like This Too Much (2016)—received moderate success, but it was J.I.D's talent that started to catch national attention. After making a name for himself with consistent lyrical prowess and vivid storytelling alongside the collective, J.I.D's potency was enough to persuade J. Cole, who signed him to his Dreamville label in early 2017. The announcement was quickly followed with the release of J.I.D's full-length album The Never Story in March of 2017. On it you'll hear not only the years he put into the craft, but also years of observation and thoughtfulness. His songs carry this sort of hardened nostalgia and genuine love for his people.
On the song "Hereditary," for example, J.I.D invokes power dynamics and miscommunication in romantic relationships, taking a step back in perspective to rationalize problems of intimacy by acknowledging their true source: nature and nurture from our mothers and fathers. His stories often draw from personal trauma. He has a way of making it feel relatable on a general level to his listener. J.I.D's song "Never" shows a testament to his own pre-success hunger, but feels like a rally cry common to anyone who has ever fallen on desperate times. Perhaps his music has this effect as a consequence of just how down-to-earth he is. He hardly flexes (in real life and in rap), even when he does say something with pride, it never comes off as though he sees himself as better than anyone else.
"I'm healthy and I'm traveling, I don't need shit else," J.I.D says while wrapping up the call. "I don't give a fuck about the money," he says of this moment in his career, getting ready to board a plane to Perth. Then, laughing, and surely with a big smile, he adds, "I'm the only nigga I know that's been to Australia, you feel me?"
See Photos from G-Eazy and 21 Savage's XXL Magazine Spring 2018 Cover Shoot