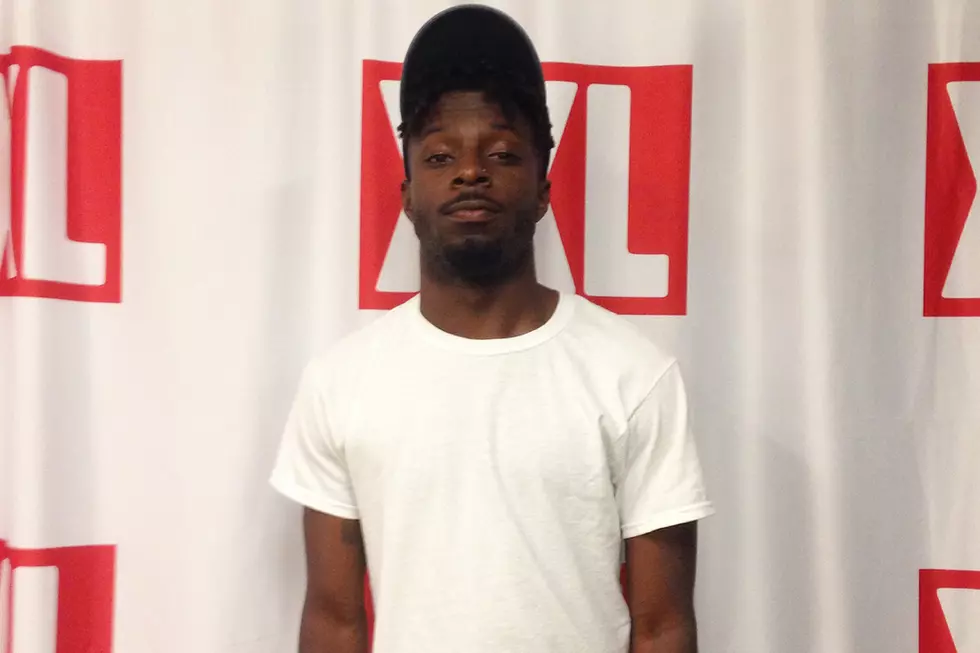 Isaiah Rashad Discusses Getting Back on Track With 'The Sun's Tirade' Album
XXL
The music business isn't for everyone. When artists shy away from the public eye, it can be for any number of reasons: lack of inspiration, exhaustion or just plain disinterest with fame. But for 25-year-old Chattanooga, Tenn. native Isaiah Rashad, it was the consequences of addiction that moved him out of the spotlight.
The two years following Cilvia Demo, an impressive EP released through TDE, were a mix of Xanax and alcohol-fueled days that almost ended Isaiah's rap career before it really started. Unfortunately, it took fighting with his day one crew and almost getting dropped from TDE for him to make a change in his life. Now (almost) on the other side of addiction, Rashad is gaining more clarity every day and dropping new music to prove it. His debut album, The Sun's Tirade, the second project he's dropped, is as much a diary of self-discovery as it is a letter to his first born son. With features from Top Dawg family members Kendrick Lamar, Jay Rock and SZA, to name a few, it's a sonic experience not to be missed.
With fans buzzing about his new LP, the former Freshman stopped by XXL's office in New York City to talk about fatherhood, the friends in the industry that helped him conquer his demons and how it feels to finally be getting back to the music.
XXL: We're finally here at your debut album. What's the meaning of The Sun's Tirade?
Isaiah: Just a long, hot ass day… a very long day. It's like a conversation with the sun. It's also kinda like, you staring at the sun too long. It also could mean my son having a screaming match with himself.
So is this one story throughout the whole album?
A lot of it's about my son because my son was around for a large portion of it. These are just some things I want him to know just in musical form about this point in my life. It's all that. He was born right before Cilvia [Demo].
How long did it take to put the entire album together?
About a year and a half, a year. For a majority of it, I was coming to a realization about what I really wanted this to be about. I realized I could've talked about anything and then I listened to a lot of music to go along with what was going on. I tried that general "have fun" shit and those were cool but I threw those out because they didn't mean anything to me. And then I was like, How can I convey how I feel in a way that won't sound like I'm depressed? And not make it sound like I was going through the same shit as I was going through before? Because it really wasn't the same shit. Before it was real teen angst shit.
Yeah, I just had angst because it wasn't like my live was going a normal path. But this was more my life derailing and then trying to get back on track. It doesn't include getting back on track.
Would you say you're still getting back on track?
Yeah, I'm still getting back on track. Getting cool. Trying every day.
What's the biggest difference between The Sun's Tirade and Cilvia Demo?
I sound cooler. Not even me, just sonically, I sound cooler, calmer. And I think I rap more on this, but I still sound calmer. I can really hear myself getting my point across.
Do you feel like you have more of a message for your fans now?
I feel like I have as much of a message for whoever's listening with an open ear. Artists you listen to, you can get 'em. I think it's up to the artist to have their music connect to who it's connecting to. I think they'll get it. I think everybody has somebody in their life that have had all these different situations in the project, you know what I'm saying? And then, it's just a really good time. Outside all of the bullshit that I describe loosely — because it's not like I'm on the motherfucker just ranting about shit — it's a really creative way of expressing myself, and that's what I'm most proud of. It's a response to me going through shit and a celebration of all the bullshit. It ain't really a negative project. I can just really tell I was going through some shit.
And you keep talking about going through some shit. Is this stuff you're still going through now?
Just having a hard time getting my… what's the proper way to say this? Having a hard time being a rapper for real and taking the responsibilities of being an artist, taking the responsibilities of being a dad, all that. It's just balancing that and realizing how I set myself up. Sometimes, I used to move too fast. I wouldn't follow my gut and stuff. So, at a certain point, you're left with all the results of that.
So, after Cilvia [Demo], the highs of how tight that was, when I came back down to Earth it was like, Damn, I did do a whole bunch of shit that was fucked up that I have to deal with. Everything, going from one kid to two kids, balancing responsibilities, maintaining friendships with people I work with, people I came up and moved across the country with. I'm not the only one out of my friends who went through something. I'm just the only one who puts it out vocally. I think it's a refreshing thing for all of us and it'll help us move on to the next chapter. My mom always says 25 is when you get some type of common sense, some type of awareness of what you're supposed to do. You can figure out your way through the bullshit a little better. Stuff starts making sense and you start making plans.
No, not the plan. I don't think anybody really has that [laughs].
Do you feel any pressure with putting this out since it's your first album? You only get one debut.
Of course, but that's what's funny. We're releasing it the same way. And the last project was 14 tracks and we just called it an EP, so people consider it an EP. I'm glad people respect me. But this is technically like 10 minutes longer than the other one. But The Sun's Tirade is an album. It's really intended on being a real body of work, a real conceptual album. So yeah, there's pressure… but we're doing it the same way. It's the same platform, not going to be in stores or anything; it's just streaming. So I don't feel any added pressure from the first time. Niggas kinda know who I am, a little bit. So, it's more like you only get one second project to keep people interested. You get one first impression, but the second impression is important too. This is my second project ever.
So, I consider the first one an album, just an independent album, just like this is an independent album to me. I'm more nervous because I've been out for two years. Other than that it's like who's going to pick up on it? I mean, I never stopped making music and I send my music to enough people to get constructive criticism, you know, not just mentions on Twitter. So, I don't think it's going to be that hard of a transition for me. Hopefully, it sounds like a familiar growth. They gon' get it though.
And you have a ton of features on there, especially from TDE members. Who was your favorite feature on the project?
Zacari. His voice is beautiful. He sounds like a sample. He sounds like some shit that you would've pulled out the '50s. Real melodic, real beautiful. Him or… maybe [Kendrick lamar] though. Dot's feature is kinda tight. That felt like an accomplishment on some young nigga shit… but then, Jay Rock's feature is hard.
Who had the best studio session with you for this album?
I was here [in New York] when I got the Dot shit.
You guys weren't in the studio together for it?
Nah, he sent it on the fly. Like, I had turned in the project and they surprised me. Him and Jay Rock. Those were nice surprises.
What about Zacari? That was in studio?
Yeah, I was going to do this freestyle, but then he had this hook and I was like, Oh I gotta go back in."
Hell yeah! And I went back in and I killed that shit I feel like. And then Top was fuckin' with it. And he was like, "Shit, let's throw somebody else on there." We had a couple names and then Dot popped up. Top called me like, "Dot in the studio finna throw a verse on your shit." I was like, "Which one? 'Rope?'" He's like "Nah, 'Wat's Wrong.'" I was like, "Damn, shit, for sure. Call me when you got it." And meanwhile we're here huddled around the phone. And when we heard it we were like, Fuck, that shit is crazy.
You got a lot of press last month for almost being kicked out of TDE because of your addiction. Why do you think they didn't kick you out?
They love me. They care about me. That's it. I mean, I only had one project. [Top] had other artists that were making more money than me, I think it was just one of them type of things. He just believed in me and I feel like he thought I would do better being around these people because he knew my life and my plans, what I wanted for my life, where I wanted to go, what I wanted to accomplish, what I wanted to do for my family and for myself. So I think he believed I could get past it.
What was the almost breaking point?
I kept getting into it with my homies, like the homies that came out there with me. And Top wasn't having it so he sent me home for two weeks. Two weeks off not doing nothing, just talking to my mom. And she cut all my hair off. And then I came back to L.A. and finished the project.
That's rare that you get into a label with such a family dynamic.
I'm definitely like the youngest sibling. I wish I could show you the group chat because it's savage. Too fucked up. Everyone of 'em don't hold no punches. I enjoy the fact that we can be honest; that's the most important thing. I enjoy the fact that we can go kick it in the studio. It's not like big ass studio sessions. It's like a family Sunday in there. We start talking about a song, kickin' it, eating and shit for hours.
Do you ever feel the sense of competition?
Oh, definitely. Everybody wants to be in the most demand, you know -- until you're over that. But none of us are like that yet. We're young. It's go time, like Jay Rock just turned 30 and he's hitting his second wind.
When you heard the song Kendrick was going to add a verse to, did you think you had to re-record your verse?
Nah, not at all. Was I like, He gon' crush me? No! I'm a good rapper. And that was my thing for the longest. I was like, I wanna get him on a song so people can know he ain't gon' crush me. But he did his thing though. He did his damn thing. He showed why he's Kendrick fucking Lamar. For sure.
What do you want fans to learn about you from this album?
I just want them to enjoy themselves listening to this project. I hope this make it easier for them to approach me, make you feel like you're talking to a regular person. As far as learning about me, I don't know. You'll learn I got range. I got some more range that you didn't think I had. I want people to be like, "Damn, this nigga can do this?" Because that motivates me a lot.
Like the Young Thugs and the Uzis and Yachtys and shit. There's certain things they do sonically and lyrically that I like. Stuff [like] flippin' up syllables; that's some of my favorite shit. They're really good at just being entertaining rappers. Uzi, Yachty, D.R.A.M, Thug, Quavo, Chance…them niggas are real entertaining. And my music is more considered just a conscious thing, so now I'm trying to just get a little closer to the middle, not all the way to the middle, but just like closer to "This some shit I'm finna just bump."
So, you don't have to like conscious rap to like this album.
Right. I set it up to just be bumped.
Right. And you said on Twitter this is meant to be played in a car.
Yes, please have a car. I feel bad for people in New York who don't have cars. Find some Beats headphones or somebody with a crib with a crazy sound system and woofer. I got a lot of bass guitar to replace synth basses and stuff so you gotta hear it. If you don't feel it you not gon' feel it.
Who would you say is your big brother in the industry who helped you get out of the hole?
Tunji [Balogun, A&R at RCA Records]. Tunji got me signed [when he was at Interscope]. Tunji's the one whose always been there for me since I got into the music industry. Tunji cooks for me. I know his wife. Hopefully, me and Matt will be there when they have their first child. He like, makes sure I call my mom. He loves me. I love him. Or Moosa [Tiffith], he's definitely a big bro. First off, niggas be thinking we look like brothers, so there's that. And he just always got me.
Did either of those guys pull you out of your hole?
What's weird is like people knew but I'm really a recluse, I don't talk about shit. So at that point, I had talked to everybody, all the management about it, and I was like I could make something up, but I figured telling the truth would be easier than lying and then you hear a bunch of songs that are shit. So, these songs are a more accurate depiction of it.
Who did you compare yourself to with this [album]?
Something like Kyrie [Irving] this year [because] I came back with the crazy step back. Niggas was not expecting it. Hit 'em with the crazy drop back like, What!
See New Music Releases for September 2016