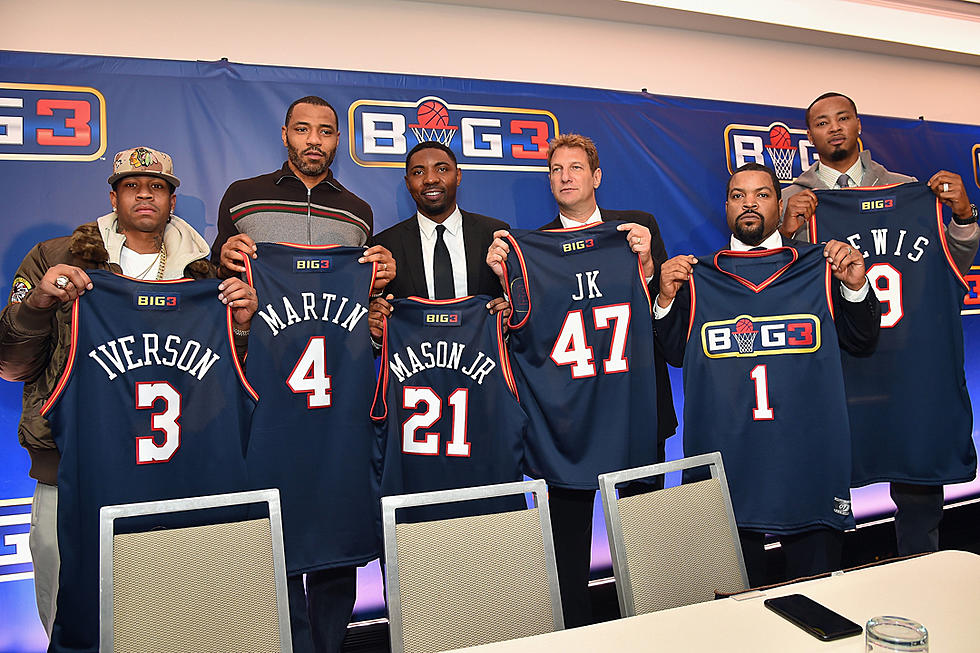 Ice Cube Shares Big3's First Game Location and Date
Michael Loccisano, Getty Images
Ice Cube is serious about his venture into the sports world. The West Coast rhymer made news last December when he shared that he was launching a three-on-three basketball league for retired NBA players called BIG3. Today (March 15), Cube gave fans the first official dates of tip-off. The first game day will go down on June 25, 2017 at Brooklyn's Barclays Center.
BIG3 games will include revered NBA legends like Allen Iverson, Kenyon Martin, Jeff Kwatinetz, Rashard Lewis and more. Although the idea is the brainchild of Ice Cube, the rapper teamed up entertainment executive Jeff Kwatinetz and retired baller Roger Mason, Jr. to make the league a reality. Kwatinetz is the founder of The Firm and a top media management head—partially responsible for the careers of Leonardo DiCaprio, Robert De Niro, Jennifer Lopez, Snoop Dogg and Cube himself—and Mason played professionally on teams like the Chicago Pulls and Miami for 10 years before becoming the Deputy Executive Director of the NBA Players Association.
"Brooklyn has been on our radar since we started the BIG3. From the pickup courts to the pros, New York's hoops history is unrivaled," said Ice Cube today via press release. "Legends are born here, and kicking this thing off at the iconic Barclays Center could not be more fitting."
The three-on-three games will be played every weekend starting June 25 in a different arena and city. The league will be made of eight teams with five players each (two subs). As the BIG3 press release states, "all four games will take place on the same day in the same venue giving fans the chance to see all of their favorite NBA superstars at one time."
"I thought of this concept as a fan who got sick of seeing his heroes retire and not play anymore," Ice Cube told The Vertical last December when BIG3 first launched. "A lot of these guys can still play once they retire – just not the back-to-backs or four games in five nights. So if you're a fan of players like Brian Scalabrine, Latrell Sprewell, Earl Boykins and Mahmoud Abdul-Rauf or didn't get a chance to see your favorite player hit the court before he retired, a BIG3 game is your best chance to live in a few hours of nostalgia.
Tickets for the inaugural BIG3 game at Barclays Center will go on sale Saturday, March 18 at 10:00 a.m. on Ticketmaster.
15 of Hip-Hop's Weirdest Album Titles