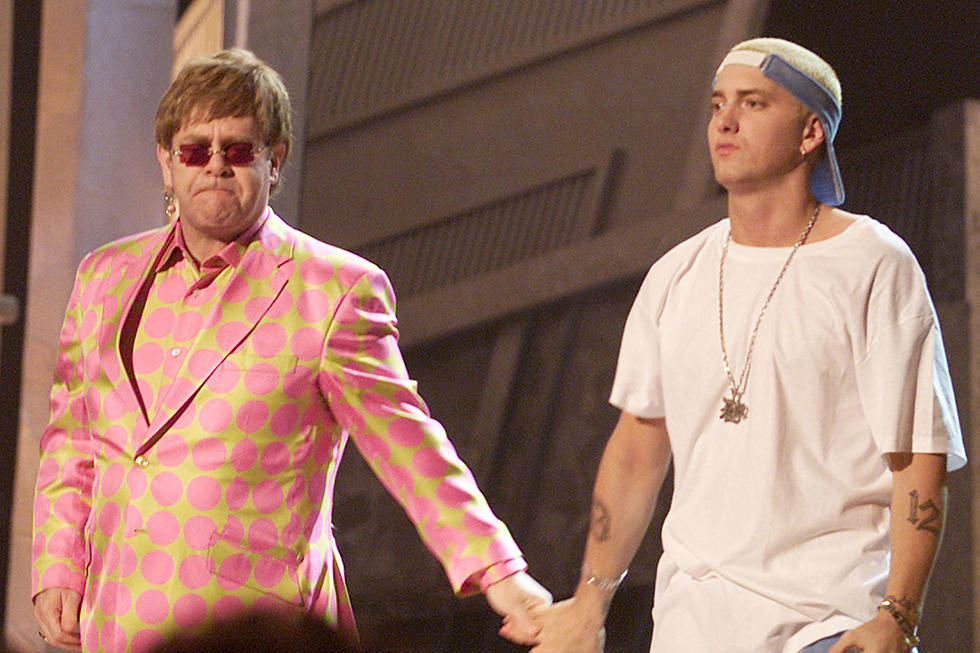 A History of Elton John's Relationship With Hip-Hop
Kevin Winter, Getty Images
Sir Elton John is opposite of that crusty old man hollering at kids from his porch to get off his damn lawn.
Whereas other musicians whose careers were already up and humming when hip-hop burst onto the scene like a supernova either ignored or turned a disdainful nose to rap music—some refusing to allow the next wave to sample their works—John has not only warmed to the beat but become an unlikely and ardent proponent of rap music.
Elton John is hip-hop's cool gay uncle, coming from overseas with songwriting bona fides, an open mind and a smart ear. His hearty public endorsement of Q-Tip and A Tribe Called Quest a few weeks back, during a meeting of the musical geniuses on Beats 1 Radio, should come as no surprise to those who have been tracking the mutual infatuation the 72-year-old U.K. icon and American rappers have shared.
John has frequently professed his admiration for hip-hop artists in public forums, be in through magazine features or public song dedications. And the rap world has returned the favor, reworking some of John's soft-rock classics and keeping his name relevant for younger generations.
From appearing on young MCs album skits to being spotted crate digging for underground rap albums, from collaborating onstage with Eminem to collaborating on candy-bar commercials with Boogie, The Lion King composer's tight relationship with American wordsmiths goes way back.
XXL takes a look at Elton John's hip-hop connections, which run as far and wide as Mufasa's kingdom. —Luke Fox
Beastie Boys Covers Elton John's "Bennie and the Jets"

1999

John's 1974 classic "Bennie and the Jets" has been covered multiple times with a hip-hop bent.

First, Beastie Boys recruited Biz Markie for his crazy-drunken-styled rendition of the piano standard in 1999. In 2014, Miguel and Wale covered the tune to celebrate its 40th anniversary. Then Logic hit the trifecta by adding his rhymes to the latest update of the track for 2018's Revamp: Reimagining the Songs of Elton John & Bernie Taupin.

ATCQ also sampled "Bennie" to help form the backbone of "Solid Wall of Sound," a standout from the group's farewell album. Other notable John samples include Action Bronson's "Silverado" (which uses an interpolation from "Island Girl"), T.I.'s "Wonderful Life" (which borrows "Your Song") and Raekwon's "Kiss the Ring" (which snatches from "Goodbye Yellow Brick Road").

Eminem and Elton John Perform at the Grammy Awards

2001

At the height of critical lightning rod Eminem's lyrically fueled controversy, the Detroit artist snuffed out all the heat he was taking for allegedly being homophobic by collaborating with the openly gay John during a performance of "Stan" at the 2001 Grammy Awards.

Backing the MC, John called the accusations of Em's homophobia "nonsense," and the two mega artists sparked a long-lasting friendship. In yearTK, John spoke with The Graham Norton Show about his feelings on Eminem and hip-hop as a whole: 

We became friends. We've been amazing friends ever since. He's an amazing guy… I just adore him. People who mock rap, and say, 'I don't like it,' they should go check out Kanye in the studio rapping. Or Eminem when he's in the studio. It's a phenomenon. It may not be your cup of tea, but don't ridicule. I find that so many of my peers of my age don't listen to anything new. I love the new.

Eminem later revealed to Detroit's Metro Times that he leaned on John to help him get sober:

He had a substance abuse problem in the past. So when I first wanted to get sober, I called him and spoke to him about it because, you know, he's somebody who's in the business and can identify and relate to the lifestyle and how hectic things can be. He understands, like, the pressure and any other reasons that you wanna come up with for doing drugs.

Tupac Posthumously Samples Elton John

2004

On the bittersweet single/video "Ghetto Gospel" from his 2004 posthumous album Loyal to the Game, Tupac Shakur's vocals are meshed something lovely with a vocal sample of John's hit "Indian Sunset." The unlikely collab makes sense considering that the track was produced by John's friend, Eminem.

Elton John Expresses Interest in Recording a Rap Album

2006

In a 2006 interview with Rolling Stone, Elton John said he wanted to create a hip-hop-influenced LP, loaded with marquee collaborators:

I want to bring my songs and melodies to hip-hop beats… I want to work with Pharrell, Timbaland, Snoop, Kanye, Eminem, and just see what happens. It may be a disaster, it could be fantastic, but you don't know until you try.

Eight years later, with the project yet to surface, Rolling Stone revisited the topic:

I might do a couple of tracks with Pharrell. I don't know. I'd love to [incorporate hip-hop]. I just don't know how to do it. I do love electronica. So, for me, I'd have to work with someone who knows about it, like a Pharrell or a Kanye, who I respect tremendously. I'd love to do that. It's just a matter of when and where and, should I do it, the mood that I'm in.

Elton John Flies to Hawaii to Record For Kanye West's 'My Beautiful Dark Twisted Fantasy'

2010

Kanye West sampled John's falsetto on "Someone Saved My Life Tonight" for his 2007 Graduation opener "Good Morning." Three years later, the super producer invited him to his Hawaiian studio to play piano and sing on "All of the Lights," the centerpiece of Mr. West's 2011 masterpiece My Beautiful Dark Twisted Fantasy.

John would later anoint the album "genius" and praise Kanye's risk-taking approach.

"I could never do a rap record because I wouldn't know where to start. You can learn so much from working with somebody that does. In the studio with Kanye, when I was doing that in Honolulu, he was just on fire. It was amazing to watch. You knew you were in the presence of greatness. Once I heard four or five tracks from that in the studio, I knew it was going to be a motherfucker of a record."

Elton John Embraces Young Thug, Who Samples the Singer's "Rocket Man" Track

2016

John's a capella for the 1972 smash "Rocket Man" serves as the key sample Young Thug's "High," a song produced by New York City-based Stelios Phili. Once John expressed his love of Thug in a 2015 interview for Noisey—hey, neither is afraid to wear a dress—the rap artist recorded the song in 2016 and later played an early version of it for John when they crossed paths in London later that year.

Sir Elton John Does a Rap Skit for Logic

2018

It was so funny. Basically, my manager was like, 'Yo, Elton John wants to talk to you. Can I give him your number?' I'm like, 'Why are you asking me this? Yes! Just do it already!' And he was like, 'OK, he's gonna call you, he's gonna call you,' and I'm waiting by my phone, like, 'Oh my God! Elton John's gonna call me! This is so crazy!' And then I'm like, 'Oh, I gotta pee,' so I went to the bathroom and I come back and he had called and I had missed it! I was like, 'Noooo!'

When Logic finally got Elton on the horn, he asked if he could use the missed message, and John approved.

Elton John and Boogie Appear in a Snickers Commercial

2018

A rather clever Snickers ad satisfied both baby boomers and hip-hop heads in the summer of 2018, when a snackish Elton morphs into Interscope/Shady MC Boogie with one bite of the candy bar, finding the power to win a house-party rap battle.

"This was, in a way, my acting debut," Boogie told Variety. "Connecting with Elton John was also huge. His musical knowledge is crazy. He's super in tune with current hip-hop."

Elton John Dedicates a Wonderful Tribute to Mac Miller

2018

One night after Mac Miller's death, John was performing his farewell tour in nearby Allentown, Penn. Sitting behind his piano, Elton took a pause during his three-hour set to honor the rapper:

I would like to dedicate this song to Mac Miller, who unbelievably, at 26 years of age, passed away yesterday. It's inconceivable that someone as young that has so much talent can do that. I would like to pass all of our love and best wishes to his loved ones, his family, his friends. And Mac, wherever you are, I hope you are happy now."

He then launched into "Don't Let the Sun Go Down on Me."

Elton John Salutes A Tribe Called Quest

2019

During a special edition of his Beats 1 radio program, Rocket Hour, Elton John sat down and chopped it up with the mighty Q-Tip. The two living legends expressed their mutual respect.

During the March 21 episode, John called A Tribe Called Quest "the seminal hip-hop band of all time" as they discussed musical influences and future projects.

"There's something about A Tribe Called Quest that was so cool. It was so kind of laid-back, but it was so funky," John gushes. "You were unlike any other hip-hop band."

Q-Tip paid homage to the songwriter first, killing his rendition of John's "Don't Go Breaking My Heart" (featuring Demi Lovato) for 2018's Revamp: Reimagining the Songs of Elton John & Bernie Taupin. The update earned that LP's single/video treatment.

Elton John Reveals His Love of N.W.A and Public Enemy

2019

During the aforementioned Beats 1 chat with Q-Tip, John revealed some of the hip-hop shows he caught in Europe.

"I remember starting out seeing bands like N.W.A and Public Enemy in London at the Hammersmith Odeon. And then De La Soul and people like that," he said. "There's something wonderful about you guys coming together."

Elton John and Future Link in the Studio

Future hasn't disclose much about working with the legendary Elton John but instead allowed an April 2019 Instagram photo to speak for itself: "Me and my brother @eltonjohn leaving the studio," reads a caption accompanying a picture of Future and Elton John standing next to each other. "Love is Love."