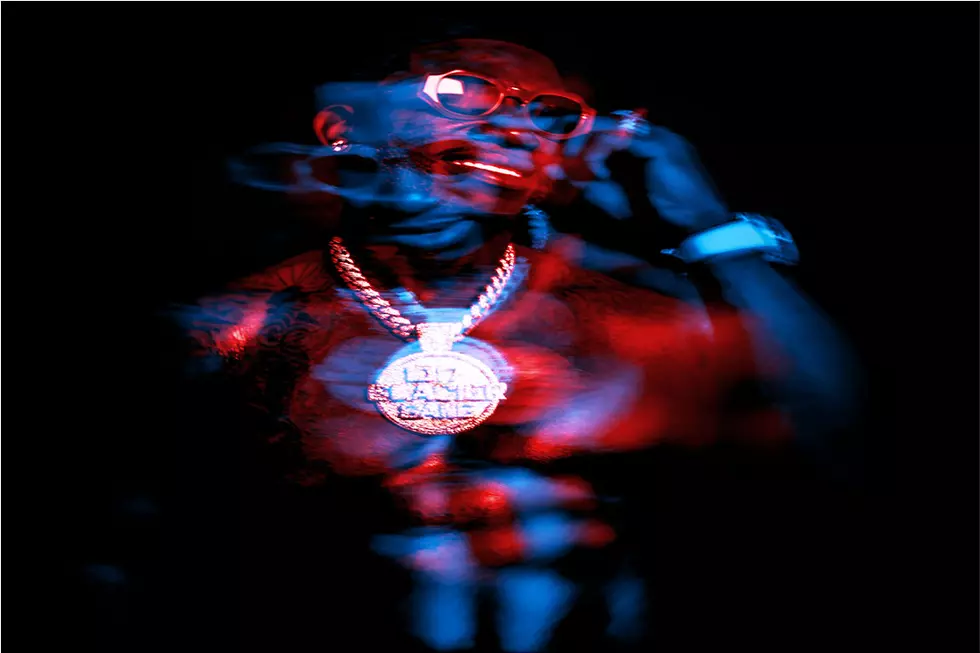 Gucci Mane 'Evil Genius' Album: 20 of the Best Lyrics
1017 Records
Since coming out of the other side of a prison bid during the prime years of his career in 2014, Gucci Mane has more than made up for lost time, building his brand into a growing empire. Already regarded as one of rap's more prolific artists prior to his incarceration, Gucci Mane has only strengthened that reputation with a consistent stream of releases (six projects in the past three years). However, after remaining omnipresent throughout 2016 and 2017, Gucci Mane took his foot off the pedal for much of 2018, finally coming out of hibernation with the long-hyped Evil Genius, the Atlanta trap star's latest body of work.
The follow-up to El Gato: The Human Glacier, Evil Genius finds Guwop at the top of his game, turning in a project that plays to his strengths (see the pompous "Father's Day) while occasionally drawing him out of his comfort zone. The album includes guest appearances from a few of the biggest young stars out of the South, with 21 Savage, Kevin Gates, Lil Pump, Lil Skies, Lil Yachty, Migos, and YoungBoy Never Broke Again all contributing to the proceedings. With production from the likes of Metro Boomin, Murda Beatz, OG Parker, DJ Durel, Dun Deal, EarlThePearll, Da Honorable C.N.O.T.E., Quavo, Quay Global, Smash David, Sool Got Hits, Southside and other boardsman, Evil Genius packs enough heat to keep it heavy rotation for the foreseeable future.
In light of Gucci Mane's grand return, XXL highlights 20 of the best lyrics on Evil Genius.
"All these similarities/I donate to charity/I'm a good samaritan/My bitch ain't American/This is not a parody/Gold dope, that's a rarity/Gucci Mane's a murderer, you sure you wanna marry him?" —Gucci Mane

"BiPolar"

Gucci Mane Featuring Quavo

"I'm talking to my shrink, and I'm draped in a mink/She asked me want I need, I said, 'Bitch I need some' to drink'/Ice Cream Mane, man I pull up in a tank/I feel like Mamma Mia 'cause I'm whippin' in the sink/The coroner, the Huncho, the leader of the game/Bipolar, C-Murder, the Draco with the shank" —Gucci Mane

"BiPolar"

Gucci Mane Featuring Quavo

"Dance on that work, Huncho James Brown/All them colors in your stones like a damn clown/Screw that tip on that Uzi, don't make no sound/Pew, pew, pew, pew, pew, pew, pew, pew, man down/Two million in cars, I don't know what to drive/Neck ice polar, all my hoes be bi/Jet fly solo, like a bird in the sky/Try the gang, we fold ya, extendos and nines" —Quavo

"Just Like It"

Gucci Mane Featuring 21 Savage

"I look just like it, diamond chains on, they bitin'/Choke you, can't breathe, choker chain bitin' like Tyson/Start with no keys, I used to ride around with no license/My diamonds on freeze, but the old me would rob Mike Tyson" —Gucci Mane

"Just Like It"

Gucci Mane Featuring 21 Savage

"Nigga, I pop it/50 cal on me so big, gotta jump out the car just to cock it/You don't want smoke, nigga, stop it/Y'all ain't got enough bodies/Look like a lick, dare a nigga try to rob me/4L Gang, nigga killin' is a hobby/Nigga, you ain't hard, you just geekin' on molly/All these VVS's got me lookin' like Follies" —21 Savage

"Cold Shoulder"

Gucci Mane Featuring YoungBoy Never Broke Again

"Young and reckless, patiently waitin' on you to test this/Got these diamonds on me up in every section/Every nigga 'round me really with the steppin'/Got a bitch look like Keisha, I call her Belly/You niggas gon' take it as if you let it/I'ma say it myself, I'ma send a message/If you run up on me, I'ma up and stretch 'em" —YoungBoy Never Broke Again

"Cold Shoulder"

Gucci Mane Featuring YoungBoy Never Broke Again

"Life is crazy, Gucci, frigid, human blizzard, gator, lizard/Thank the lord, a quarter ticket just for thirty minutes/I'm so indepdendent, in Atlantic like I own the buildin'/Started- Started off with JC Penney's, now I rock Givenchy" —Gucci Mane

"Rollin' like a mothafucka, high as a kite/Like a hooker in church, I'm sweatin' like a bitch/Lit like a wick, sharp as a tick/Don't slip on the drip, 10k on the kicks/Metro on my beat, Guwop from the East/So play if you want, get shot in the teeth" —Gucci Mane

"Outta Proportion"

Gucci Mane

"Touch down in Boston, Gucci be flossin'/I'm about to go Stone Cold Steve Austin/Thieves on my trail, but you know I lost 'em/Four pipes, yeah I quadruple exhaust 'em/Outta this world like Marvin the Martian/Fifty a verse and I'm underchargin'/These rappers so fake that they screamin' extortion/My choppa keep blowin' shit out of proportion" —Gucci Mane

"Lost Y'all Mind"

Gucci Mane Featuring Quavo

"Ice Caucasian, but I'm Black as hell/My bitch bright skin, but she Black as well/Plus, all my whips like a color book/Sellin' dope ain't gettin' old, we got cola to cook/They say I got a man bag, but I got hunnids to tote/If you took no mind, you would never be broke" —Gucci Mane

"I'm Not Goin'"

Gucci Mane Featuring Kevin Gates

"I'm organized, it's lookin' organized/'Cause the front the house looks like a parking lot/Take off the shirt, check out the work/Body scribbled like I mark a lot/Bandana Louis, no vest, and a fully/Buyin' dogs, I'm investin' in bullies/I came from that, I perfected my juggin'/Diamond teeth, got a watch full of boogers" —Kevin Gates

"Wake Up in the Sky"

Gucci Mane Featuring Bruno Mars and Kodak Black

"I'm so fly, don't need no flight attendant/Big Cuban link, don't need no pendant/I ain't never had no pot to piss in, yeah/Now all my records trendin'/Oh my, I came from stealing bikes to flying on a G5/I don't know why I'm smokin' this cherry pie so much but this my life" —Kodak Black

"Solitaire"

Gucci Mane Featuring Migos & Lil Yachty

"I'm walkin' real light/It's somethin' like skatin' on ice/Your hoe wanna fuck my vibe/Huncho Brett Favre, throw pies/Uh, try the gang and we dumpin'/Glacier Boy, it's a global warmin'/Now everybody wanna come join in/Niggas born in, they ain't sworn in" —Quavo

"This the Night"

Gucci Mane

"Startin' with the speakers blarin', in that new McLaren/I'm startin' off my day with that glacier-blue McLaren/Gucci Mane, my status international/Calm, real calm, but my shooters are irrational, ugh/Had my share of foreigns, internationals, huh/She exotic but I like it when it's natural" —Gucci Mane

"Hard Feelings"

Gucci Mane

"She see me, think it's Christmas/Filled out like Wendy Williams/On fleek she look Brazilian/Drop top with tinted window/Love when she call me papi, guess I know how to pick 'em/Even when I was fat, think I invented drippin'" —Gucci Mane

"Hard Feelings"

Gucci Mane

"My ex still stalk me and we done broke up in '96/Why he down talk me? Guess he can't deal with my success/Why you keep trollin' and I act like you don't exist/My heart was golden, but now it's frozen with baguettes" —Gucci Mane

"Praying to the lord that these foes respect my privacy/But help you spend your money up, then split that loan from Iverson/The world cold, thot hoes, scarfing and connivering/Chase a check, fuck a bitch, God I know you're watching me/Got me repping different, when I hear this shit it's shocking me/I shocked the block, I dropped the top, then pulled up at Blue Ivory" —Gucci Mane

"I like em' sassy and pretty/Them Keishas and Keshas/You'll get cropped out the picture/Like Puff did the Kardashians/Diamond flash without the flash/Off in the hood playin' scratch/Chopper leave, neck come out all red/You know El Gato hate rats" —Gucci Mane

"When I'm in Seaport, I sell 'em the krippy/Think that she hippy, she wanna be Kylie/Can't lie, a cutie, they call me 'Your Highness'/My friends call me Fiji, I'm covered with diamonds/Take food off my plate, don't make that mistake/Conquer the hate 'cause I'm rulin' they fate/One of the greats, I'm known for the flake/The wedding cake, I flew it in from L.A." —Gucci Mane

Kept Back"

Gucci Mane Featuring Lil Pump

"Nigga keep mixin' with the music/Baby, you a human jacuzzi/I'ma twist a bitch like a Rubik's/I'ma turn my book a movie, Gucci/I'ma put a bitch in a movie/Porno Rockstar couple, Cher, Bono/Might start my wife Muliano/Pull up, 10 bricks of that Nelly Furtado" —Gucci Mane