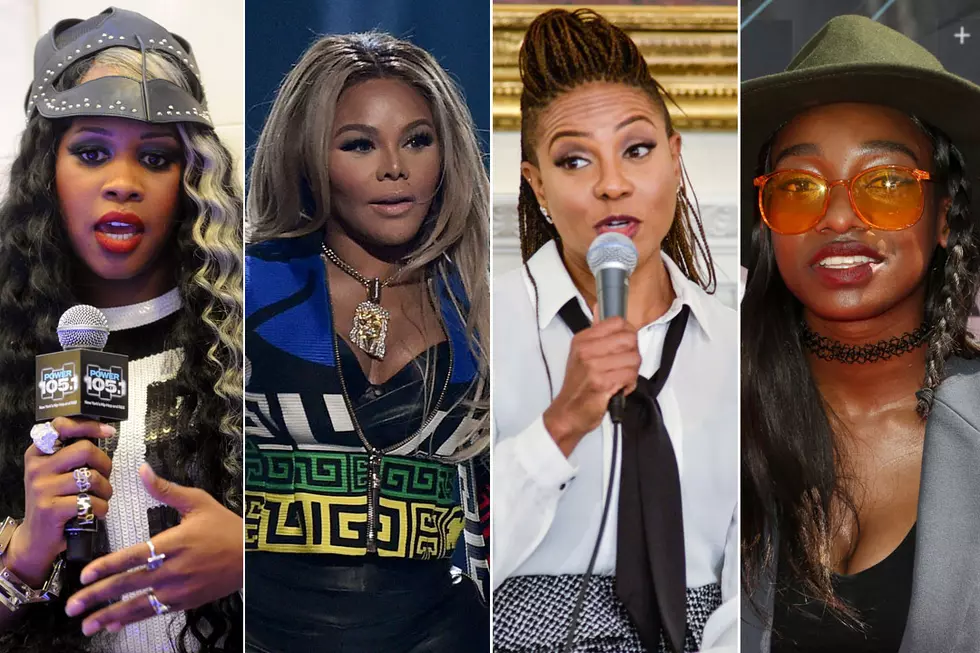 20 Great Albums From Female Rappers Over the Years
Brad Barket / Ethan Miller/ Kris Connor / Frederick M. Brown, Getty Images (4)
It's no secret that women in hip-hop face certain struggles compared to their male counterparts. Stories about the obstacles female rhymers go through during their quests to make it to the top are certainly common. While some have a hard time gaining traction in the music business, others fight to earn respect. It's one thing to drop a song, but there is something to be said for the tenacious women who deliver a full-length album featuring solid rhymes that are just as good, if not better than, the male rappers in the game.
On the come-up, ladies like Queen Latifah and  MC Lyte had the rap game on smash. Sex sells, but it wasn't the driving force for these women. They were on a mission to earn the respect of fans and their peers solely based on lyricism. Their rhymes spoke for the oppressed and subsequently initiated the "girl power" movement in hip-hop by way of establishing a foundation for future female MCs to pick up the mic.
The next generation was met with a shift in rhetoric as the vulgar unapologetic rhymes delivered by the likes of Lil' Kim and Foxy Brown stood out as the female response to the narratives delivered by many male MCs in the 1990s. On the flipside, Chi-Town spitta Da Brat was climbing the charts with her debut, Funkdafied, which featured a mix of bangers featuring her less raunchy and more aggressive approach to rhyming. Then there's Philly rhymer Bahamadia, who was also laying her own foundation sans the sex, drug and money talk.
Since the 1980s, the supply of female rappers has yet to exceed or even meet the demand. Even with the Internet and social media, those that have acquired mainstream and superstar status are few and far between. In honor of Women's History Month, XXL highlights 20 Great Albums From Female Rappers Over the Years. From vets like Remy Ma to Rah Digga and Trina and newcomers like Little Simz there are plenty of women to big up. Peep the gallery above.