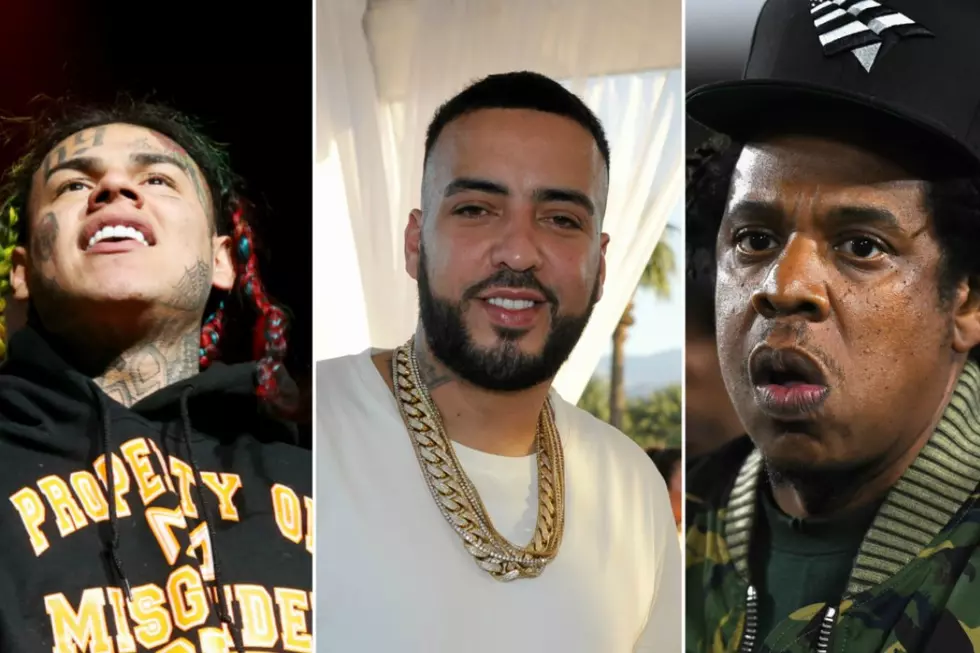 French Montana Thinks 6ix9ine Can't Be King of New York While Jay-Z is Alive
Bennett Raglin / John Sciulli / Kevork Djansezian , Getty Images (3)
Earlier this week (Nov. 26), French was on the West Coast and stopped by Real 92.3 in L.A. to chop it up with Bootleg Kev and DJ Hed. After discussing his time in Uganda, the hosts brought up Max B, who may be released sooner than he expected, and French mentioned that the Dummy Boy rapper is the new version of the Wave God.
As the conversation continued, Kev mentioned that a lot people seem to think 6ix9ine is the current king of New York hip-hop at the moment. French may have compared 6ix9ine's situation to his Coke Boy days, but the "No Stylist" rapper had to draw the line somewhere.
"First of all, you can't say you're the king of New York while Jay-Z is still alive," French responded. Afterwards, he listed Nas as the next in line and even Kev mentioned 50 [Cent] but Tekashi was immediately ruled out of the running for that coveted title.
"I feel like where he's at he reminds me of me and Max B during our Coke Wave days," French said of 6ix9ine.
Later on in the conversation, French explained his perspective on 6ix9ine's failing to heed Fat Joe's advice about laying low. However, he did acknowledge that he himself adhered to the advice Fat Joe gave him when he first started getting big in the music industry.
"With this one [6ix9ine], you don't even know what he's fighting for," French said. "I love 6ix9ine, shout out to the whole vibe and his whole family, keep your head up, but there's always what Fat Joe was telling him because that's what Fat Joe was telling me. He was giving me the same message."
Watch French's interview for yourself below.
Take a Look at French Montana's Different Looks Over the Years