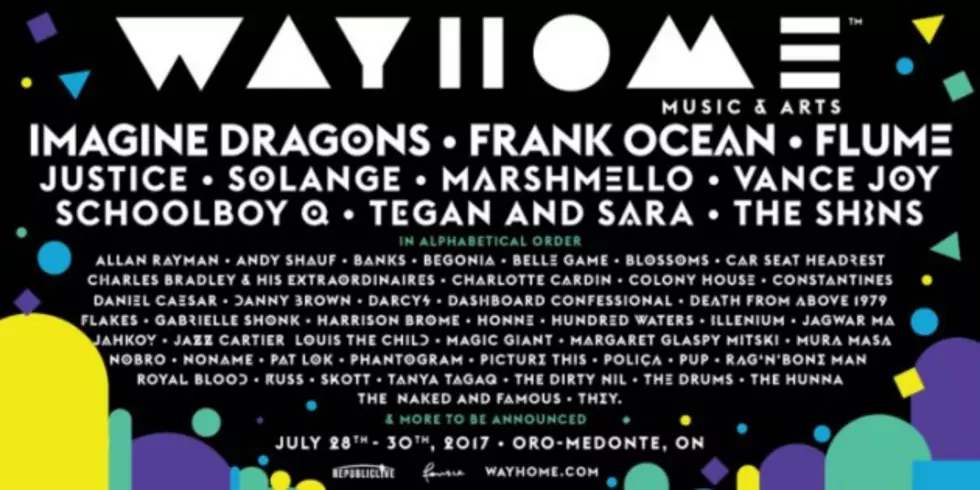 Frank Ocean, Danny Brown, Jazz Cartier and More to Perform at 2017 Way Home Festival
@wayhomefestival via Twitter
The WayHome Festival s all set to go into action from July 28-30, and when it does, more than a few thoroughbreds from the world of hip-hop will be there to perform.
This is obviously good news for fans of hip-hop. On one hand, Frank Ocean is coming off of a stunningly successful year, with his project Blonde going platinum shortly after its release while also gaining widespread acclaim. He recently made headlines for firing back at Grammys producers for bringing up what they perceived as a faulty 2013 performance at the annual awards show.
"Yea yea my 2013 performance at the Grammys was absolute shit," he wrote in a Tumblr post. "Technical difficulties, blah blah. Thanks for the reminder. Very much appreciated. Fuck that performance though. You think that's why I kept my work out of the Grammy process this year? Don't you think I would've wanted to play the show to 'redeem' myself if I felt that way?"
Meanwhile, Danny Brown's critically acclaimed Atrocity Exhibition further solidified his status as a contemporary rap legend.
In 2016, Toronto-based Jazz Cartier continued his ascent in the rap game with his well-received project Hotel Paranoia, and performing at the WayHome Festival will only raise his profile even more. Schoolboy Q killed the rap game with his acclaimed album Blank Face LP last summer, while Noname became a legitimate rap force with her debut mixtape Telefone around the same time.
With this array of stars from the hip-hop world, you might consider copping a passport if you don't already have one. The 2017 WayHome Festival will take place at Burl's Creek Event Grounds in Oro-Medonte, Ontario, Canada. Tickets for the festival will go one sale this Friday (Feb. 17), and once they do, you can cop them here.
10 Critically-Acclaimed Books Rappers Live By