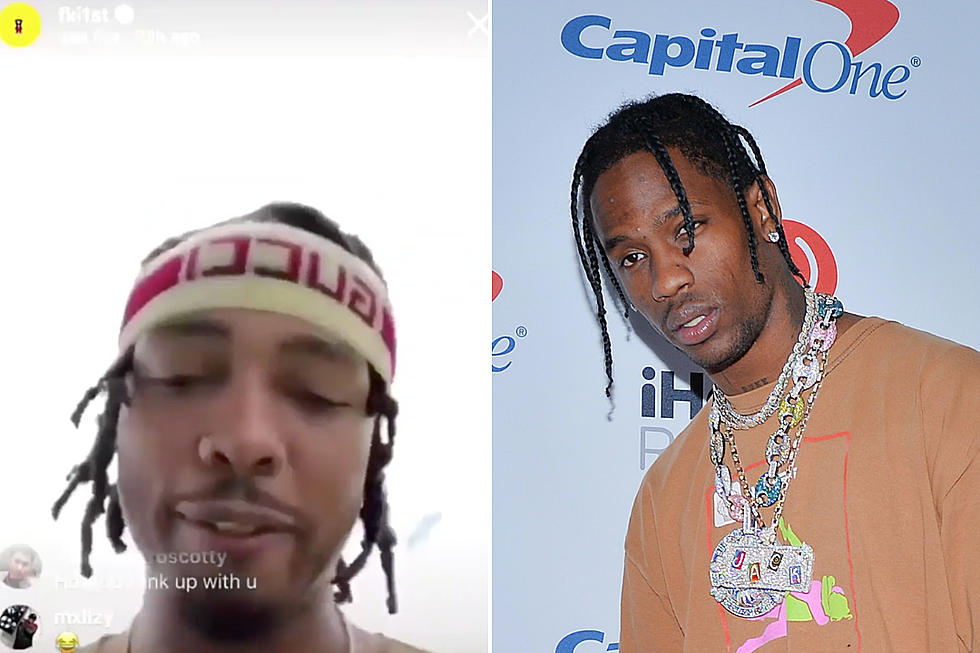 Fki 1st Teases "Drugs You Should Try It" Sequel with Travis Scott
laflamescott via Instagram / Sam Wasson, Getty Images
Travis Scott spent the past weekend in Hawaii working on new music with several high-profile collaborators, including a potential "Drugs You Should Try It" sequel with production duo Fki, according to an Instagram Live post by Fki 1st on Sunday (July 8).
"'Drugs You Should Try It,' yeah, we're making part two of that shit," the Atlanta producer tells viewers in video saved and recirculated by a Travis fan account.
The original fan favorite, produced by Fki and Charlie Handsome, featured on Scott's 2014 mixtape Days Before Rodeo. 1st and his production partner Sauce Lord Rich came up hard since that collab, having executive produced Post Malone's platinum album Stoney, and landing placements with Nicki Minaj and 2 Chainz, so it's only right they'd reconnect with La Flame on his next full-length. The pair released Good Gas Vol. 1, featuring A-listers like Migos and A$AP Rocky, in February.
Fki aren't the only producers working with Scott in Hawaii. 1st's Instagram post also teased footage of Mike Dean and Sonny Digital in the stu. Dean himself tagged Travis in a studio photo posted on his own Instagram on Sunday.
Scott has teased his next album AstroWorld for over a year. In his cover story in the Winter 2016 issue of XXL, the "Butterfly Effect" rapper shared that his goal for the project is to find joy. "In almost every album I feel like I'm chasing this thing," he said. "To others it might sound like drugs, to some people it might sound like love, to some people it might sound like success. It's just this happiness thing I'm trying to find."
You can view posts featuring Fki 1st, Mike Dean and Sonny Digital working on Travis Scott's project below.
See Photos of Travis Scott's Different Looks Over the Years