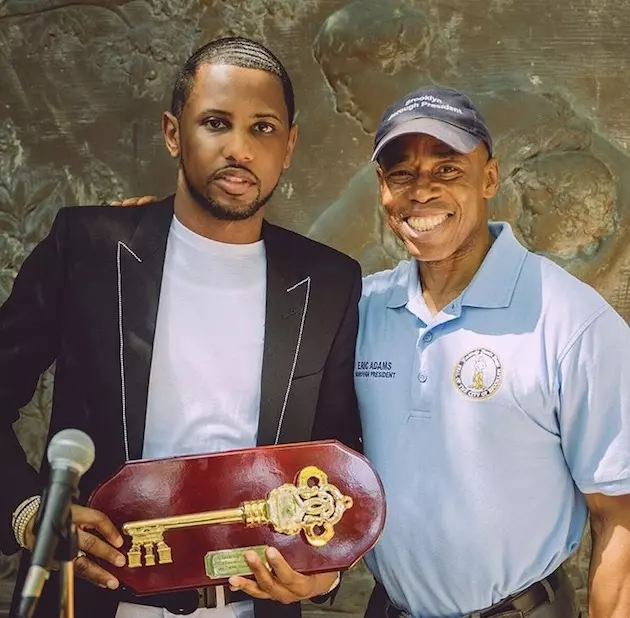 Fabolous Receives the Key to Brooklyn
Evan Pierce
It's been a long time coming, but rapper Fabolous has finally received a key to his home city of Brooklyn, N.Y. The veteran MC attended a ceremony at the Celebrity Path of the Brooklyn Botanic Garden yesterday (June 11), where he was given a key to Brooklyn before finding his name, John "Fabolous" Jackson, inscribed into the walkway.
The event was hosted by Brooklyn Borough President Eric L. Adams, who presented a key to Fab, as well as another one to the family of late artist Jean-Michel Basquiat. Both Fab and Basquiat were born and raised in the New York borough, and have represented hard for their neighborhoods in their longtime work.
"I feel honored to be inducted into Brooklyn's own Celebrity Path and receive a key to the city in June. Along with the accolades and citation I was presented with last week from Borough President Eric L. Adams, I am grateful to be recognized by my hometown for my contributions and to receive the borough's highest honors," Fabolous stated.
Fab's brother, Paul Cain, was in attendance to support the rapper for the major honor, as well as his good friend and manager, Lenny Santiago.
The rapper and the iconic Basquiat are joining more than 160 other Brooklynites on the walkway, who have made outstanding contributions in art, business, film, literature, music, sports and more.
Congratulations to Fabolous on the major achievement. See some photos of the ceremony above and below.
See Photos of Rappers' Fashion Choices in 1997