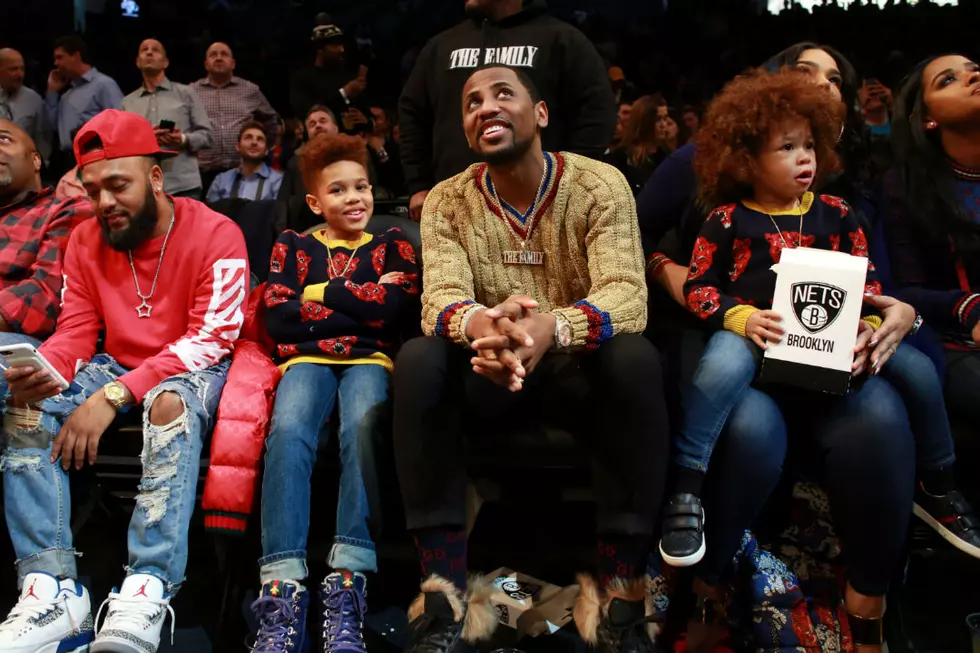 Brooklyn Nets Celebrate Fabolous and Unveil New Uniform on "Fabolous Night"
Brooklyn Nets
The Brooklyn Nets saluted one of their borough's most gifted and accomplished MCs yesterday. Fabolous was the guest of honor last night at Brooklyn's Barclays Center, helping his hometown team launch their Nike City Edition uniforms during a game against the Philadelphia 76ers.
To kick off an event dubbed "Fabolous Night," the rapper brought out 100 youngsters from his native Bed-Stuy neighborhood via his foundation, A Fabolous Way. Accompanied by his own two children, Fab did a pre-game shootaround with the kids on the Nets' practice court and took time to connect and take flicks. He even rocked his own customized City Edition jersey.
Shortly afterward, the 20-year rap vet made his way to the court. There, fans got the first look at the Nets new black uniform, which the team wore during the game. Inspired by the iconic Brooklyn Bridge, the new jerseys are detailed with gray wiring graphics to represent the bridge's steel cables. The new-look jerseys also feature a major change in the chest portion, as the team's name is embroidered on the front of the tops, marking the first time the Nets wear the full franchise name on the kits. The team's motto of "Brooklyn Unite" appears on the jersey's tags.
The Brooklyn Nets culminated the night in winning fashion as they defeated the Sixers 116-108, likely to the delight of Fab, who's previously traded wisecracks with 76ers star Ben Simmons on Instagram. They'll rock the all-new Nike jerseys—which are now available at the Barclays Center Swag Shop and online at netsstore.com—for another 13 home games.
XXL caught up with Fabolous during his tribute night at the Barclays to discuss the special occasion, his Fabolous Way foundation and the status of his upcoming projects.
XXL: How special is it for you that the Brooklyn Nets are honoring you with your own night?
It's a special occasion, man. It's definitely a great experience. It's even more special seeing other young kids from Brooklyn being able to enjoy this and see a real NBA game. It's probably something that they watch on TV but now they're here. They're shooting on the court of the Brooklyn Nets, so it's a great. I love to be able to provide them with this experience.
Talk about your charity foundation The Fabolous Way and what it represents?
I got a charitable foundation called The Fabolous Way and what we do is just try to provide opportunities, pretty much how this is. We go back to the community centers and help the kids out who need lunches and food over the weekend. Whatever coat drives [or] toy drives are needed, we just try to provide opportunity throughout the city. I know coming from New York we're a tough city, but at the same time we need [help] too. They always say the people that are the toughest sometimes get overlooked because they feel like, "Oh, they'll be alright," so I just try to provide opportunities to kids and do whatever we can to give them that hope and experience that is more than what they see everyday.
What other Brooklyn rapper should the Nets pay tribute to?
I don't know... it ain't my say but I guess there's so many Brooklyn MCs. Biggie and Jay of course, but everybody from Brooklyn, I guess. If you represented Brooklyn and you came out and were successful—I believe that everybody deserves a shot.
What are your thoughts on the new Nets City Edition uniforms?
Oh man, the jersey is dope! It's got a good feel to it, got the pinstripes to align with the Brooklyn Bridge. It's a dope jersey.
What's the update on the Young OG Project 2? Is it still dropping?
Yeah, that's still coming out. We still working. I just put out the project with Jadakiss, Friday on Elm Street, so you know just working that project a little bit. Tightening up everything else with Young OG 2. I got Summertime Shootout 3 on the way and a couple of other projects I'm working on, so just tightening up everything right now.
You recently met Dapper Dan. How was it to meet the fashion icon?
Oh, it was cool! Dapper Dan is a fashion icon. I was able to take my son up there and let him meet him and of course he's a little young and might not know everything Dapper Dan embodies but it was a great experience. I was happy to be able to provide that experience to my son as well. One day he'll get it.
See Photos of Fabolous Being Honored at a Brooklyn Nets Game