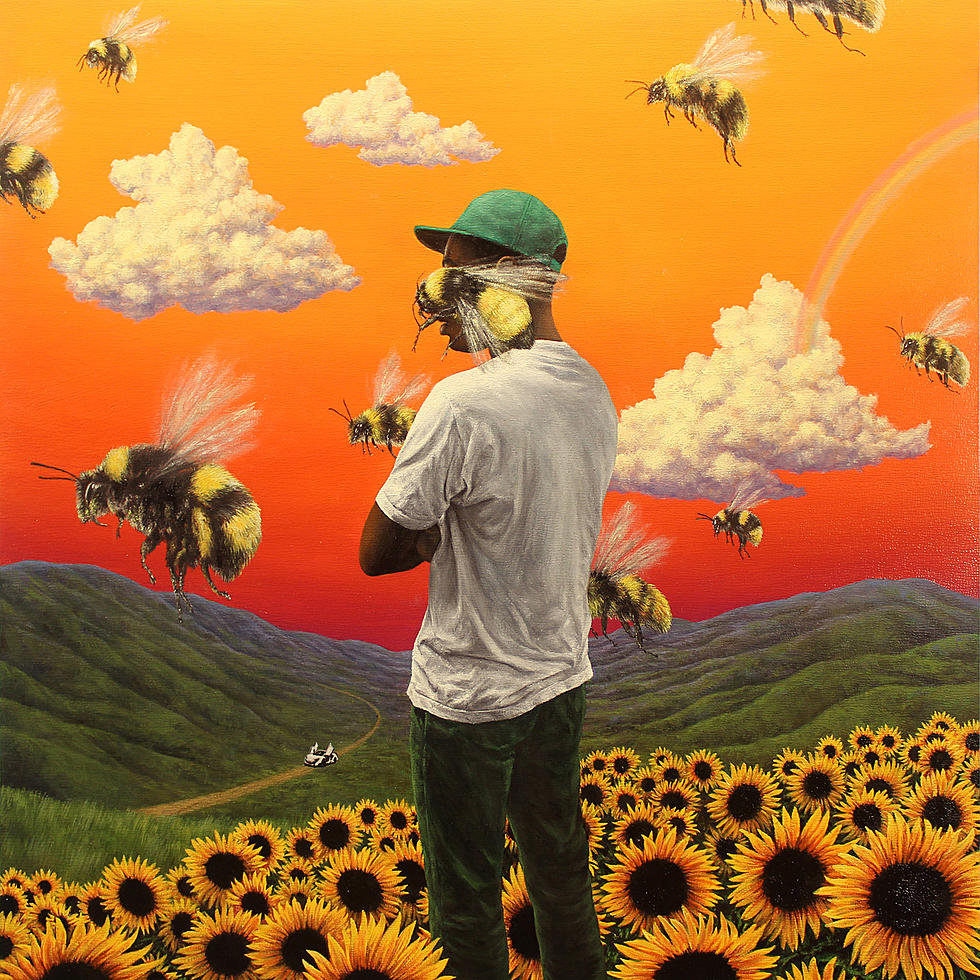 Meet Eric White, the Artist Behind Tyler, The Creator's 'Scum F*#k Flower Boy' Album Cover
Eric White
Earlier this week, Tyler, The Creator announced his brand new album, Scum Fuck Flower Boy, dropping July 21. The announcement came about a week after he'd released two new songs, "Who Dat Boy" with A$AP Rocky and "911/Mr. Lonely" with Frank Ocean. He shared the news of his next release by revealing two different covers for the album: one done by Tyler himself (which looks like a cassette tape cover) and one painted by an artist named Eric White.
White, a visual artist, is hardly new to doing cover art. Before the Ann Arbor, Mich. native attended the Rhode Island School of Design (better known as RISD), he always loved the work seminal pop artists Peter Blake and Richard Hamilton did for The Beatles album covers (Blake did Sgt. Pepper's Lonely Hearts Club Band and Hamilton did The White Album).
In the mid-1990s, White started designing covers for acts like Korn, Frank Zappa, Incubus and The Meices before stepping away from commercial work for awhile in the early 2000s to focus on his own stuff.
Based in New York and L.A., the 49-year-old White has been a keen rap listener since 1984, when he bought his first two rap records: Run-DMC's King of Rock and The Fat Boys' eponymous debut album. An ardent fan of Public Enemy and A Tribe Called Quest, he also names MF DOOM and Kool Keith as two of his favorite MCs, in case you didn't think he has his hip-hop bona fides.
White's also been a Tyler fan since the early days of Odd Future. When OF came to New York to perform at Highline Ballroom in May 2011, White was in the crowd drinking in the madness. Fast forward six years and he's doing Tyler's album cover.
His art has an absurdist bent to it (White likes to say he's drawn to "disturbing" work), and seeing how Tyler often takes liberties with his own imagination, it makes sense the 26-year-old rapper would be attracted to the dark-yet-whimsical qualities of White's work. Recently, White's even done a series of his own album covers riffing on classic cover art from throughout the years.
XXL spoke to White from his studio in L.A. about how he connected with Tyler, what their first conversations were about and how the final cover came to be.
XXL: How did you and Tyler get connected in the first place?
Eric White: I got a call from his manager [Chris Clancy] around September of last year saying Tyler wanted to talk to me about my work and potentially doing something with him. Tyler told me he found my work, because I just had a book come out with Rizzoli recently, so he said he saw that book and decided to get in touch. Right around that time, I met this guy [Phil Toselli], who works for Tyler, who's become a good friend of mine, and he said he was going to mention my name to them for that project anyway, which I find really strange.
So I talked to Clancy a couple times and then I talked to Tyler about it, and that went on for a few months, just back and forth. When we talked, he was super complimentary and I told him that I was a big fan of his. There was mutual admiration, so we decided to work together.
He had some pretty specific ideas, so we were going back and forth for awhile. I showed him some stuff, and then he came back and showed me some sketches he had done, and then we just solidified it. And then I did a pretty detailed comp to show him and get his approval, and that was pretty much it.
What were some of Tyler's early ideas?
When we started talking, he was working through ideas. He was showing me he had this bee in mind, and the first thing he said was he wanted his car involved and he knew there'd be flowers. I started putting together comps with those two things.
I think when he saw some of my work, it made him think of something specific. I did this whole series from the perspective inside a car. Initially that's what [the cover] was gonna be, I think. It was gonna be from the perspective of the driver or from the backseat, not sure. Something from inside the car. I guess his initial idea was kind of related to what I had done before, so that's where we started. And then after a few weeks, or maybe it was months, he had a whole idea for what was outside the window, which is, I guess, basically pretty similar to what ended up being the cover. And then he ended up wanting to get rid of that other element, so it just focused on him standing in that field in the mountains.
Tyler's a real aesthete, very focused on graphic design, color and such. What impression of him as a visual artist did you get while working with him?
Well, before I met him, I started seeing how [Odd Future] had a cohesive aesthetic to that whole collective, or at least there was in the beginning, and I was really drawn to that. It just seemed so out of the ordinary for hip-hop... just their whole thing when they came out was so refreshing to me. Because I felt like there was so much hip-hop that I thought sucked at that point.
But when we started meeting about [the cover], I met with him a couple times and one of the times he was showing me this sketchbook, and I had seen some of the stuff, I guess online, but I was really impressed with his drawings, and it made me realize that he had done some of the stuff I'd seen in the past and I didn't even know that. I assume he put some of those collages together, I wasn't even sure if it was him, but just seeing his sketchbooks, I told him he should publish those things, try to get a book deal or do something more.
His sense of color, and that's the thing that struck me, color is really difficult to do, and I'm definitely not a natural at it, but he seems to be a natural. The way he deals with color is really impressive to me, and I just really liked what he was doing. We were talking about his drawings and stuff, because he was doing a lot of stuff with outlines and I was talking about doing stuff without outlines or doing stuff with different color outlines, and then the next time I saw him he had some of that, and it just looked amazing. I think he's super talented just strictly as a visual artist. I was really impressed. I wasn't expecting... I just had no idea he had that kind of talent with visual stuff too, besides what I'd seen.
Have you heard Tyler's new album?
No, I haven't. Months ago, [the cover] was done, I had it photographed, I was about to send it and he wrote me and said, "Don't send it. Just wait." I hadn't heard anything from anyone, I was just waiting, and then I was starting to wonder if it was even going to happen, like did they find someone else? [Laughs] It's taking so long. But I assumed—I mean I was getting a little paranoid—but mostly I was just assuming he was still working on the record. So it came as a total surprise to me the other day when he said, "What's your Instagram?" And then minutes later I started getting all these crazy notifications. So I had no idea. Where the hell's my advance copy? [Laughs]
Tyler did physical versions of Cherry Bomb with different covers. Did you work on the packaging or design of an upcoming physical for Scum Fuck Flower Boy?
Just the cover. I spoke to him about doing that and said I was open to doing that if they wanted me to, but I never heard anything from Sony about that, so I don't know. I thought, and I could be making this up, but I thought Sony said they were gonna do vinyl, but maybe I invented that. I'm not sure. I hope it's coming out on vinyl. I'd imagine at least CD.
See 20 of the Best Album Covers of 2016