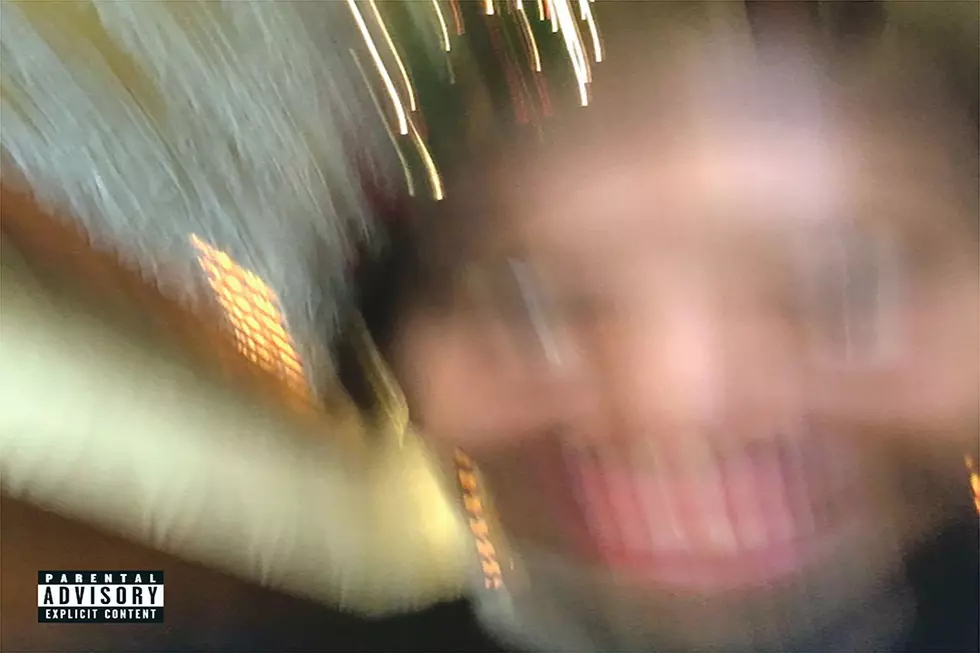 Earl Sweatshirt's 'Some Rap Songs' Album Toys With Convention
2018 Tan Cressida, under exclusive license to Columbia Records, a Division of Sony Music Entertainment
Earl Sweatshirt has never seemed comfortable in the limelight. He's had the pressure of living up to fans' incredibly high standards throughout his career. Earl's 2010 breakthrough mixtape, Earl, largely blew up while he was off the grid at a boarding school in Samoa. By the time he returned, he'd achieved cult status. Fans of his Odd Future crew were rabid to hear new music from an artist who left the U.S. as a talented 16-year-old MC with incredible technical ability, but just a minor following.
Earl's 2013 studio debut Doris saw the young lyricist switching up his subject matter from violent shock-value raps to introspective tracks about the pressures that come with his newfound fame and the depression he's experienced throughout his life. The raw follow-up, 2015's I Don't Like Shit, I Don't Go Out Side, further explores Earl's depression over a lo-fi, experimental production style. Both albums were critically acclaimed, leading many fans to declare Earl one of the best rappers of his generation. Expectations and pressure for what he would do next continued to mount.
Earl essentially disappeared for three years after I Don't Like Shit, with barely a verse released since 2015. Some Rap Songs is Earl's first new material in years, and his return to the public eye. It might be his best, most uncomfortable record yet.
A title like Some Rap Songs suggests simplicity, but the album is anything but. Earl doubles down on the experimental nature of I Don't Like Shit, once again wallowing in darkness while the production becomes more avant-garde, consisting of disorienting loops of jazz and soul samples that catch the listener off guard while Earl bears his soul.
Earl is still a master craftsman when it comes to constructing verses, but this time his dense raps are structured more off-kilter than ever. He regularly raps lines off-beat to emphasize his words. Every verse has a spontaneous, almost improvisational feel to it. Meanwhile, the subject matter on Some Rap Songs once again tackles Earl's personal demons.
"I think I spent most of my life depressed/Only thing on my mind was death/Didn't know if my time was next/Tryna refine this shit, I redefined myself," he confesses on "Nowhere2go." On "Ontheway!," he raps, "My mood really swinging, I peruse like a native would do/What I'm thinking I should do for the sake of myself," before calling out the fans who've been constantly bothering him for new tracks ("I need you now, closed lips make the mouth breathers frown").
Earl originally recorded Some Rap Songs to send to his estranged father, South African poet Keorapetse Kgositsile. It was meant to be a gesture for the two to reconcile a bit, but Kgositsile passed away in January before Earl could send him the album. Their relationship has always been a part of Earl's raps, as he was dealt with pressure to live up to his father's accomplishments. Some Rap Songs features that more evidently than ever. On "Red Water," Earl repeats the same eight bars, four times throughout the song, including the lines, "Blood in the water, I was walkin' in my sleep/Blood on my father, I forgot another dream."
The track "Playing Possum" doesn't feature any rapping from Earl. Instead, he intersperses vocal samples from his father reciting the poem "Anguish Longer Than Sorrow" and his mother Cheryl Harris giving a keynote speech at UCLA's law school. The track ends with applause after the two voices are done speaking. It's an incredibly powerful moment as Earl takes a moment to let his parents speak for themselves.
While most of the album was recorded before Earl's father passed, the final two tracks were added afterwards. "Peanut" sees him dealing with the depression in the immediate aftermath: "Flushin' through the pain, depression, this is not a phase/Picking out his grave, couldn't help but feel out of place." Then Earl shouts out his Uncle Hugh, South African jazz musician Hugh Masekela, who died just a few weeks after Kgositsile. The final track "Riot!" is an instrumental that samples Masekela. It's a joyous respite—a moment of hope after a dark journey.
Some Rap Songs packs a lot in 25 minutes, making for an unsettling listen that is also one of the most personal, gripping rap records of the year.
See 20 of Your Favorite Rappers Naming Their Favorite Rappers