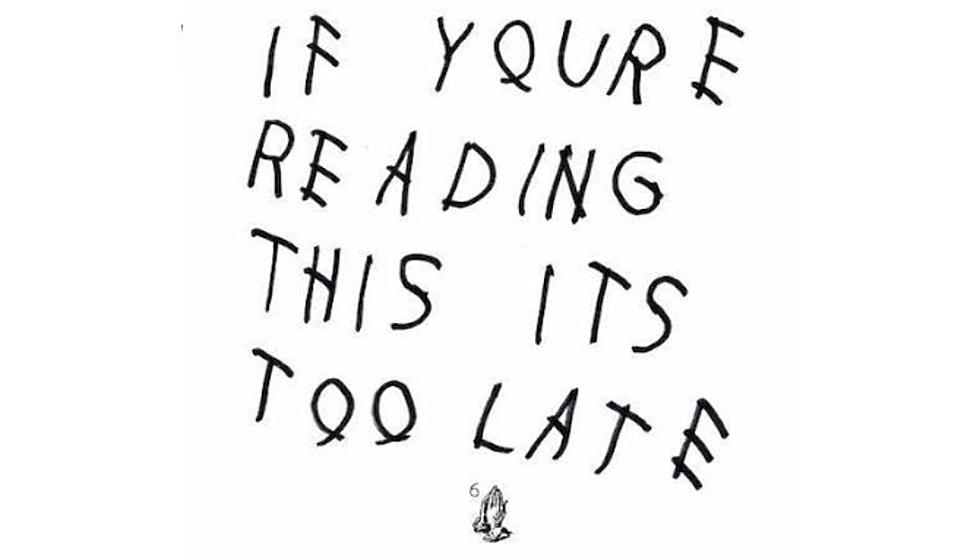 Drake Is Releasing a New Song With 'If You're Reading This It's Too Late' Physical Copies in April
Drake is not content to rest on his laurels. According to Hits Daily Double, the Toronto rapper is planning re-release his surprise album, If You're Reading This It's Too Late, in physical form--and with two additional songs. On April 21, Too Late will hit retail shelves, and will be amended to include two songs, "How About Now" and "By My Side." The former was released last fall when Drake dropped a trio of cuts that also included "The Heat of the Moment" and "6 God," the latter of which appeared on the digital version of Too Late. "By My Side," however, has never been released in any format.
At last count, If You're Reading This It's Too Late has sold some 774,000 copies; it moved around 495,000 units in its first week, making for the biggest debut thus far in 2015. It was trumped in one category, however--Kendrick Lamar's To Pimp a Butterfly shattered Drizzy's single-day album streams record on Spotify when the Compton rapper's sophomore album was played nearly 10 million times.
Too Late is Drake's first release since his 2013 album, Nothing Was the Same. That record spawned hits in "Hold On, We're Going Home," "Started From the Bottom" and "Worst Behavior," which benefited from an absurdly comical video that took place in his father's native Memphis. He has most recently been seen on the road with his friend, mentor and label boss Lil Wayne. As for Weezy, Drake has yet to weigh in on the feud the former Hot Boy has with Bryan "Baby" Williams and Cash Money Records, the label to which he is still signed.