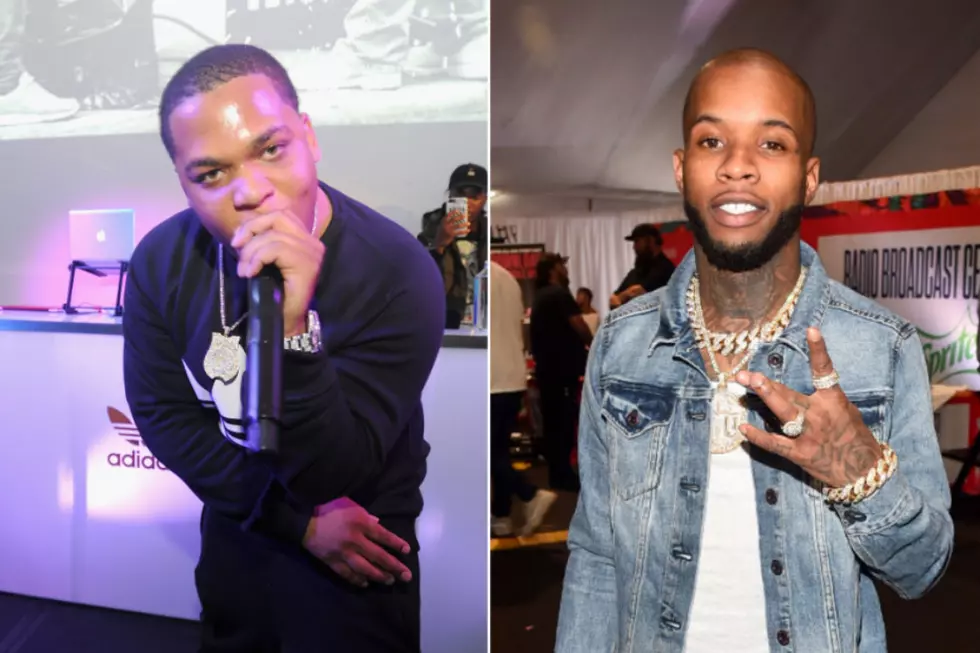 Don Q Teases Tory Lanez Diss Track
Brad Barket / Alberto E. Rodrigurez, Getty Images (2)
That didn't take long. Don Q has delivered on his tease by dropping a full Tory Lanez diss track titled "I'm Not Joyner," where he goes in on the Canadian rap crooner.
Listen to "I'm Not Joyner" below.
It looks like Don Q has one in the chamber. A couple days after countering Tory Lanez's claims that he would body any rapper out, Don appears to have a Tory diss song he is prepping to release.
On Saturday (Jan. 26), Don posted what surely looks like a cover art for a new track. The Highbridge rapper makes his intents clear by way of the artwork. The image shows Don Q standing on a bridge, holding Tory who is hanging by a noose. Sheesh! The track is titled, "I'm Not Joyner," a clear reference to Tory's battle with Joyner Lucas that ended amicably.
Don captioned the cover art, "Come outside @torylanez."
It looks like Tory knows what is about to transpire. Q also shared a screenshot of a text conversation with Tory on his Instagram Story where warned, "U know how I get," to which Tory replied, "Lol, well go ahead and start it off. Friendly competition."
This isn't the first time Don Q has taunted Tory. In response to Tory's "body any rapper" claims, Don responded on Twitter, "@torylanez RELAX MY BROTHER...IT'LL GET UGLY."
He later accused Tory of stealing his bars and provided proof on Instagram. "Toryyyyyy??" Q wrote in the caption. "The nigga that stole my style from bars to the beat...nigga u even wore the dad hat like me u been my son 😂😂😂😂 @torylanez RELAX YASELF #IMNOTJOYNER!!!"
Other rappers have taken notice of the beef brewing including G Herbo and Meek Mill. Herbo was thrown off. "Lol hollll on holll on what I'm waking up to," he commented under Don's post of the cover art.
Meek wants to see it play out in living color, commenting under the video, "We need y'all on the CC show immediately."
Check out the cover art for what looks to be a forthcoming Tory Lanez diss and some responses below.