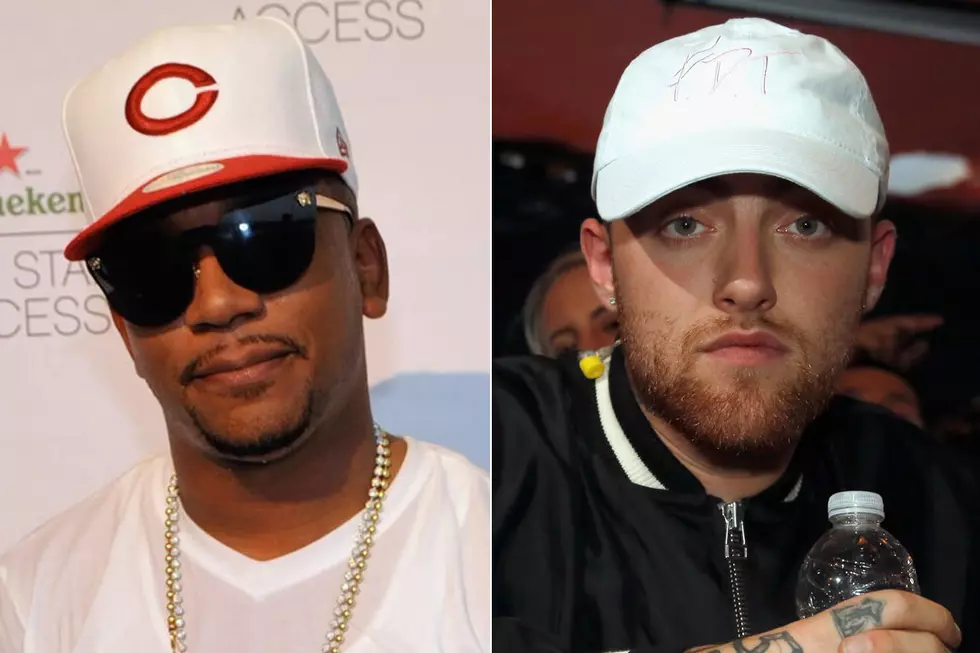 CyHi The Prynce Remembers Meeting Mac Miller as a 2011 XXL Freshman
Moses Robinson / Dale Berman, Getty Images (2)
How Long Will They Mourn Me?
After the tragic passing of Mac Miller last year on Sept. 7, 2018, CyHi The Prynce reflects on the rapper's legacy and their Freshman experience together.
Editor's Note: This story appears in the Summer 2019 issue of XXL Magazine, on stands in July 2019.
Mac Miller
Jan. 19, 1992 - Sept. 7, 2018
Class of 2011
By CyHi The Prynce
The crazy thing is, I didn't know Mac Miller when I first walked in [to the 2011] XXL [Freshman shoot]. I did see a couple videos of him, but I didn't know his music very well. One thing I will say, he was the most enlightening. He [was] the brightest spirit at that photo shoot. Everybody left there loving Mac Miller.
I think everybody else was kinda in competition. He broke all the barriers of the antisocial rappers that was in the room. Mac Miller came in with just such a camaraderie feel like, "Hey, guys, we made the list!"
What I learned that was special about him was his energy and his heart. That's what I definitely remember about that moment in time. That tells you that Mac was definitely the centerpiece of that cover.
When I heard him rap, I was super impressed. I'm a hip-hop guy; I like boom-bap. So, when I heard him rap in the texture that he rapped and it wasn't gimmick rap—it was his life but he still added some lyrical flair, some real hip-hop flair to it—I thought that was incredible. When I went to his show, I never heard somebody play drums, piano, rap, sing and play guitar all in one show. He was extremely talented.
What I like about that movement, him and especially with Wiz [Khalifa], [was] just the ruggedness of the sampling. Keeping it so hip-hop. Even when I felt like they could've changed or they could've went pop, Mac was very, very, very into hip-hop. Chopping the samples, the nostalgic feel that he had in his music. Blue Slide Park was one of my favorite albums when it came out. I just thought that he kept it so gutter to be where he was from.
God is always working, you know what I'm saying? Sometimes he takes some of our angels so he can affect a lot of people. I think [Mac] was one of those angels early on in the music industry that when pills and different kind of drugs were prevalent, nobody really spoke about how they really feel and why they're on the drugs. Everybody tried to make them seem cool. I liked the way he kinda just opened up and expressed himself about what he was going through to try to cover up the pain. And as we can see, a lot of young men are coming out and expressing themselves in that manner.
[His death] was devastating. It definitely devastated the hip-hop community because he was part of that first generation of rappers where we kinda like, we were rebellious.
The one word that I would use with Mac is awareness. I say that because he was not only aware of his feelings, he was aware of everybody else's feelings. That's the biggest thing that sums up Mac Miller. He just gave out so much love, he didn't keep enough for himself.
[Mac Miller, Nipsey Hussle and XXXTentacion], they all had a mentoring vibe to 'em. Like, when you spoke to 'em you got something from it. They was always trying to teach you something or help you heal from something.
We lost three great mentors in our generation that touched so many artists that their names [are] on a list forever. They had the same spirit, that same mentoring. Like, they'll pray with you, fight with you [and] cry with you.—As told to Georgette Cline
Check out more from XXL's Summer 2019 issue, including our 2019 XXL Freshman cover story interviews, a narrative on whether Jay-Z should run for political office, a look into Young Dolph's return after bouncing back from beef, Billie Eilish praises XXXTentacion, Tierra Whack and Denzel Curry in Hip-Hop Junkie, Kyle memorializes XXXTentacion, Wiz Khalifa applauds Nipsey Hussle's legacy, Lil Yachty gives an update on his forthcoming Lil Boat 3 album and more
See Photos of Every XXL Freshman Ever Inducted Into the Freshman Class Over the Years