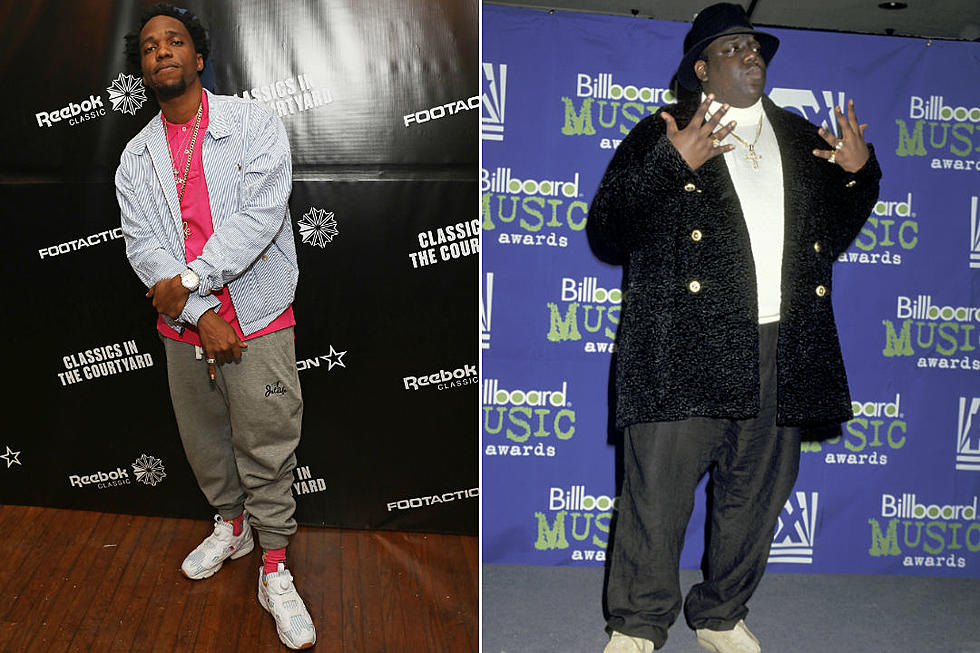 Currensy on The Notorious B.I.G.: "He Was Ahead of the Game in Everything"
Josh Brasted/Ron Galella, Ltd., Getty Images (2)
For New Orleans rapper Curren$y, Biggie Smalls was ahead of his time in both, music and fashion. "Like how that Dave Chapelle skit has 2Pac saying shit that's still relevant, if you listen to Biggie right now he was saying shit that was ahead of its time," Spitta Andretti tells XXL.
Curren$y recalls a few of the most popular photos that have circled around the web of B.I.G. and vividly remembers him as one of the first MCs to ever sport Japanese streetwear brand Bape. "I mean, you see Biggie in pictures wearing a Bape jacket in the early '90s, so everybody has to understand that B.I.G. was ahead of the game in everything from music to fashion," he states.
For the southern rhymer, he honors the late great Frank White on March 9, Curren$y by purchasing his CDs every year, "Every year, I buy the CDs again because from car to car things get destroyed," Curren$y shares. "You can't live a year without his music and every time that you open the CD and you play it again, you hear lines that you didn't even know he said."
After praising B.I.G. for his music and legacy, Curren$y closes out his interview with a quick shout out to the legend's son, C.J. Wallace. "Shout out to C.J.!" he says. "That's my guy. I've never physically met him, but Lil' Cease and Jadakiss told me he liked my music, so little bro I'm gonna pull up on you and we gonna kick it."
Check out more on The Notorious B.I.G.'s life and legacy at XXL's special 20th anniversary tribute hub below.
See Photos of The Notorious B.I.G. Over the Years