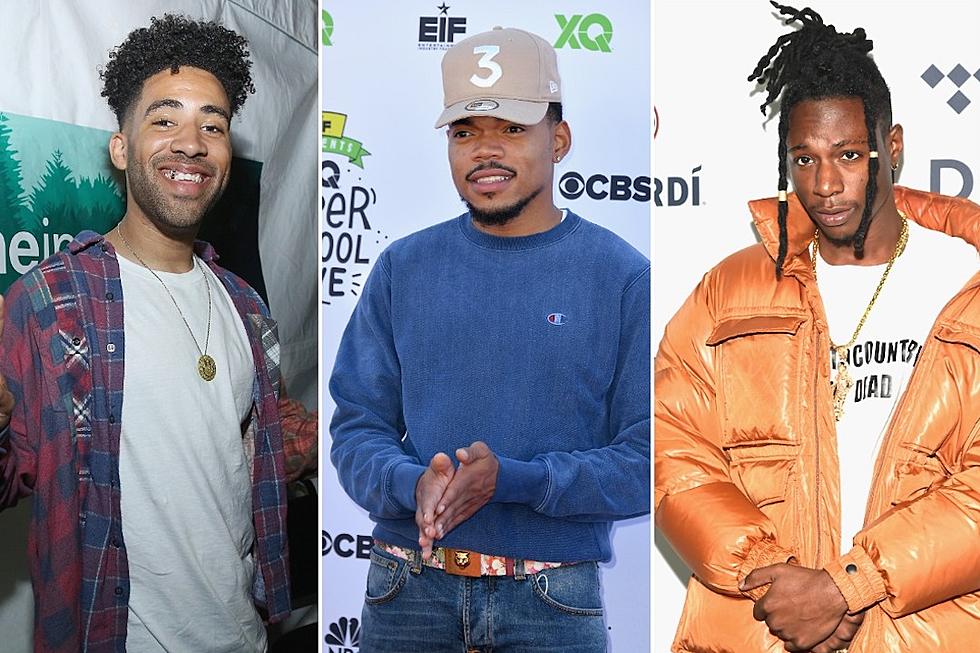 Chance The Rapper, Kyle and Joey Badass Are Really Into the Show 'Peaky Blinders'
Neilson Barnard/Robin Marchant/Mike Coppola, Getty Images (3)
Although Chance The Rapper, Kyle and Joey Bada$$ lead a life of music fame in the spotlight, they have some pretty opposite interests outside of making rap music. The three rappers recently bonded on Twitter after the Coloring Book creator revealed his love for the British crime show Peaky Blinders.
Chance originally tweeted a question to his followers asking if anyone currently watches the show, which takes place during the aftermath of the Great War in 1919. While many fans responded in favor of having seen and become consistent viewers of the series, Kyle responded by saying, "I actually love that show."
The two then exchange comments about the show on Twitter, with both of them exclaiming that people are sleeping on the series and how great they believe it is. The 2017 XXL Freshman even admits that he was inspired to watch it after playing Assassin's Creed. During the exchange, Bada$$ chimes in, admitting that he also watches the thrilling series, and that it's his "favorite shit right now."
These three rap stars have yet to hop on a track together, but it looks like they could easily create some new theme music for the show as a tribute to their love for the series.
See the tweets from Chance, Kyle and Joey Bada$$ about their love for Peaky Blinders below.
See Tweets From Chance, Kyle and Joey on Their Love for the Show Peaky Blinders