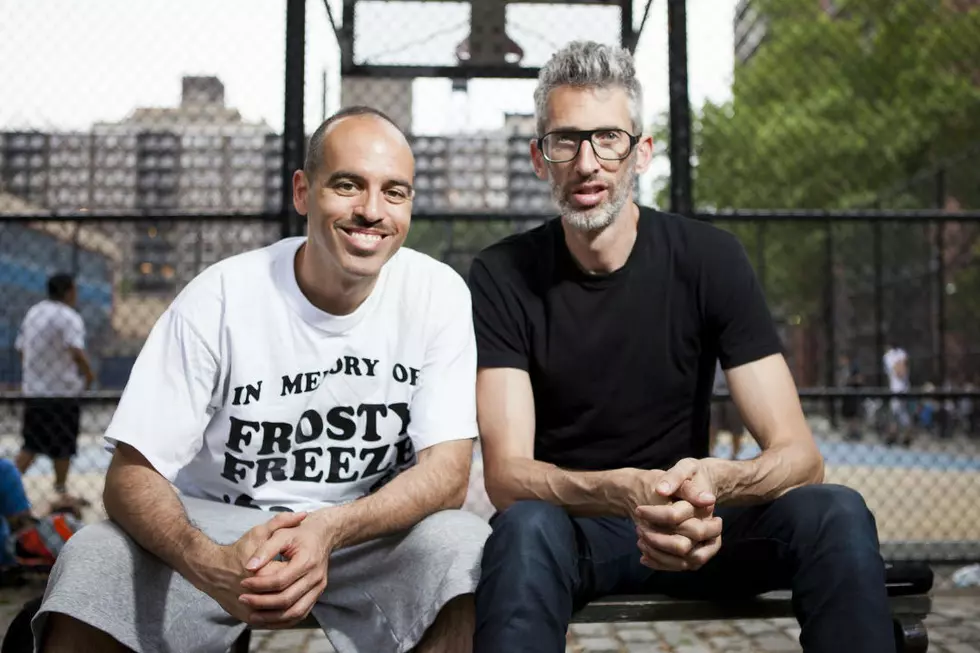 Bobbito and Stretch Revisit History on 'Radio That Changed Lives' Film
Jon Lopez
The legendary DJ Stretch Armstrong and Bobbito finally drop the much anticipated film, Stretch And Bobbito – Radio That Changed Lives. The documentary, which focuses on the lives of two radio friends from New York City who became major hip-hop tastemakers, goes back in time to the days Stretch and Bobbito revolutionized radio from Columbia University during a powerful and epic eight-year run.
The show, which Nas called at the time, "The most important show in the world," is responsible for launching the careers of some of the biggest players in hip-hop. From Jay Z to the Notorious B.I.G. to Mobb Deep and the Wu-Tang Clan, the Stretch and Bobbito show served as the perfect platform for a new artist who was looking to break into the scene during the '90s.
Stretch and Bobbito created a platform that changed music forever. The documentary is perfect for those who grew up listening to Stretch & Bobbito, and for those who weren't old enough to hear the show in live time. XXL got a chance to speak with Stretch and Bobbito during their promo run in New York City and find out the behind the scene details on the creation of the film and the influence of the legendary radio show on hip-hop. Radio That Changed Lives is now available exclusively through Vimeo.
Tell me the inspiration behind the Stretch and Bobbito: Radio That Changed Lives documentary?
Our first show was in the fall of 1990, so we're approaching the 25th anniversary of our first show, so we certainly wanted to finish the film to celebrate that benchmark, but I think more importantly if you look at documentaries in the realm of music, they usually focus on the people that make the music, the stars, or even the producers, or even the record labels, but you never really get the story of the documenters and enablers of the music, so we kind of turn the tables on that way. What Bobbito and I did, is that we're like the story behind the story, so if you're an insider, or fan of the radio, or a hip-hop head, you know who we are, but to the average fan or young kid, or older person who doesn't know about me and Bob, you know they know about Eminem, they know about Nas, they know about Jay Z, but they don't know how they came to know these people in the first place and I think it's a story worth telling.
What was something new that you learned about Bobbito during the creation process of the film?
We worked very closely for many years so I think in some ways I was more reminded of things that I've maybe forgotten, but I would say the newest thing that I learned about Bob is that he is a gifted filmmaker and I think when he did his first film Doin' It In The Park, which is a great film. I loved it and I think that everyone should see it wether you're until basketball or not, after seeing that I was really impressed with what he did, but you'll hear Bob say in interviews "after my first film I would have not called myself a filmmaker I don't think I deserve that and earned that title" and after this film he's comfortable with that and I am comfortable calling him that. And i think collectively as a team we made that I think is much more than a piece of nostalgia and memorabilia its a film that has a lot of subtext a loot going on out speaks to a lot of people in a lot of different levels beyond hip-hop and I am very proud of that.
You did the music supervision on the film, how similar or different was it to DJing?
Well in some ways doing the music for the film was like DJing our own history, so if you think of all the shows that we ever did and the three hundred-plus artists that were guests on our shows, I was really digging into that metaphoric crate to pull out the best moments that we can put together in a 90-minute audio visual experience that would really entertain, educate and inspire and also get peoples feet tapping and head nodding so I think doing the music was really like DJing and if you pay attention to the music it's done pretty slickly. Everything is on beat and everything is on tempo. Everything is very smooth and the transitions are very good on the film. I think people will recognize when they watch film that it was done with a DJ mentality.
What inspired the idea to make the film Stretch and Bobbito: Radio That Changed Lives?
October 25, 1990 was our very first show, so when we started making the film in 2014 we really pushed hard to have it ready to be released on October of 2015 because it just made sense and it tied in with the 25th anniversary. We doing a whole worldwide tour for the release of the documentary.
What was the biggest challenge you faced during the creation process of the film?
I think there were multiple challenges, but I think the hardest one was figuring out how to illustrate the audio archive because we didn't always have somebody video taping back in the day. We didn't know that all these dudes were going to go ahead and become multi-platinum mega stars, so that was the challenge to figure out. We brought in some artists like Eric Haze, Jose Parla and Stash and they killed it with their artwork interpreting the lyrics. It really took the sound to another level. We didn't just get a positive response from the hip-hop heads, but we got a great response from the art community, from the film nerds and documentary buffs. I mean everyone loved it, so it was something that was a challenge, but it actually worked on our favor.
From start to finish, how long did it take to make the film?
It took a year and half. We started in February of 2014 and the digital release is October 22. We're in theaters right now as well. We sold out our LA premiere, our Oakland premiere and when IO mean we sold out the venues, I mean like 50 people standing by the exit floor to watch the film, so we're killing it right now. People are beyond excited to see this movie.
How special is it for you to see all the love and positive feedback the film has been receiving?
I'm thankful you know because there's a lot of people that know the Big L and Jay Z freestyle that got like 8 million plays on YouTube, but there's a lot of people that listened to that freestyle and didn't know that it was Bobbito and Stretch's radio show. Or they may not know that we were the radio channel that first premiered Biggie, Nas, Wu-Tang Clan, Mobb Deep, Eminem, Big Pun and all these artists that were unsigned at the time. So it's nice to actually provide that sort of texture and background for people who might revere these artists to know who they were before they got there. The film isn't just about the artists, it's about me and Stretch's relationship as radio buddies, former roommates, and it's also the narrative of our listeners, and that's the curveball in the film. That's what people identify with it so much because it's not just about these famous people it's about these normal, regular around the way cats that were die hard fans taping every week the show. All of them have something valuable to say in the film.
Was there something new that you learned about Stretch during the creation process of this film?
Well, I think both of us were relearning our own history because we were getting so granular with the details presented in the film. I mean, I'm happy that you know, a lot of people might have a good working relationship and do something legendary and then that's it. You know, you part ways and then you never get to revisit it. But with me and Stretch the last year in a half, we've spoken every single day multiple times. We're on tour laughing you know, and that's my dude, so it's great to be on a positive note.
Were there parts of the film that you left out that you wish you could've kept?
Nah, the film represents our favorite moments. I mean of course, we had 30 hours of archival footage from the '90s. It would've been great to fit 30 hours of footage, but nobody wants to see a 30-hour movie, but the DVD will have some bonus footage. The digital download, which is releasing Oct. 22nd, will have deleted scenes as well so people can see.
Why should people check out the film?
The film is 98-minutes of just phenomenal footage audio arrives of hip-hop at its purest form and I encourage everyone to watch it and let us know what your favorite moment is.