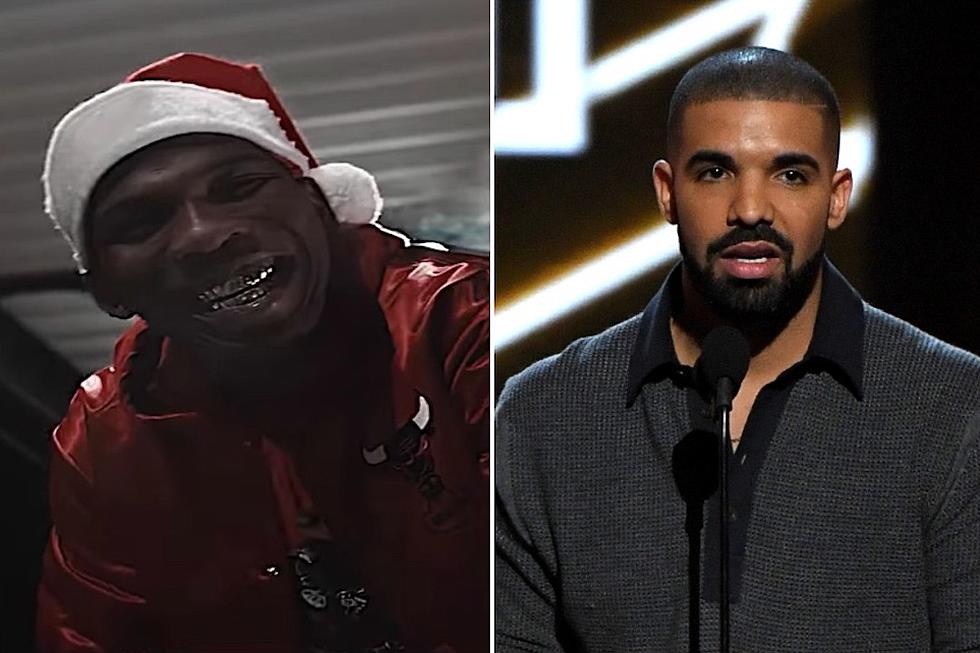 Memphis Rapper BlocBoy JB Hints at Collaboration With Drake
WORLDSTARHIPHOP via YouTube/Ethan Miller, Getty Images
Memphis rapper BlocBoy JB has Drake in his corner if you look at some recent Instagram posts, and now it looks like the rising artist may have something in the works with the superstar rapper and his OVO Sound label. After working with Drake on their upcoming collab "Look Alive," BlocBoy JB hints that he's teaming up with the label.
On Wednesday (Feb. 7), BlocBoy posted an Instagram photo of the OVO imprint's signature owl dressed in purple and sporting a purple bandana that reflects JB's style. The rapper tagged Drizzy's Instagram page on the image as well as OVO Sound and fans have noticed that the photo even received a like from Drake himself.
There's no word on when we might be able to expect "Look Alive" to release, but it looks like the social media post's purpose is to build anticipation around the mystery. While there have been whispers from fans about BlocBoy JB potentially signing to OVO Sound, it's not yet known if he is part of the label roster, or simply just promoting the new single on the way.
Drizzy has given BlocBoy JB cosigns in the past, as the two were seen dancing to BlocBoy's song "Shoot" together in what appears to be a club, and even previewed their upcoming joint track. The dance the two are doing, which can be seen in BlocBoy's "Rover" video at the 2:30-mark, has been taking over social media.
BlocBoy has been making noise in recent months after dropping that buzz-worthy record, and his "Rover" track, which were both met with praise among fans and the hip-hop community. While he dropped the music video for "Shoot" in the summertime of 2017, he recently released the visuals for "Rover" this past month.
See the Instagram post from BlocBoy JB that has OVO fans hyped up below, as well as the footage of he and Drake dancing to their upcoming track.
See New Music Releases for February 2018