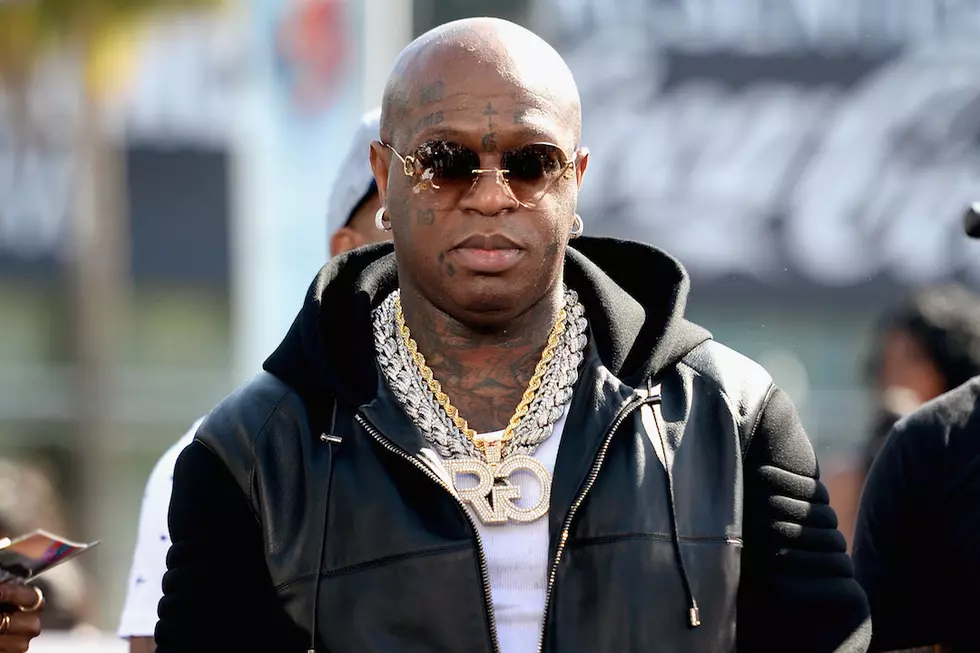 Birdman Feels Cash Money West Signee Saviii 3rd Embodies California Culture
Matt Winkelmeyer, Getty Images
Some 30 years into his career as a rapper/music mogul, Birdman is off to the next frontier.
Three days ago, the man responsible for helping kickstart the careers of Lil Wayne, Drake and Nicki Minaj announced the launch of Cash Money West, a California-based Cash Money imprint he's started alongside The Game's longtime manager, Wack 100. With the backing of Republic Records, the New Orleans boss is looking to bring the success of the original Cash Money to greener pastures.
"I got one of the most powerful machines in the music industry," he tells XXL during a recent phone call. "We make stars over here. I'm on the coast embracing young talent. We just trying to build our brand stronger with this new talent."
That new talent Birdman speaks of is 22-year-old Long Beach artist Saviii 3rd, a promising rapper he signed just a few days ago. "Saviii is one of the most talented [artists] I done seen," Birdman says of the artist, who recently unloaded his All Eyez on 3 project. "I think the young man gon' be a big star and I'm excited to work with him."
Hopping onto the phone with XXL yesterday, Birdman talks Cash Money West, his reasoning for signing Saviii 3rd, plans for movies and more.
XXL: When did you first get the idea to launch Cash Money West?
Birdman: I've been working on this for a minute. A couple of months maybe—almost a year. Just a thought. And I just woke up one morning and said, 'Fuck it, I'm gon'.' I jumped on a jet and went there. I been out there a minute. Found me a spot. It's on. I'm here. I ain't going nowhere.
I'ma be out here. We really the king of hip-hop. No one done it or do it better than what we do. I need to flex my style, how strong we is and how we can take a young man and turn him into a star and take him out the street life and make him into somebody that's relevant outside of doing something that don't really have no relevance to it.
And I see so much talent on the coast, and I'ma embrace it. I got the money, I got the power, and I'm looking forward to it in all aspects.  Me and Nick Cannon got a movie company we started. We working on our second movie already. I'm just excited about it. It ain't about just rap; it's about everything that comes with the movie business. It's about movies, it's about everything that comes with the music business. We doing everything. Any and everything, I want in.
You mentioned doing movies with Nick Cannon. Besides She Ball, what are some other movies you and Nick are doing?
We're working on another movie we're gonna call Rich, which was with some of my other people that's involved with that. We got a few [other] movies in process. We just gonna keep putting out movies and keeping putting out music soundtracks and embracing the music shit hard—but I don't think it's about music. I wanna add movies to the music.
Why was now the time to bring Cash Money to the West Coast?
'Cause I just wanna put all the bullshit I had behind me. Leave all that behind me, get all the mess behind me and we move forward. Business is timing. It's just perfect timing. I wanna do something different. I'm from New Orleans, I'm a Southern nigga till the day I die and I wanna just take it to the West side, and that's where I'm at with it.
Who first played you Saviii 3rd's music?
A partner of mine [Wack 100] sent me his music and I instantly just felt like we had a connection. I went to the extreme to get the young man. I wanted to just make sure that he get to represent where he come from on his side, on the West side.
What do you mean by, "to the extreme"?
I just wanted to make sure I did a deal with him. When I met him I talked to him and within four days it was done. I didn't want to gamble with him, I ain't wanna play with it. I wanted to make sure he [was] straight give him a bag and we just gon' work.
It's the music business, this shit really ain't really complicated. We make it complicated sometimes. I just wanna go give the young man blessings and let us go to work and let's do some music. He got a project out right now called All Eyez on 3. We're gonna put that out in about a week or two. I got a big-money budget just to sign artists to publishing deals. We're tryna do something different on the West side.
Sounds like Cash Money is in full effect.
We always been in full effect, but this the first time that I kinda stepped outside of my normal with Dwayne, Drake and Nicki and just signed other acts and embraced a whole 'nother coast so, you gotta catch up or get left behind. It's the streaming world and everything that ever changed—we was always able to be on top of the game.
What makes Saviii 3rd the right signing for Cash Money West?
I just like how he represents the culture. He shows the culture of California. That's what we did. We always showed where we from, how we live, how we talk where we're from. Just everything about us is the culture. [Saviii] is showing Long Beach culture, and to do that takes some type of art and creativity. I was enthused by how he's showing the culture—where it comes from. The movement they've got going out there it's gon' be very successful—starting with Saviii.
I love doing music and I love taking young men and turning something into nothing. That's just something I was blessed with being able to do and I'm just excited to be over here, and we gon' sign a whole bunch of talent from all over the world and a lot of 'em are from the West Coast.
Who are some other artists you've signed to Cash Money West?
I really don't like to speak on that because you know Saviii had signed already. Once we come I'll definitely make—cause sometimes when you speak on it, other people try to do shit. Just for right now, my whole focus is on Saviii. Outside of what we already have. But, far as the West Coast, it's Saviii—straight up.
See 60 Hip-Hop Albums Turning 20 in 2018