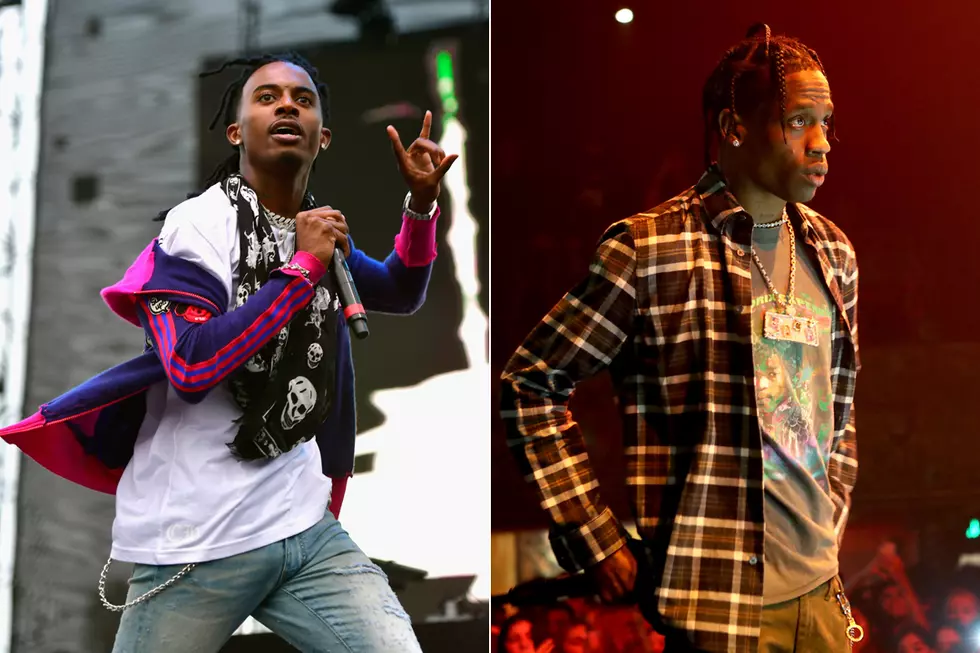 Best Songs of the Week Featuring Playboi Carti, Travis Scott and More
Frazer Harrison/ Randy Shropshire, Getty Images
We've entered May so that means you've probably shared that ridiculous Justin Timberlake meme with your friends—everything is great. Wherever you are, the sun is out, the birds are chirping and it's almost vacation season. Luckily for everyone, most of the new hip-hop releases are headed in that direction. Check out this week's edition of XXL's best songs of the week.
This week's list starts in the South—Atlanta to be exact. Playboi Carti has been relatively quiet, even amid rumors that his album has been done for a while. He broke his silence with "Love Hurts," a new track, produced by Pi'erre Bourne, featuring the equally elusive Travis Scott.
Speaking of Travis Scott, he teased that new music was on the way earlier this week then released his new single "Watch" featuring Lil Uzi Vert and Kanye West last night. Predictably, its a banger, and starts with a clip of a little girl mentioning Astroworld, the now-defunct Houston amusement park and the long rumored title of Travis' forthcoming album.
Travis' pal Young Thug has seemingly canceled his planned break from releasing music, and dropped "Ooou," produced by London On Da Track. Thugger is singing again!
Not to be forgotten, Atlanta underground rap stalwart Key! just dropped 777, his collab album with Kenny Beats. The whole thing is pretty good, but the motivational "It Gets Better," sticks out, with Key showing a vulnerable side.
We're now taking a trip to Memphis (and South Florida), courtesy of BlocBoy JB. His latest single, "Nun of Dat" featuring Lil Pump, is sure to stay in summer playlists. Another name who's huge in Memphis put some new work out today too: Moneybagg Yo. His latest song is "February," assisted by Jeezy. Yo flows all over it, and him and Jeezy actually trade short verses back and forth.
All the way in the Midwest, Chicago's slinky-flowing Valee and R&B crooner Jeremih team up for the playful  "Womp Womp," where both adopt the same flow.
We're till in the South by the way of Mississippi, the home of the Brothers Sremm. Rae Sremmurd dropped SR3MM just in time for the summer. You will certainly hear The Weeknd-assisted "Bedtime Stories" everywhere in notime. On the track, the trio try their best not to fall in love.
Of course, this week we have to come back to New York City, the birthplace of hip-hop. Desiigner's EP, L.O.D. (Life of Desiigner), dropped today, right after his 21st birthday. The song "After Party" is a fitting celebration. Keeping it local, Styles P—hip-hop veteran, member of the Lox and a man of many accolades—also released his album, G-Host, today. The track "Window to the Soul" is driven by a haunting sample, with Styles sharing some honest life advice.
Check out XXL's best songs of the week below.
See New Music Releases for May 2018