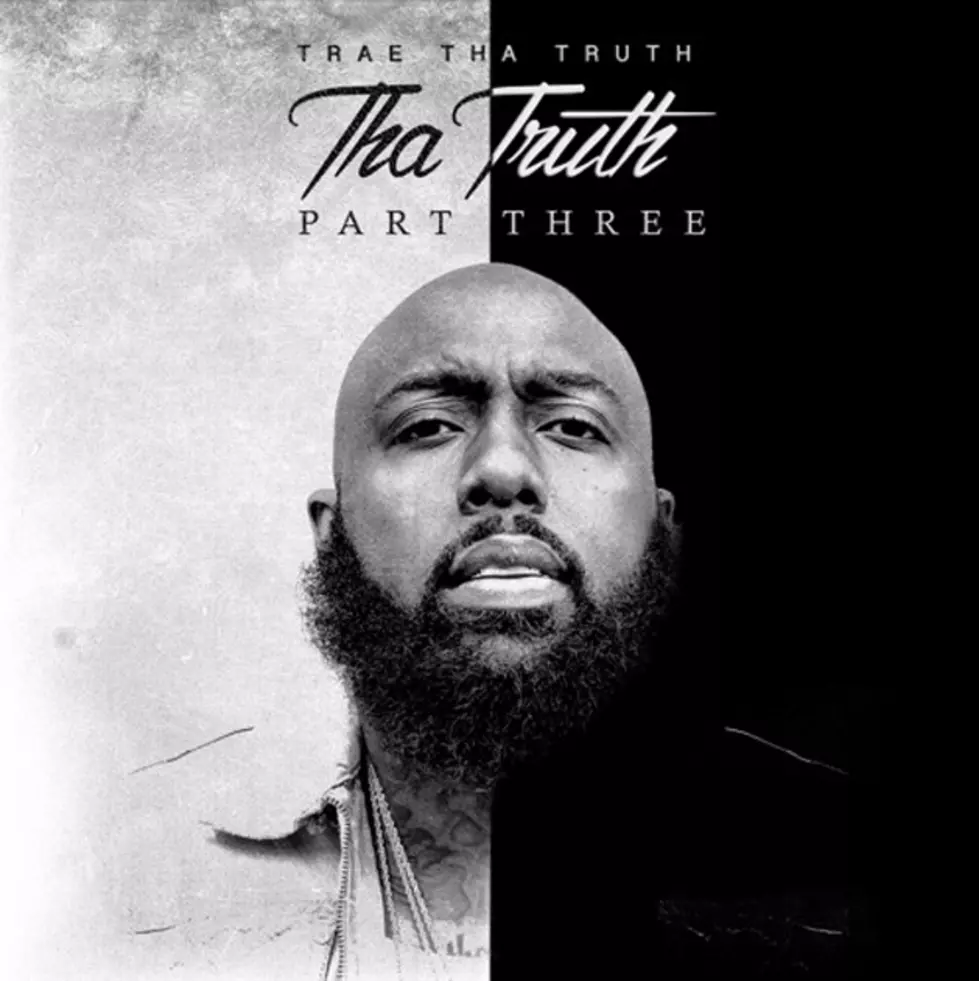 20 of the Best Lyrics From Trae tha Truth's 'Tha Truth, Pt. 3′ Album
Empire
In a rap game that has become predicated on productivity for most, Houston rapper Trae tha Truth has remained a model of consistency. Despite having nearly 20 years in hip-hop under his belt, Trae is by no means considered a relic, with a musical vibe and aura that has enabled him to stay in tune with the youth. As a result, he's perceived more as a tenured veteran than an elder statesman.
Making his rap debut alongside Z-Ro on the latter's 1998 album, Look What You Did to Me, Trae tha Truth would partner with Z-Ro to form ABN (Assholes By Nature), with Trae deciding to pursue a solo career after the release of the duo's 2003 collaborative album, aptly titled Assholes by Nature.
Releasing a succession of solo albums throughout the aughts, Trae tha Truth's building buzz would catch T.I.'s attention, resulting in Trae inking a deal with Tip's Grand Hustle label in 2012, thrusting him into the national spotlight as one of more touted artists out of his hometown. In 2015, Trae unleashed his major label debut, Tha Truth, a star-studded affair that solidified the rapper as a force to be reckoned with, and spurred his current winning streak.
After an active 2016, which included the release of his mixtape, Another 48 Hours, as well as his sophomore album, Tha Truth, Pt. 2, Trae returns with his latest long player, Tha Truth Pt. 3, which finds the ABN general calling in a list of his contemporaries to join him throughout the songs 18 tracks.
XXL sifted through Trae Tha Truth's latest project and compiles 20 of the best lyrics from Tha Truth, Pt. 3 that stood out above the rest.
"Can't Get Close"

Trae tha Truth

"I feel like I'm losing it/Loyal to the death and niggas abusing it/Riding blurry, but somehow I keep cruising it/Life or death, I'm trying to keep me from choosing it/Gather wind, to the end, you're my brother/Not another, niggas been undercover/The point position, trying to get out the gutter/From loaf of bread, they give a fuck about butter"

"Too Late"

Trae tha Truth Featuring Post Malone

I feel like I got nothing to lose/Who the fuck gon' fit in my shoes/I been patient for 20 years, put some respect when I move/True status won't be denied, I got no chances to lose/Dues paid 'em, now I got credit, what a bunch of spectators confused/Amused telling me ain't nothing better than me standing underneath the weather/I'm just here to tell you they was sick/Under water, where's your umbrella" - Trae tha Truth

"Alleviation"

Trae tha Truth Featuring Kim

"Speak to inspire, build to destroy/I was placed in a situation that suited me, not a matter of choice/Although I wanna give up, gotta live for the fam/Gotta look out for all my niggas, gotta meet the demands/Of the people who need a reason to wake/My soul I take to give to you before I make amends" - Kim

"Alleviation"

Trae tha Truth Featuring Kim

"Yeah, you know I'm top of my prime, either say fuck it or toast/I'm now the voice of the struggle for those that feel it the most/It's no one better to host, though I never brag, never boast/This for my ghetto I'm holding down, never leaving my post, that's for my brother Homocide, the pain was never so close/Sometimes I wish I could talk and interact with his ghost/Though I feel it was a wake-up call, I wanna go back to sleep/Nobody touch me, get sleeping pills, a heavier dose" - Trae tha Truth

"FrFr"

Trae tha Truth Featuring Lil Durk

"Who they tryna block? I tell them I ain't fo' it/Play it like I'm Curry, how could you ignore it/Hatin' got you booked, if Stephen King had wrote it/Me I'm doin' me, it's something that's important/I rep for Houston like Whitney nigga/Boy N Da Hood, ain't no Ricky nigga/Try to picture what Audemar fit me nigga/Might just buy the whole spot cuz I'm picky nigga" - Trae tha Truth

"Thuggin"

Trae tha Truth Featuring Young Thug & Skippa Da Flippa

"Feed the bitch pizza/Marvin Gaye, done got measles/Ready like werewolf/I can be a soo woo creature/I don't do phones, got beepers/I don't ride in cars, can't bleep us/New tattoo say, 'Free Meech'/Show me how to treat this cougar" - Young Thug

"Still Out Here"

Trae tha Truth Featuring Ra Ra

"Young Andre, how I'm playing three stacks/Diddy on the work, tell 'em take that/In the kitchen, trying to vision where the cake at/Harlem with it, how a nigga trying to shake back/And if you ain't eating with me, better stay back/Travel with magazines, all he do is stay packed/Never will I live a lie, I'd rather state facts/I gotta get what I can get until I lay flat" - Trae tha Truth

"Fallin Down"

Trae tha Truth Featuring D.R.A.M.

"I'm from the bottom where nobody ever feared us/I'm real with it, why them niggas trying to dead us/I'm on a different page, ain't nobody read us/Try me, that's enough to get ya head bust/Looking at the news, Bankroll got shot/Never know who coming for you when ya' face hot/Why the good niggas always end up in the grave/Every fuck nigga left need to switch spots" - Trae tha Truth

"Trae Day"

Trae tha Truth Featuring Que

"Paparazzi taking shots like it's Hennessy/Yeah, new whip, you don't see the glass/Shit, new bitch, you ain't seen the ass/When I step out in the hood, you don't see the cash/Guaranteed I wrecked em you ain't seen the crash/I'm a fool, this ice on me retarded/Balling on 'em, playing like I started/They stay watching me like I'm recorded/Shit was finished soon as I departed" - Trae tha Truth

"Pull Up"

Trae tha Truth Featuring Maxo Kream

"I don't give a fuck, tell the haters to quote it/Catching plays until the bases are loaded/Hit the plug and tell him go head and load it/If it don't make the plane, I tell em to boat it/I just get the money, never promote it/Presidential like these niggas done voted/Go head, keep playing, make me pull up on ya/Nigga, I applaud until the chopper unloaded" - Trae that Truth

"Take Me Back"

Trae tha Truth

"I guess it is what it is, the fuck you wishing me well/Realizing I'm all alone to ride it out like it's jail/No visitation, no bail, just sent my ship up and sail/The way you played a nigga got my temper temperature hell/Although I feel that you failed, we disconnected like cells/Animosity got me wanting to send 'em at you like mail"

"Ghetto"

Trae tha Truth Featuring Ink, Wyclef Jean and T.I.

"We live by any means/Forever, we gon' stand for some or fall for anything/Whenever we pull up get turnt up/Don't concern unless it plenty green/And Hennessy, we blowin' presidential Kennedy/Remember me, I had a bomb in da cut/Had a Glock on my hip/Was trappin' the police pull up/No talkin' or hoppin' the fence " - T.I.

"Ghetto"

Trae tha Truth Featuring Ink, Wyclef Jean and T.I.

"Ready for whatever, father helpful times/Many niggas outta line/Got a 40 pulled up to my waist/The other peace I need I couldn't find/Quick, did shit I could rewind it/Pain and hurt don't remind it/I'm fighting knowing nothing promise/I'm close as hell but still can't time it" - Trae tha Truth

"I Ain't Mad at Ya"

Trae tha Truth Featuring Ink

What's been happening with you homie, you looking like you been stressing/Trying to make a change, not accepted from what I'm guessing/Some of the ones you love the most not out here for you, that's the lesson/Devil playing corner-back, intercepting your blessing/Hear you barely in the hood, that 9 to 5 done got you locked down/Used but half the block dead, got shot down" - Trae tha Truth

"Nothing to Lose"

Trae tha Truth Featuring Watson The Great

No point of wishing to live knowing you're shit out of luck/I'm just praying to make it out, can't get ahead like I'm stuck/No loyalty where I'm from, I watch it sell for a buck/On the crew sometimes, it's listed that your own people will get you fucked" - Trae tha Truth

"Nothing to Lose"

Trae tha Truth Featuring Watson The Great

"Find out ya nigga pussy, that fuck up ya whole world, nigga/Never once supported you like he did to ol' girl, nigga/I'm just giving it straight I'm talking no curl nigga/Trying to help ya lil' homie, he done caught him a body/Bout to catch him a chain, now he feel like he Gotti/Matter the situation, all they know is who shot it/Fuck about consequences, he want respect when he spot 'em" - Trae tha Truth

"Feel So Lost"

Trae tha Truth Featuring Ink and Kim

"Niggas trying to block out my blizzard, they in the huddle/7380 got evicted to see the struggle/Introduced myself to the bible witnessing trouble/I had to deal with life through my brother seeing in double/Bars in a cell, it's hell without ya family/Now I give my life through the music to see a Grammy" - Trae tha Truth

"I'm on 3.0'

Trae tha Truth Featuring Mark Morrison, Gary Clark Jr., E-40, Styles P, G-Eazy, Chamillionaire, Rick Ross, Fabolous, Snoop Dogg, D.R.A.M., Curren$y, Royce da 5'9", Tee Grizzley, Dave East and T.I.

"Automatic still give 'em the same kick/Started the sideline, now I'm starrin' in game 6/Spit and make 'em replay it like they're stuck on the same disc/Work, I give 'em new, never stretchin' the same brick/Never the same chick, yeah I'm still on that same shit/Cop me a new spot, tryna see where the plane fits/Picture me with a crown, next to that where my name sits/Galaxy in the ceilin' just to show 'em what fame gets" - Trae tha Truth

"I'm on 3.0'

Trae tha Truth Featuring Mark Morrison, Gary Clark Jr., E-40, Styles P, G-Eazy, Chamillionaire, Rick Ross, Fabolous, Snoop Dogg, D.R.A.M., Curren$y, Royce da 5'9", Tee Grizzley, Dave East and T.I.

"Fill a Backwood with three nicks/V6, cut the coke, remix/Squeeze clips if ever we hear that he snitched/I'm allergic to broke niggas in the precinct/Found out my man was hatin' and we ain't speak since/Barney's, Nord's can't add up the paper we spent/Tryna get drunk, I'm talking I gotta a pee bent/I touched a million, ain't sleep since, on defense" - Dave East

"I'm on 3.0'

Trae tha Truth Featuring Mark Morrison, Gary Clark Jr., E-40, Styles P, G-Eazy, Chamillionaire, Rick Ross, Fabolous, Snoop Dogg, D.R.A.M., Curren$y, Royce da 5'9", Tee Grizzley, Dave East and T.I.

"Freedom got me feelin' like I flown up/Out of prison, I ain't think that I was blowin' up/Bunch of young rich niggas holdin' Rollies up/Run up on us, watch how quick I'll lift the toaster up/Money got me feelin' like you can't control us/Servin', watchin' out for the patrollers/We used to play the game, bring your controllersSeen niggas get killed, heart froze up" - Tee Grizzley