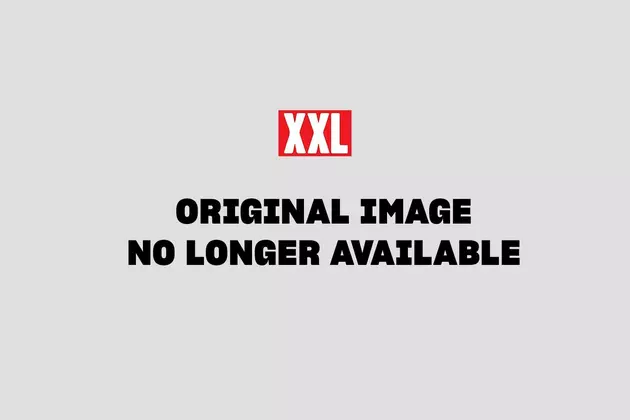 20 of the Best Lyrics From Sean Price's 'Imperius Rex' Album
Ruck Down Records / Duck Down Music Inc.
On Aug. 8, 2015, the hip-hop world was hit with tragic news when the death of Brooklyn rapper Sean Price was announced, with many of the rapper's contemporaries and fans alike taking the time out to pay homage to his life and legacy. At the time of his death, Price, who passed away while asleep, was on the other side of one of the greatest comeback stories in hip-hop and considered among the best pure spitters of his era. Before donning his government name as a moniker, Price rhymed under the name Ruck as part of rap duo Heltah Skeltah alongside fellow Brownsville, Brooklyn native Rock. The two released their debut album, Nocturnal, in 1996.
After the Boot Camp Clik members' 1998 follow-up, Magnum Force, Heltah Skeltah would go on hiatus. The split would result in Sean Price spending the subsequent years delivering spot appearances on albums from Boot Camp Clik, Jedi Mind Tricks and Black Moon while toeing the edge of obscurity. But after making a name change during the early aughts, Price would take the indie world by storm, unleashing his solo debut, Monkey Barz, while positioning himself as "The Brokest Rapper You Know," embracing his status as the underdog, a decision that would further endear him to fans.
Following up Monkey Barz with the critically-acclaimed solo releases Jesus Price Superstar, Master P and Mic Tyson, as well as several collaborative projects, Sean Price's delayed star turn helped pave the way for other unsung veterans looking for a new lease on life in the rap game. He emerged as one of the culture's more beloved figures. Price's death may have been an untimely and tragic one, with the rapper survived by his wife, Bernadette Price, and three children, but his voice continues to live on with his posthumous fourth solo studio album, Imperius Rex, a release that pairs him with longtime collaborators, as well as family and friends.
After giving the album a spin, we've picked out 20 of the most bruising bars on Imperius Rex that serve as a testament to Sean Price's sharp wit and immense rhyme skills. Long live P!
"Ruckus rule shit, get down when the tool click/Tool spit back, impact is like a mule kick/P nice and funky fire/I will fuck you up, He cypher monkey cypher/Medicated, dedicated bastard/Level elevated, tame the educated rapper"

"Dead or Alive"

Sean Price Featuring Bernadette Price

"I'm up to spar, I'm up to par/I'll fuck up your jaw like fuck you, par/P, the veteran injure/Michael Dudikoff the American Ninja/Insane with the best flow holla/Private planes with Creflo Dollar/You hear Sean working B/I'm the truth and duke is just a circus freak" - Sean Price

"Dead or Alive"

Sean Price Featuring Bernadette Price

"Four-fifth in your face/And your faculty of fuck boys forfeit in your face/Shitting, mortician sippin' on grapes/Prepaid, premeditated, murder the 8th, P!/Idiot kinfolks/AKA the ape in the window/I traffic and think doja/A Budweiser African king poster" - Sean Price

"Definition of God"

Sean Price

"I'm the shit up in my hood/I had three wishes; I wish that a nigga would/Step to the God, when God step I step on ya squad/Imperius Rex the best, definition of God/I swing things hurtin'/God body AKA the King James version/Playing my shit the same time hating my shit/Don't play with me bitch, I make your bitch play with my dick"

"Ape in His Apex"

Sean Price Featuring Ruste Juxx

"All my niggas got a F on they jacket/Pistol pop, pellets pierce through you and grooves in your fabrics/Goose feathers went everywhere, some of them shits bloody/New leather, the sweater you never can wear, judge me/Profiling, posted on the ave, pink in Polo/So silent, smoking on a bag of diesel, dolo/Effervescent, refreshing, the best at/Sean shit good hood? Maybe the best act" - Sean Price

"Ape in His Apex"

Sean Price Featuring Ruste Juxx

"International live from Kingston Avenue/Stash roaches, rolled the blunt from the revenue/Sword stabbing you, samurai, sensei/My hearts muy frio, the flow's caliente/Your shit wackator, I might crack your jaw/Used to sell coke, pure white, called it Macklemore" - Ruste Juxx

"The lame stuffer, bang, deranged fucker/I walk bys and guys became chain tuckers/Make enemies, make friends/I make money, money make moves in the state pen', P/This is my slot, rookie/Your snot box get rocked over Hydrox cookies/Slapbox niggas/Free can of soda with the snack box, nigga"

"Apartheid"

Sean Price Featuring Buckshot

"If Ruck don't like you, Buck don't like you/Ruck down, buck down, what a nigga might do/Black moonwalk on 'em, rest in peace to Michael/R.I.P. Phife from Tribe, he in the light too/Hip-hop heaven, you see seven, that's the god/All praises due to Allah, sun, moon, star/Some move bars, my nigga Ruck move cages/It's only one Buck, but I bust two gauges" - Buckshot

"Negus"

Sean Price Featuring MF DOOM and Ike Eyes

"Nigga, murder, death, kill, sex, money, mayhem/Mournin' murder with a weapon, step into the a.m./Believe in me, pah, the same way you believe in your god/Whether it's Allah, Jesus or Master Fard/I mash up the bars, plastered ratchets splatter your car/Vehicular homicide, fuck's the matter with y'all?" - Sean Price

"Church Bells"

Sean Price Featuring Junior Reid

"Screamin' on the corner like a Hebrew Israelite
Frightened with the titans/Wolf thug love, niggas is likin' the liken/Bullshit thugs get a knife to your Nike and/Pop your air bubble, yeah niggas don't fear trouble/Uh, the men pop thirty/Off digital jam, the Hancock Herbie" - Sean Price

"3 Lyrical Ps"

Sean Price Featuring Styles P and Prodigy of Mobb Deep

"You're gelatin, my skeleton is like Wolverine's/Your family come for revenge, blow 'em to smithereens/I'm like Morpheus on opiates/Matrix, facelift with the can opener/Gatling on the stand whenever the van open up/Doors slide, bullet hit your face like it's rawhide/Bullets hit your teeth like it's fluoride/I'ma bring you through hell, I'll be the tour guide" - Styles P

"Refrigerator P!"

Sean Price

"The slugs move everything around me, S.M.E.A.M/Huh? What the fuck that mean?/Kick over the kids stroller nigga Ruck that mean/Mean Gene Okerlund spoken the word of Kareem/So sacrilegious with the word rhyme gestures/Sold crack to bitches in their third trimester/You know how it go/You know my flow dope ala Héctor Lavoe"

"Prisoner"

Sean Price Featuring Freeway

"P, respect raw flavor/The sket drawn, fuck if you my next door neighbor/Uncivilized acts from a civilized cat/Knowledge my wisdom, I hit 'em, now criticize that/Nigga, fuck a rap critic/I clap critics all in your back in the black Civic/P, might knife him and spit on his kid/Brownsville, Mic Tyson, Riddick of Briggs/Zab Juda, gears in tact with the black Supras/Knife in the gun fight, trying to stab Rugers" - Sean Price

"Prisoner"

Sean Price Featuring Freeway

"Who flow like legends are supposed to flow?/Big beard like Al-Qaeda, I'm supposed to blow/King Midas, everything I touch supposed to go/At least gold, maybe platinum if I roast it slow/You are tuned in to the winners and the winner hit the Aspens/We don't take our women to the Poconos/Now I get dough from rap, before I used to hold the coke/Duck the cops bob and weave, Ali rope-a-dope" - Freeway

"Clans & Cliks"

Sean Price Featuring Rock of Heltah Skeltah, Inspectah Deck, Foul Monday, Raekwon, Method Man and Smif-n-Wessun

"Ayo the rap nigga got a shotgun in his hand/Let off, the wheelchair nigga got up and ran/Died with his man, shot up the cameras, hopped in the van/Vanished, but son will come out tomorrow and blam/Rock is a damn animal, monster/Bigfoot, I will sasquash ya, the Godzilla, take a quick look/Brownsville crook, get bright with the beam/Take your french vanilla, butter pecan, ya ice and your cream" - Rock

"Clans & Cliks"

Sean Price featuring Rock of Heltah Skeltah, Inspectah Deck, Foul Monday, Raekwon, Method Man and Smif-n-Wessun

"Chief hard bars/Bullet to your brain frame is beef tartare/Bloody and gun hungry, fallin' back with the war tower/Studyin' 120, call me back at the god hour/Knowledge my wisdom/See me with Bernadette, you best acknowledge my wisdom/I got three kids and claim two on taxes/Popped three wigs and made two closed caskets, Wu-Tang" - Sean Price

"Clans & Cliks"

Sean Price Featuring Rock of Heltah Skeltah, Inspectah Deck, Foul Monday, Raekwon, Method Man and Smif-n-Wessun

"This for diamond rockers, ice lit/Known to take off in choppers/Motorcycle gloves on/Drugs in the Benz poppers/Hood caviar, been savvy, god/Harry Winston bangles/Flooded with 40 karats of Pringles
A vet rhymer, fly as a jetliner/Look at the wall, mad pictures of my team, I regret grindin'" - Raekwon

"Rap Professor"

Sean Price

"Clap Harold in the ride with 'caine/Nigga's get burnt lyrically I'm supplying the flame/Providing the game, so pure I don't cut on it/Track ain't crack unless Ruck on it/Like who the fuck want it, uh, cricket noise in the background/Nigga's quiet, can't do a thing when I smash down"

"Rap Professor"

Sean Price

"Fact filled rap that's wack when you kick it/Gats you catch forever in my district/Think you wack, I think I'm nice/Fuck up your view like Frank at the fight/Fuck around and get shanked by a knife, shot by a shotty/Spanked in a fight, the life of the party/Late night when I'm out with some fun yo/I'm out with my spouse at the House of Mofongo"

"Price Family"

Sean Price Featuring Bernadette Price

"I be the barbarian, step to P/I will wet up blocks and shots of sket to squeeze/Punk bastard, style is wild 'cause outclasses/Brownsville Brooklyn busting off wild ratchets/Insane brain luminosity/Game change entertain slang atrocity/P, probably the best/Ungodly, the god will beat your body 'til it stretch" - Sean Price