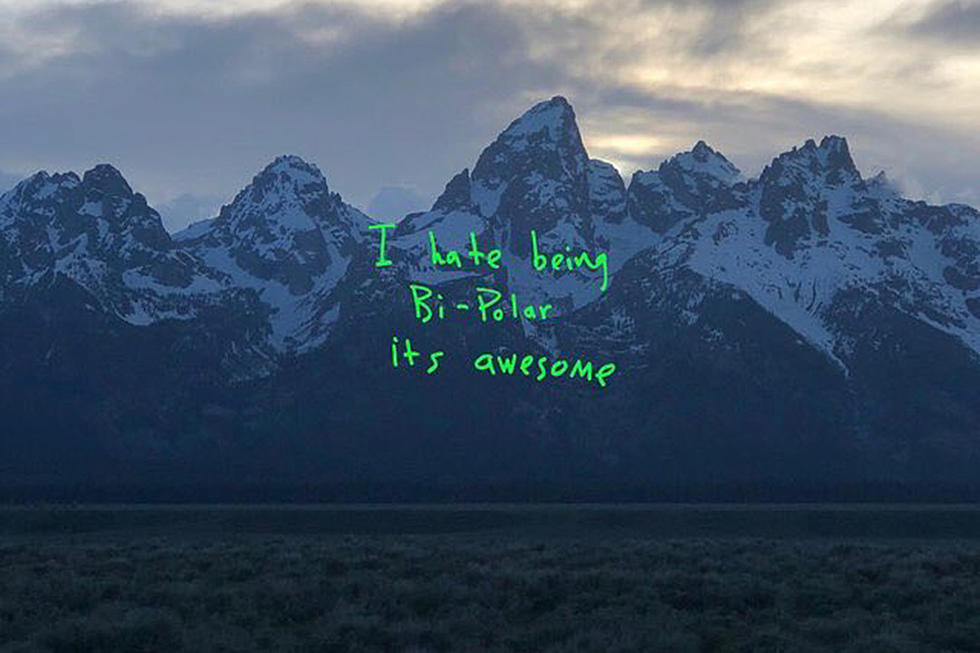 20 of the Best Lyrics From Kanye West's 'Ye' Album
Getting Out Our Dreams II
While he's never matched the artful concision of his mentor Jay-Z or the aggressive grace of Eminem, Yeezy usually makes due when it comes to rhymes. Combining his signature crude sense of humor with self-awareness, deceptively solid wordplay and a willingness to say pretty much anything, 'Ye delivers bars that can be as memorable as anyone's.
On "All Mine," he sprints through the idea of infidelity in the world of celebrities. He makes it sound pretty funny while he's at it: "If I pull up with a Kerry Washington/That's gon' be an enormous scandal/I could have Naomi Campbell/And still might want me a Stormy Daniels," he spits.
While 'Ye doesn't name-drop President Trump on his new LP, he does note the spectacle that his pro-Trump stance has been over the last month. In one particularly funny bit, 'Ye spits about his visit to TMZ, one that actually led to a freestyle in the celebrity news site's office.
"Yeezy, Yeezy trollin' OD, huh?/Turn TMZ to Smack DVD, huh?" he raps on "Yikes," one of the best songs on the album.
Although the G.O.O.D. Music founder only has seven new tracks on Ye, he makes good use of his time and delivers plenty of retweetable bars. XXL picks out the best of them.
"I Thought About Killing You"

Kanye West

"How you gon' hate? Nigga, we go way back/To when I had the braids and you had the wave cap" —Kanye West

"Yeezy, Yeezy trollin' OD, huh?/Turn TMZ to Smack DVD, huh?" —Kanye West

"Uh, just a different type of leader/We could be in North Korea, I could smoke with Wiz Khalifa" —Kanye West

"They know I got demons all on me/Devil been tryna make an army/They been strategizing to harm me/They don't know they dealin' with a zombie/Niggas been tryna test my Gandhi/Just because I'm dressed like Abercrombie" —Kanye West

"If I pull up with a Kerry Washington/That's gon' be an enormous scandal/I could have Naomi Campbell/And still might want me a Stormy Daniels" —Kanye West

"All these thots on Christian Mingle/Almost what got Tristan single/If you don't ball like him or Kobe/Guarantee that bitch gonna leave you" —Kanye West

"Ayy, if you driving 'round in some Dri-Fit/Ayy, I'ma think that you the type to dry snitch" —Kanye West

"Wouldn't Leave"

Kanye West

"Oh, don't bring that up, that's gon' get me sentimental/You know I'm sensitive, I got a gentle mental/Every time something happen, they want me sent to mental/We had an incident but I cover incidentals" —Kanye West

"Wouldn't Leave"

Kanye West

"When I'm thinking like George Jetson but sounding like George Jefferson/Then they questioning my methods then" —Kanye West

"Let me make this clear, so all y'all see/I don't take advice from people less successful than me" —Kanye West

"These two wrongs'll right you/I was too grown in high school/The true soul of Ice Cube/Too close to snipe you/Truth told, I like you/Too bold to type you/Too rich to fight you/Calm down, you light skin!" —Kanye West

"You might think they wrote you off/They gon' have to rope me off" —Kanye West

"Some day the drama'll be gone, and they'll pray, no, oh, no/Sometimes I take all the shine, talk like I drank all the wine/Years ahead but way behind, I'm on one, two, three, four, five/No half-truths, just naked minds, caught between space and time" —Kanye West

"Violent Crimes"

Kanye West

"Father forgive me, I'm scared of the karma/'Cause now I see women as something to nurture/Not somethin' to conquer" —Kanye West

"Violent Creatures"

Kanye West

"I hope she like Nicki, I'll make her a monster/Not having ménages, I'm just being silly" —Kanye West

"Violent Creatures"

Kanye West

"Don't do no yoga, don't do pilates/Just play piano and stick to karate/I pray your body's draped more like mine and not like your mommy's" —Kanye West

"Violent Creatures"

Kanye West

"Just being salty, but niggas is nuts/And I am a nigga, I know what they want" —Kanye West

"Violent Crimes"

Kanye West

"I pray that you don't get it all at once/Curves under your dress, I know it's pervs all on the net/All in the comments, you wanna vomit/That's your baby, you love her to death" —Kanye West

"Violent Crimes"

Kanye West

"She can't comprehend the danger she's in/If you whip her ass, she move in with him/Then he whip her ass, you go through it again/But how you the devil rebuking the sin?" —Kanye West

"Violent Crimes"

Kanye West

"Blood still on her pajamas, but yesterday is dead, yeah/Moment of silence, next she'll be off to college and then at the altar" —Kanye West