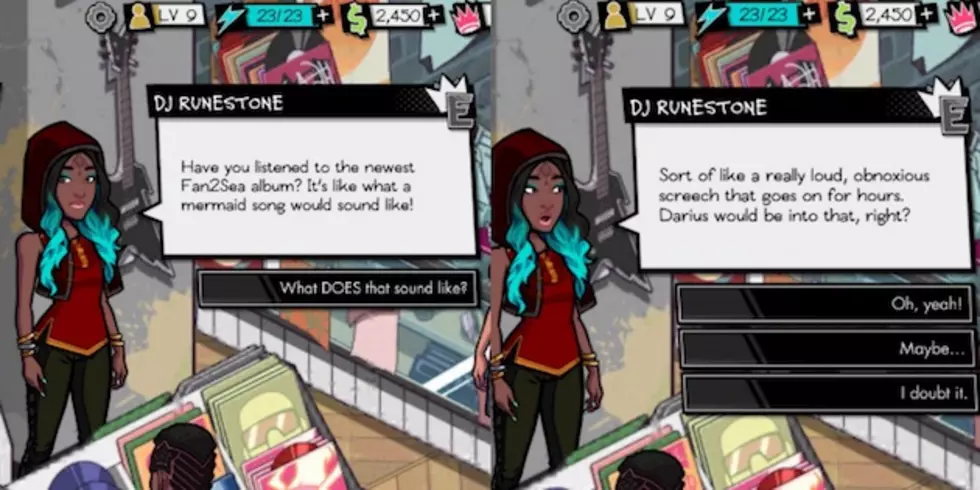 Azealia Banks Tells Nicki Minaj to Lose Some Weight
Nicki Minaj: The Empire
Earlier this month, Nicki Minaj unveiled her new mobile game Nicki Minaj: The Empire, in which players can build their own path to rap superstardom. Within the game, however, may be a veiled shot at Azealia Banks, the above screengrab showing a game character slamming a fictitious artist named Fan2Sea, comparing them to a mermaid. Banks has a 2012 mixtape titled Fantasea that features her as a mermaid on the cover, and she's apparently interpreted the reference as a diss—at least she did a few hours ago.
In a post made to Facebook early Tuesday morning (Dec. 20), Banks starts out critical of Nicki's appearance, telling her to lose weight, then says her fragrance "smells like car freshener" and her beverage "tastes like kitchen cleaner." "You run around the meadow collecting all the low hanging fruit so you may turn around and congratulate yourself for having the most fruit, but all of [it] is mealy and mushy. I don't understand why you are so impressed with yourself," wrote Banks.
The rapper seems to have had a change of heart though, later deleting the posts and then writing, "I am not the same person I was two hours ago," followed by, "It's all jokes guys. Calm down and enjoy the holiday." Let's see if Nicki agrees that it was all jokes, as Azealia's words, like most on the Internet, are harder to backtrack on.
Peep Azealia's comments below. This isn't the first time she's come at Nicki either. In October of 2015, she had words for the Pinkprint rapper following Nicki's VMA appearance.
Here Are the 50 Best Hip-Hop Projects of 2016