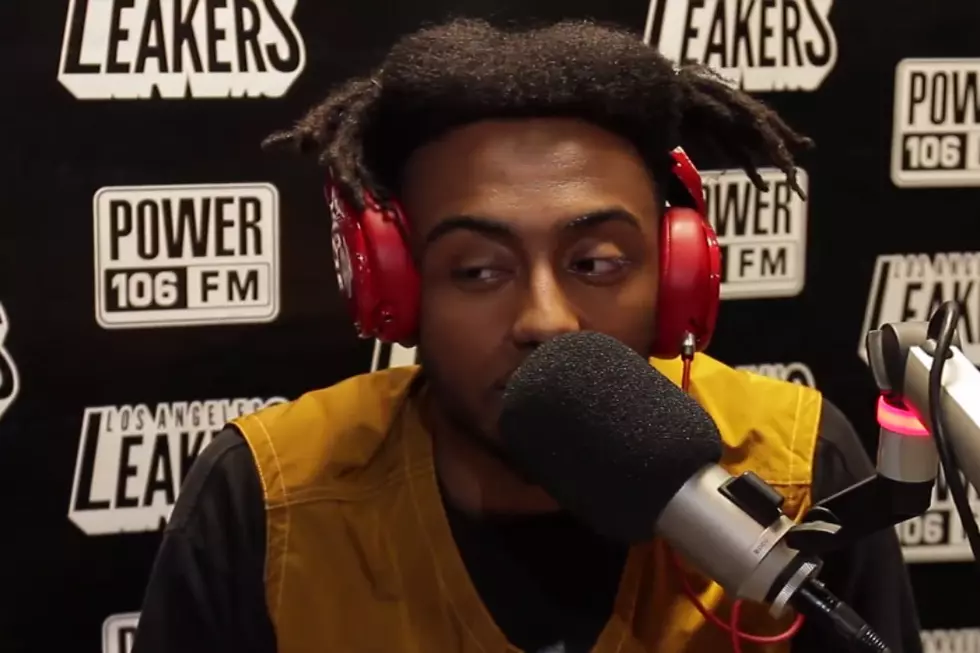 Amine Spits a Fire Freestyle Over Clipse's "Momma I'm So Sorry" Beat
Power 106 Los Angles via YouTube
During a visit to Cali on Tuesday (Feb. 6), Aminé stopped by Power 106 in Los Angeles to hook up with the L.A. Leakers. While there, he dropped an ill freestyle over Clipse's "Momma I'm So Sorry" beat.
The Portland, Ore. rapper catches wreck over the unorthodox Neptunes production. "Black man, self-made, I don't need your pity, hoe/If you call me nigga I might pull up at your rodeo," he raps. "Living Black excellence, my pockets looking Terrio/Only time I'm seeing bars is when I watch his video/Skrrt on a nigga, if he skrrt on me/If her skirt big enough she can skrrt on me."
He explained the reasoning behind recycling the same pair on Twitter. "I'm wearing one pair of pants for the whole tour adding a unique patch for every city," he wrote. "I'm bring 1 fan on stage every show to write on their city's patch."
Look for Aminé to hit the festival circuit hard again this year as he continues to broaden his brand.
Listen to Aminé rip Clipse's "Momma I'm So Sorry" beat on L.A. Leakers below.
See Behind-the-Scenes Photos of Aminé at 2017 XXL Freshman Shoot