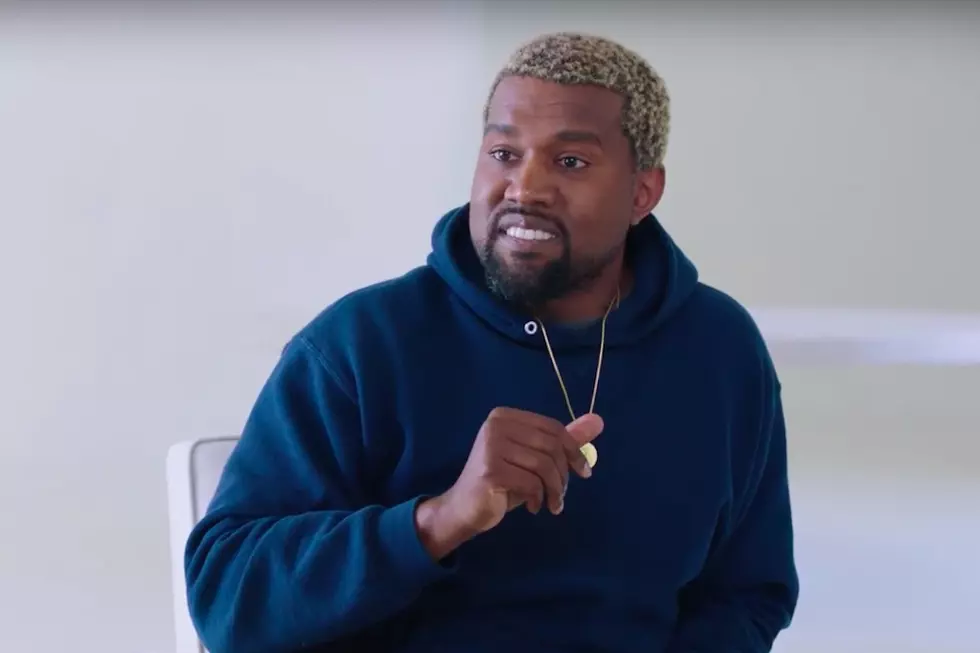 10 Takeaways From Kanye West's Interview With Charlamagne Tha God
Kanye West via YouTube
The day has finally come for Kanye West's anticipated interview with Charlamagne Tha God to go public, and it's packed with tons of answers to questions that fans have been wanting to know. The super producer invites The Breakfast Club host into his home, where they discuss topics ranging from his 2016 hospitalization after a mental breakdown, his friendship with Jay-Z, his support for Donald Trump and much more.
The lengthy interview, which lasts a full 105 minutes, features Yeezy back in his candid element— not holding back his opinions and thoughts. While he tries to give fans and viewers a new perspective on his fresh outlook on life, he also clarifies what happened between him and Hov after their fallout over the past couple of years.
On top of the interview, Yeezy launched a site called WeGotLove.com, which features the interview in full, as well as gifs from the discussion.
Check out the full conversation between Kanye West and Charlamagne Tha God below and see 10 takeaways we got from the interview.
1

Kanye Felt That Competition Caused His Mental Breakdown in 2016

Mr. West starts off the interview by addressing his state of mind following his mental breakdown that sent him to the hospital in late 2016.

"I think I'm in a stronger place than I ever was after the breakdown, or as I like to say, the breakthrough," he explains."

Charlamagne asks `Ye what he believes triggered the breakdown, to which Kanye responds that it had a lot to do with feeling controlled by the popularity of radio.

"Fear. Stress. Control. Being controlled. Manipulation. Like being a pawn of a chess piece in life. Stressing things that create validation that I didn't need to worry about as much...just the concept of competition and being in competition with so many elements at one time. In a race against time. Your age like, "Ye, you're getting old." A race against popularity on the radio. Khaled got this song. Drake got this song."

He also says that the Taylor Swift incident and L.A. Reid leaving Universal Music Group had a big impact on his radio play, which made him feel like he was in competition more and more with himself.

"Ever since the Taylor Swift moment, it just had never been the same connection with radio," he continues. "It's like whatever powers that be, it was much harder after that. And also L.A. leaving Universal...he had that radio locked."

He also mentions that Kim Kardashian's robbery in Paris, where she was tied up and thrown into the bathroom, triggered his stress and feeling of helplessness.

"The radio was one of the factors," he admits. "There was the situation with my wife in Paris and all of the elements of you feeling like...helpless. You feeling like what can you do?"

2

Kanye Believes His Late Arrival to His Yeezy Season 4 Fashion Week Show in 2016 Was a Major Breaking Point

While there were bits and pieces to his mental breakdown that came over time, Kanye says he feels like the treatment he got following his Yeezy Season 4 fashion show for New York Fashion Week in 2016 was the beginning of the downfall for him. He compares it to feeling like LeBron James when he announced he was going to play for the Miami Heat after leaving Cleveland, and said that it felt like people were hoping to see him break down.

"As soon as I was 45 minutes late, I felt it was the fashion community getting the right to say 'nigga' without saying it," he explains. "To be like 'yo, we know you come through stepping on necks and all that and what you do in your approach in things...but if you get out of line, boy, we gon' roast you.' It effected me because I'm an artist. It effected me like emotionally...it was like all these things were set up to put me on meds. To break me down."

3

He and Jay-Z Are on Good Terms

Charlamagne mentions his friendship with Jay-Z, and how it may have been strained due to the money that Hov gave `Ye for touring. While Hov has mentioned giving Kanye $20 million on his 4:44 album, Kanye said that he felt that the concept of giving money left him frustrated.

"That concept that you gave me, that he gave me, the money, that's what frustrated me because actually, the money he got from Live Nation," he says. "Roc Nation was managing me at the time. That's something normal that someone would give someone...a touring deal. It was a touring deal. But the fact that it was worded that it came from him, I'm a very loyal, emotional artist person. That made me feel like I owed more than just the money itself. The fact that it came from him. It just put me under more of a bit controlled situation. I'm only acting out of love. I don't need to be controlled. I just need to be inspired and informed and I can be the best `Ye in that way."

Kanye does say, however, that Jay probably did help him get the money out of love.

"I think there was some love in that [on Jay's part] because he did have to co-sign for it when the Live Nation and these different companies were co-signing for me. And I was in debt. Jay did have to say, 'I'ma co-sign for `Ye.'"

Now, fortunately, Yeezy reveals that the two are patching things up and are on good terms. They're even texting back and forth.

"We're good," he boasts. "I mean we texting each other, it's positive energy," he admits. "I haven't seen him, but I can feel him."

4

Racism Isn't a Deal-Breaker for Him

Moving onto Donald Trump, Charlamagne brings up Yeezy's former "George W. Bush doesn't care about Black people" quote. He asks why the rapper supports Trump, who has projected some racist narratives throughout his presidential campaign.

"It was some dynamics to this," Kanye explains. "So many people around me said, 'Don't express your feelings.' [I asked] 'Why?' [They said] 'Your brand, this and this and this.'...first thing they say is racism. They say, 'What makes George W. Bush any more racist than Trump?' That was a question my friend asked me. My response is racism isn't the deal-breaker for me. If that was the case, I wouldn't live in America."

5

According to 'Ye, President Obama Betrayed Him

While speaking on former President Barack Obama, who Kanye has had tensions with in the past, he gets candid on why he felt hurt by him. Kanye says that he was disappointed that Obama embraced other rappers, but stayed clear of his support of Yeezy, despite his music being present in his campaign.

"I'm your favorite artist," he says. "You play 'Touch the Sky' at your inauguration, and now, all a sudden, Kendrick and Jay and all the people you invite to the White House, like, now these your favorite rappers? I ain't got no problem with these rappers, but you know I'm your favorite, but I'm not safe. But that's why you love me. So just tell me you love me. And tell the world you love me. Don't tell the world I'm a jackass. I'm fighting hard enough. Something about me going on stage was similar to what you was doing. Cause I'm fighting to break the simulation, break the setup. That didn't make no sense."

He also responds to Obama previously calling him a "jackass" off the record following an interview.

"I just think that we were in a period where he had so much stuff to deal with, he couldn't deal with a wild card like me," he explains. "I think that's too unpredictable. Someone that wasn't being controlled by strategy and thoughts, but someone who's acting on feelings."

Kanye also brings up a fundraising event that left him with ill feelings towards Obama, being that the former leader left before Yeezy took the stage.

"We did a fundraiser in the mid-term in San Francisco and we did a performance for them," he reveals. "Right before I went on stage, someone let me know that he left...I saw him beforehand. I felt a way, bro. I felt a way."

6

He Thought Doctors Were Going to Kill Him in the Hospital

Even though his mental breakdown was traumatizing for him and many of those close to him, Kanye says he is positive about having gone through the experience.

"I'm happy it happened. I'm happy to have gone to the other side and back," he admits.

However, he does tell the story of how he was scared and felt like the doctors at the hospital were going to kill him, which is why he wanted his friends and wife by his side.

"I want to point out the moment when you're in the hospital bed, and you're next to your friend, and you tell them, 'Don't let this person leave my side,'" he continues. "And they put you inside of an elevator and take all of your friends away from you. That was the scariest moment of my life. I thought I was going to get killed."

7

Trump Proved Anything Is Possible, Which Is Why Kanye Supports Him

Yeezy doesn't get too political when it comes to his reasoning for supporting Trump and showing him praise, but he says that Trump winning the presidency was an inspiration to him. He also believes that America needs something "unconventional."

"The fact that he won proves anything is possible," he states. "It's time for the unconventional. I'm not a traditional thinker, a nonconformist. But I'm also a producer, I like to chop things up. What's the Ye version? The Trump campaign with Bernie Sanders principals."

8

He Wants His Yeezy Brand to Provide Relief in Disasters

During the interview, Kanye also addresses his fallout with Nike, and where he wants to take his Yeezy brand. Not only does 'Ye apologize to the major sneaker corporation that he has publicly spoken out against in the past in tweets and in music, but he also talks about wanting to turn Yeezy into a relief company as time goes on.

"Yeezy will eventually be closer to a relief company if there's like a disaster because we want to dress, we want to bring clothes and water," he says. "The same design perspective that can sell a $300 T-shirt, we're just going to give it. Eventually that's who we'll be. We look at five to 10 years from now, Yeezy will be the biggest service provider of apparel."

9

He Was Fighting for More Than Beyoncé When He Interrupted Taylor Swift's 2009 VMA Win

Kanye was painted as a villain by the public for interrupting Taylor Swift, but he discusses why he decided to do it and stick up for Beyoncé. He admits that it was a fight not just for Queen Bey, but for those that wait for a gold statue and have to face their loss, despite being invited to the ceremony.

"It's not that I'm particularly fighting for Beyoncé's video," he explains. "It's every time award show has ever done that. Just fucking with artists. We are H.S.P., highly sensitive people. Artists. That's what you love about us. So you gon' line up a whole bunch of artists and put us in some bum-ass suits and shit—idea from, like, 200 years ago. We dressed like we 200 years ago, lined up trying to wait for a gold statue. And you gon' make us feel like shit? There's five of us, and four of us gotta go to our restaurant with our friends and be like, 'Man, we ain't win nothin'.' Fuck that. Man, fuck that."

10

He Calls Former Manager Scooter Braun His "Gateway Drug" to Business

Even though Kanye reiterates that he "cannot be managed," he does give great praise to Scooter Braun, who was said to be managing him after parting ways with his longtime partner, Izzy Zivkovic. He explains why Scooter has had an impact on him that not many have been able to.

"What's dope about Scooter though, at the end of the day, you really gotta give him his props," he says. "One thing is, he has...his parents adopted a Black child. His brother is Black. So this is a Jewish guy who understands business, understands all this, but also understands how to communicate on a personal level with a Black person. Like on a brother level. So me and Scooter would get on the phone, and we talked for hours. And that information meant everything. He was Kanye West's 'gateway drug' to business."