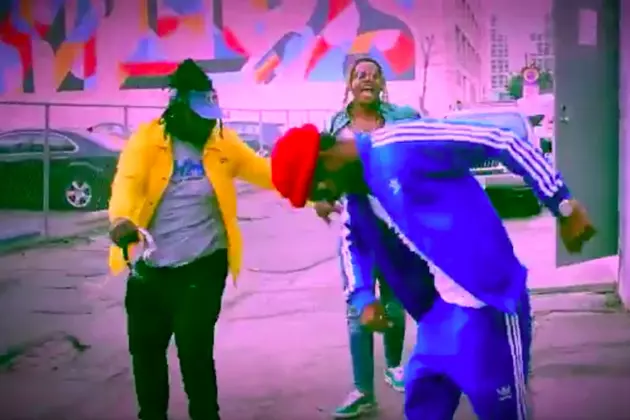 Yung Gleesh and MoeRoy Star in Amazing "Gleesh Walk" Dance Video
@R3troSp3ctro via Twitter
Yung Gleesh has started something. Over the weekend, well-known social media comedian Retro Spectro dropped a video with MoeRoy doing Gleesh's dance moves, and now the clip is going viral. Watch it below.
The video begins with Retro walking up to No Limit rapper MoeRoy as he's doing Yung Gleesh's dance in a parking lot. Curious, the man asks the rapper what he's listening to as he's doing the dance before asking for him to play it out loud. Soon, both of them are busting Gleetchie's moves together.
The problem is, of course, none of them are doing it quite the right way. No matter, because seconds later, Gleesh himself pops up on the scene to show the two how it's actually done. "Fuck is ya'll doing," Gleesh says just before moonwalking on cement and going to work. "That is not how you Gleesh walk my nigga, this is how you do that shit."
By the time all three of them are dancing, it's one of the greatest promo clips we've ever seen. The video for his new track "Pew Pew" sparked the dance's recent popularity, but Gleesh has been busting moves for years, even getting flown out by A$AP Yams to dance in Rocky's "Multiply" video.
Gleesh has been doing his thing for years now, and this is really just another example of him bringing his unique style to the masses. Last year, the D.C. rapper appeared on the A$AP Mob's Cozy Tapes Vol. 1 cut, "Telephone Calls." He also collaborated with Keith Ape and UNOTheActivist for "Both Ways." Here's to hoping he drops more tracks like "Pew Pew"—and pops up in more videos like the one below—throughout the rest of 2017.
Fans Name Rappers They Think Will Blow Up This Year