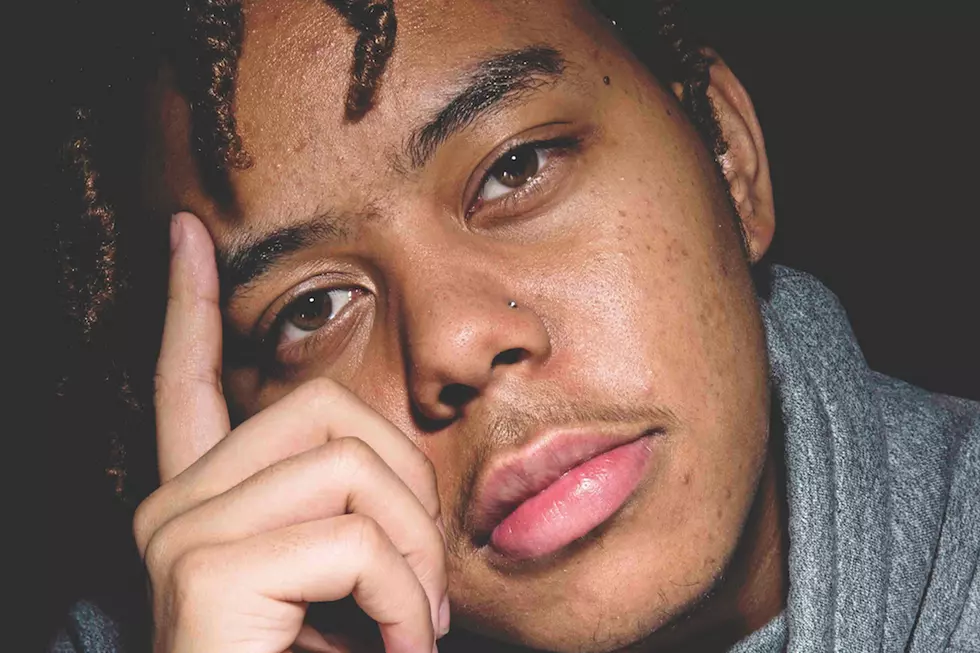 YBN Cordae Is Becoming a Voice for His Generation
Akira Ruiz
Show & Prove
With a sharp lyrical delivery and thoughtful perspective, YBN Cordae is set on building a long-lasting legacy.
Words: Charles Holmes
Editor's Note: This story originally appeared in the Winter 2018 issue of XXL magazine, on stands now.
A young, Black hand reaches, a millisecond passes and suddenly the basketball is no longer where it was intended to be. "I tried to Kyrie these niggas," YBN Cordae yells after his crossover dribble is swatted away by a zealous middle schooler with everything to prove. On a brisk October afternoon in Manhattan, the 21-year-old rapper has found himself in the heat of a four-on-four half-court pickup basketball game after a detour through the park while en route to fried chicken eatery Blue Ribbon. Having shed his Moncler coat to reveal a gray mock neck sweatshirt paired with black cargo pants, Cordae shares the court with a group of kids old enough to be jaded by the rising star in their presence, yet young enough to shamelessly request photos for Instagram clout. He takes no less than 25 flicks, but once the contest is underway, it's all game faces.
For the guy born Cordae Dunston, it may only be a matter of time before crashing a public basketball court like this causes total pandemonium, thanks to his affiliation with YBN a.k.a. Young Boss Niggas. The internet-cobbled collective of rappers (led by YBN Nahmir) are of the moment in the same way that A$AP Mob and Odd Future were. Yet as the group's more lyrically inclined member, Cordae distinguished himself in May 2018, when he dropped a viral rejoinder to J. Cole's tongue lashing of Lil Pump and his troll-happy peers on the condescending "1985 (Intro to 'The Fall Off')." The track, titled "Old Niggas," finds Cordae analyzing rap's generational gap and constructively challenging his predecessors with a conviction that belies his age. From there he blossomed, his self-awareness and humor translating into more contemporary trap fare like "Alaska" and "Kung Fu." In a very short time, Cordae has been regarded as one of his class' most talented and sensible voices—he spoke and performed alongside Rapsody and Common at a Congressional Black Caucus panel hosted by Congresswoman Maxine Waters in September.
For all of his seemingly overnight acclaim, YBN Cordae is still in the baby-faced throes of the stardom he's dreamt about since he was a kid. The Raleigh, N.C.-born talent remembers performing Usher's "U Got It Bad" around the house for his mother at age 4, wielding a flashlight in place of a microphone. The oldest of five siblings, Cordae moved to Suitland, Md. with his family when he was 10 years old. Around that time, his interests began shifting toward writing raps of his own. Nas' epic diss track "Ether" began the strong magnetic pull toward hip-hop and YouTube algorithms fortified his musical foundation, its rabbit-hole recommendations exposing Cordae to the likes of Jay-Z, Rakim and Kool G Rap. "I liked Big L's wordplay with the multi-syllable rhymes he hit so clean," says Cordae, who mirrored his rhymes after those of his early favorites. "Nas' storytelling was just fire."
After converting his basement into a makeshift studio, Cordae started recording at age 16 under the name Entendre. His maiden mixtape, Anxiety, dropped in 2014; two more tapes followed within the next three years. It wasn't until a blooming friendship with the rest of the YBN crew that Cordae says he began taking music seriously. After linking online, Cordae met his partners-in-rhyme in person back in early 2017. Aaron "Ace" Christian, one of YBN's paternalistic managers, had been looking for a traditional lyricist to round out the crew. He added Cordae into the YBN fold after Nahmir posted a video of the DMV rapper's music on social media. "I saw something that was really reminiscent of the classic vintage style of hip-hop," Ace remembers of first encountering Cordae's music.
Following Cordae's rebranding as YBN Cordae, the rapper began making waves with an update of Eminem's "My Name Is" in May 2018, the first salvo in a shrewd marketing plan. Elastic, clear and distinct, he contrasted YBN Nahmir's penchant for simple-but-effective hits and YBN Almighty Jay's rambunctious tracks and tabloid-worthy dating life (he's been romantically linked to Blac Chyna). Cordae's presence on the trio's collaborative September release, YBN: The Mixtape, is limited to five of 23 tracks, yet songs like the racial-profiling tale "Target" only augmented the demand for more music from the promising wordsmith.
Today's lunch plans have been scrapped and Cordae is on his way to a recording session, reflecting on the mildly competitive basketball showdown that ended 30 minutes earlier. With the game on the line, Cordae blew by the defender who'd been hounding him the whole game and drove hard toward the rim before mistakenly dishing a precise bounce pass to an adolescent opponent, who banked in the winning shot. "I'm kinda shit at it now," says Cordae, nestled in the backseat of an Uber, comparing his present-day skills to when he played varsity hoops as a high school freshman. "I used to be real short and I just got tall last year so I lost all my coordination."
Despite any growing pains that Cordae may have experienced on the blacktop, his transition into the spotlight has been seamless. He's hard at work on his debut album, focused on creating a project that's both cinematic and cohesive. "I just been perfecting my craft, writing better music," Cordae says. "I can rippity rap, lyrical miracle all day, but if you don't have a message behind it and you not saying nothing, it doesn't make sense." He has a strong cast of collaborators lined up, having linked in the studio with Joey Bada$$, Anderson .Paak, H.E.R., Dr. Dre and J. Cole himself. This afternoon's session is with production duo Take A Daytrip, responsible for Cordae's aforementioned "Kung-Fu," Juice Wrld's "Legends" and the mammoth "Mo Bamba" for Sheck Wes. "With some artists you might hit a wall where their creativity doesn't bend outside of certain lines," says Denzel, one-half of Take A Daytrip. "We haven't found that line with Cordae."
Before entering a mood-lit Soho recording studio that's about the size of a college dorm room, Cordae looks ahead to the future: Grammys, Billboard hits and platinum plaques. "I want to impact the world and the culture in a positive way, spread super dope messages and help people through my music," he says. "It's a lot of niggas with buzz but I want to be here for a long-ass time."
See Photos of Migos for the XXL Magazine Winter 2018 Issue