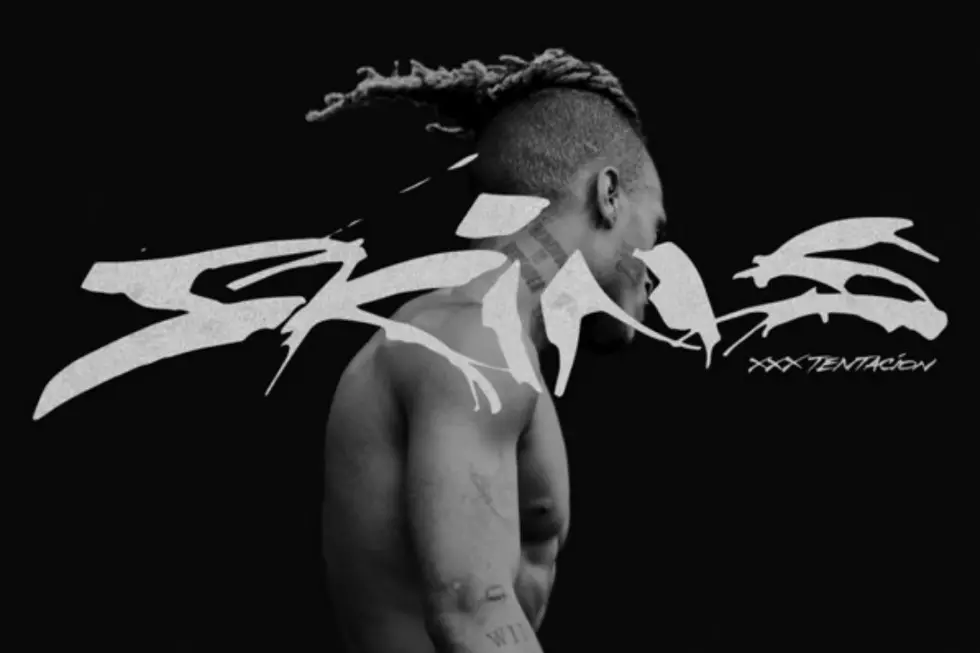 XXXTentacion 'Skins' Album: 20 of the Best Lyrics
Bad Vibes Forever / EMPIRE
In hip-hop, posthumous albums are always bittersweet. On one hand, they give listeners another opportunity to behold the talents of an artist or musician whose life was cut short. On the other, it's a reminder that said talent will never have the chance to build on any untapped potential that had yet to be realized. The latest artist to have his unreleased material compiled into a body of work is XXXTentacion. His newly released album, Skins, finds him attempting to build on his legacy, from the grave.
Running 10 songs in length, Skins picks up where XXX's last studio album, ?, left off, with the embattled Florida native delivering moments of introspect while baring emotional wounds, resulting in a collection of songs that run the gamut from solemn to brooding. Devoid of any guest appearances, Skins shines the light on the XXL Freshman alum's talent and range as a musician, with producers John Cunningham, Cubeatz, Potsu and Robert Soukiasyan helping XXXTentacion realize his artistic vision.
XXL compiles a list of 20 of the best lyrics from Skins. R.I.P. XXXTentacion.
"Guardian Angel"

XXXTentacion

"Cancer all in the breast of the beaten and bruised/Feeling like a pawn to the greed of these fools/But I never been a piece of the evil in the womb/Of these fake fuck niggas, with they masks up, presume/I'll be telling, if I got a load, I swear I resume" —XXXTentacion

"Guardian Angel"

XXXTentacion

"On my conquest/For the key to the chest where my mind slept/And the love in my heart is a cancer/And I spread it through the wall as an answer" —XXXTentacion

"Guardian Angel"

XXXTentacion

"To the cries of the dead and the vanquished/The depressed and the lost and the damned, it's/Preservation of the peace, an ideal world/Never lonely when you flowin' through my mind, girl" —XXXTentacion

"I remember I had walked home that day/Content with all my misery/Told my self it'd get better, no clue what there was next to me/Remember there was people, walkin', talkin' in the distance/I was dressed for winter weather/But the summer rays were kissing me" —XXXTentacion

"He told me, 'Kid, you shouldn't be walkin' on your own'/He smiled and laughed, and pat my back, he asked, 'How far are you from home?'/I said, 'Maybe 30 minutes'/His frequency distorted quick, I seen it in his image" —XXXTentacion

"While this evil fuck laugh at you/Train getting closer, you still surprised that he battered you/Tears falling harder and harder, minutes get minuscule/Could've had a son or a daughter, now what you finna do?" —XXXTentacion

"You finna die here on this train track/'Cause clearly after death, ain't no way you can find your way back/Thinking 'bout your previous memories, going way back/All them fucking dreams 'bout a diamond chain and a Maybach" —XXXTentacion

"Now your time finally up/Ask yourself the final question, is you going down or up?/Recollectin' all the moments that you never gave a fuck/Now it's here, death has now arrived, time's finally up" —XXXTentacion

"Shawty, heard you bad... word? So profane/Somethin' like a bad, word, want your love/Call me when you can, girl/Goin' up, goin' down, in and out, turn around" —XXXTentacion

"I might be insane, yeah/But I love the pain, yeah/Feel it in the brain, yeah-ahh/Realize she just want me hit it right/'Cause I get 'em goin' right" —XXXTentacion

"Staring at the Sky"

XXXTentacion

"I was staring at the sky/Singin' toxic lullabies/I was starin' at the sky/Screaming words with no remorse/Pitchforks pointed at my heart/I was staring at the sky" —XXXTentacion

"One Minute"

XXXTentacion Featuring Kanye West

"So much hate at the top, it's a lonely place/When you find out the opps ain't the only snakes/And your spouse only know what you don't erase/The world only know you by your worst mistakes" —XXXTentacion

"One Minute"

XXXTentacion Featuring Kanye West

"So spazz on they ass, that's the only way/Smash on the gas down, stoney, ayy/Crash and come back with a swollen face/And when I'm on my way, X hold the gate" —Kanye West

"One Minute"

XXXTentacion Featuring Kanye West

"Terrorize shit, we don't negotiate/If you bitch-made, we don't associate/Show up at your birthday if you owe me cake/With a black mask, that's how we exfoliate" —Kanye West

"One Minute"

XXXTentacion Featuring Kanye West

"I ain't feeling the age, no rottin' away/Your dolphins are dazed, you calling away/'Cause coffins is laid under a tombstone/'Cause even when you die, they still throwing rocks at your grave" —Kanye West

"One Minute"

XXXTentacion Featuring Kanye West

"She wanna give you the cookie, you Famous Amos/She gave you the pussy, but you ain't pay for the anus/Now your name is tainted, by the claims they paintin'/The defendant is guilty, no one blames the plaintiff/Gotta say it in layman's terms, while you wait on arraignments/'Cause if the jury say you did it, the payment is heinous" —Kanye West

"Difference (Interlude)"

XXXTentacion

"Baby, I just wanna show you things/Girl, I'lI be different/Baby, I could buy you wedding rings/Don't care about the distance" —XXXTentacion

"I Don't Let Go"

XXXTentacion

"Sometimes I don't let go/I shine, I shine, outta these walls/He's mad 'cause of your hoes/Watching from the outside" —XXXTentacion

"I Don't Let Go"

XXXTentacion

"Thoughts is fucking verified/And I'm on your thottie mind/But I don't want her, 'cause I got a wife/Playing with the pen through the day and night/Play with the mind and the beat, oh, I/Shawty wanna swallow up the meat, oh" —XXXTentacion

"What Are You So Afraid Of"

XXXTentacion

"What are you so afraid of?/Is it love or wasting your time?" —XXXTentacion