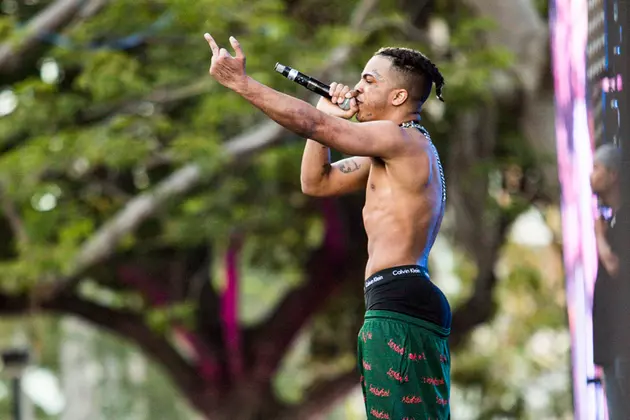 XXXTentacion Fights With Fan at 2017 Rolling Loud Bay Area
Michael Fequiere
The first day of the 2017 Rolling Loud Festival in the Bay Area was lowlighted by a couple of fights that took some shine from all the dope acts that performed. XXXTentacion got into an altercation with a fan during his set, an incident he claims was an act of self-defense.
Video has surfaced of the 17 rapper crowd surfing during his show, when it looks like someone or multiple people attempt to assault him. A fight ensues, and X can be seen punching the person repeatedly.
The South Florida MC later released a statement on the incident. "I'm just letting everyone know ahead of time that I punched someone in their face today because I was assaulted while I was performing," X confirmed on his Instagram story feed. "So before anybody sees the video and makes an assumption, I'm gonna beat everyone to it and let everyone know. Yo, I ended up punching someone because they punched me in my shit."
This isn't the first time XXX has put hands on someone during a show. He punched a fan during a concert in July under similar circumstances.
"A Boogie and his whole crew just jumped me in the back and beat me up in the back. That shit crazy, man," Lil B announced to the crowd. "But I'm gon' tell y'all like this. It's all love. I don't promote violence. I'm never with the violence. So I love them and it's all good."
The Cali rapper later gave some insight into why he received the beatdown. "I said something about Boogie's music and they all got mad and they jumped me about that. So, it's all good. I'm still here. I got jumped by like 10 motherfuckers. You know what I'm saying? Me, by myself. It's all love though."
Rolling Loud continues today (Oct. 22). Hopefully, there won't be anymore incidents.
Check out the video of XXX fighting with a fan below.
See Behind-the-Scenes Photos of XXXTentacion at the 2017 XXL Freshman Shoot