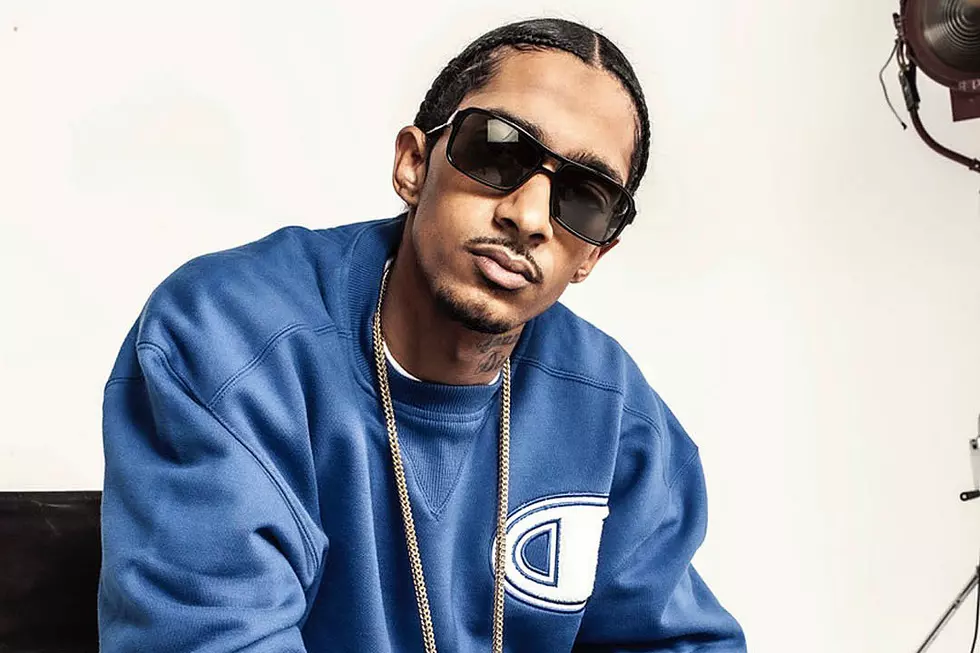 Wiz Khalifa Remembers Meeting Nipsey Hussle as a 2010 XXL Freshman
Travis Shinn for XXL
How Long Will They Mourn Me?
After the tragic passing of Nipsey Hussle earlier this year, Wiz Khalifa reflects on the slain artist's legacy and their Freshman experience together.
Editor's Note: This story appears in the Summer 2019 issue of XXL Magazine, on stands in July 2019.
Nipsey Hussle
Aug. 15, 1985 - March 31, 2019
Class of 2010
By Wiz Khalifa
The first thing I got from Nipsey Hussle was how intelligent he was. The night before the [2010 XXL] Freshman shoot, we all linked up through the internet and got in the studio—I want to say Quad [Studios] in New York. French Montana was there, Big Sean, Fashawn, Curren$y. Nip was one of the last people to come. We recorded some music, vibed out, ate Halal food and talked about our place in the industry and what we were working on. We tried to coach Nip into smoking papers [instead of] blunts; kind of became friends before the shoot.
I was already a fan of Nip—me and Curren$y were both feeling his music. He had "Hussle in the House" [out] at the time. And he'd already been a fan of ours, too. He did a freestyle on The Marathon over one of me and Curren$y's beats ["The Planes"]. It was fun to be mentioned with and get to meet one of my favorite artists, somebody who's equally as tight. When we got in the same room, we were able to just be normal with each other and then the music came.
[We did] a song for Curren$y's Smokee Robinson tape ["I Don't Fucks With Em"] and a song with me, French, Big Sean and Nip called "I'm On It." There was an engineer in the booth; he recorded my part and French's part. When Nip [did] his part, he sat down and set up the template for the engineer to get the sound right. After he did his verse, he came out of the booth, chopped it up and put it into place to make the timing sound perfect. I'm like, This is a straight-hood nigga from Crenshaw—a real Crip—but he knows technology. This dude is like 20 steps ahead of the game because he knows how to do his own shit. That's what made him stand apart from every artist I was working with at that time.
I remember the day of the shoot being hectic. We artists kept to ourselves because we were all trying to make sure that we nailed it. We were lucky to have the night before to meet and spend [time] with each other. You could actually see some of the conversation on the internet. I shot and edited video of us just chilling.
I moved to L.A. four years later. Being in L.A., trying to be tapped in with the best people, being safe and smart, he was always in my corner. If I did anything charitable for the kids or the neighborhood, Nipsey's always been there. He's always been somebody who I could count on and be a familiar face. If I'm somewhere and there's a lot of people I don't know and I see Nip there, I feel comfortable because we both got the same agenda.
I have hella respect for Nipsey's career because he kept it independent while building relationships with powerful people. In the time frame that we came into the game, a lot of people used other people's influences to pop off. He never did that. He always did for himself. He made them respect him and his game plan and he never strayed away from it. It might've taken a bit of time, but he was getting his just due. Beyond the music, Nip was always about the message. He still had a lot more to do. He was just starting to scratch the surface.
It's super unfortunate that he had to pass away for people to feel the magnitude of his message. It's important for people to key in on the things that he was saying in his music. He had been saying them for 10 years, ever since I met him. It's just people choose when they want to grasp them. That's the main thing about his legacy: People are going to remember his name. I want to see people become bosses and great businessmen or talented at whatever it is that they do based off of being motivated by him.—As Told To John Kennedy
See Photos of Every XXL Freshman Ever Inducted Into the Freshman Class Over the Years