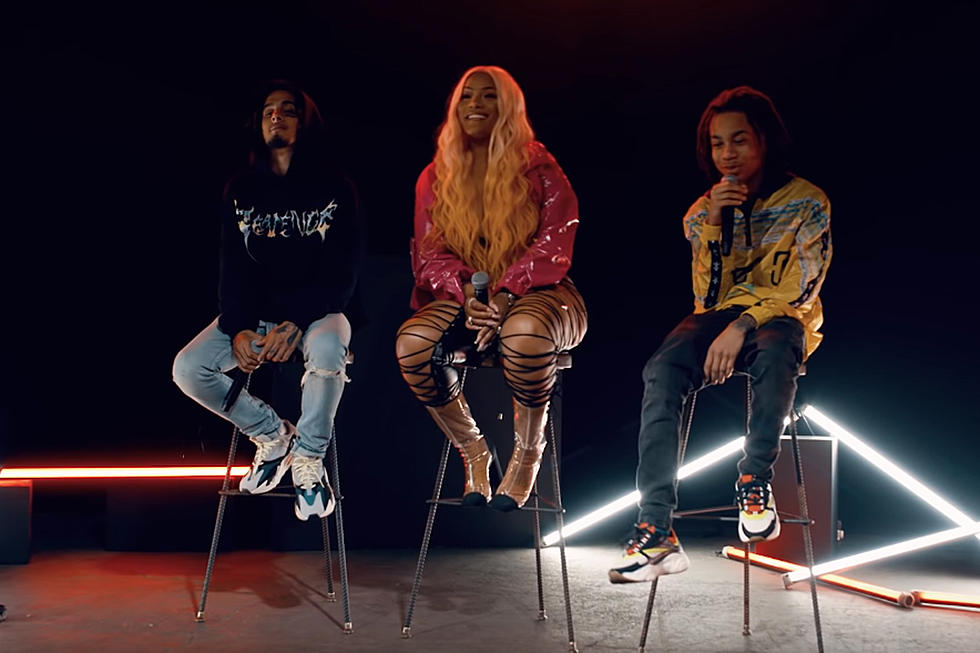 Wifisfuneral, Stefflon Don and YBN Nahmir Strengthen Their Legacy – 2018 XXL Freshman Roundtable Interview
XXL
If hip-hop were broken into subgenres, 2018 XXL Freshmen YBN Nahmir, Wifisfuneral and Stefflon Don wouldn't even come close to being placed in the same category. They each bring a different sound and aura to the table. However, the three rappers share a striking quality that will no doubt further all of their careers: humbleness.
It's clear the three had a deep connection to XXL before they were even chosen to be a member of the 2018 XXL Freshman Class and are just happy to be here. "Growing up as a kid, I used to collect all the XXL magazines, so it's one of those things on my bucket list I've always wanted to check off," Wifi shares. "Not a lot of people even know who the fuck I am, so even for me to be on this is a blessing."
The self-proclaimed "underdog" of the class feels people have counted him out, but he's ready to prove them all wrong. Repping West Palm Beach, Fla., Wifisfuneral is in the center of prime hip-hop real estate—fellow Freshmen Ski Mask The Slump God, Lil Pump and Smokepurpp hail from the Sunshine State as well. Still, there can only be one true leader of the new wave, and Wifi—who's thriving off the success of songs like "Lil Jeff Hardy," "Aw Shit" and "25 Lighters"—is hellbent on filling the void.
Stefflon Don, on the other hand, is focused on her crossover sound and gaining new fans in the U.S. "I know you guys have never had anyone from the U.K. on the cover, so I'll be representing my side," she proudly states. On tracks like "Senseless," the French Montana-assisted "Hurtin' Me" and "Better" with Lil Yachty, the London-born, Holland-raised rhymer has proven she can hold her own with incomparable bars and a style that mirrors her blended sound. Stefflon later adds that "many times you see these covers and its full of males, so I'm gonna also represent for the women."
When it comes to YBN Nahmir, he's set on making history. "I grew up in Birmingham, Ala. Nobody really blow up from Birmingham, Ala.," Nahmir admits. "I used to really wanna do this XXL shit, and then I'm on the Freshman [cover]."
The YBN head honcho literally superimposed his face onto the 2016 XXL Freshman cover, but with the success of his tracks "Rubbin Off the Paint," "Bounce Out With That" and countless other tracks, he can save his Photoshop skills for a rainy day until further notice. The 18-year-old is the second youngest artist on the cover this year (he's a year older than 17-year-old Lil Pump), giving him more than enough time to secure the rap legacy he's dreamed of since his Rock Band days. He'll be in the history books in no time.
And to see these artists in action, the 2018 XXL Freshman class will be hitting the stage tonight at Terminal 5 for the New York City show. The Los Angeles show takes place next Thursday (July 19) at The Novo.
Watch Wifisfuneral, Stefflon Don and YBN Nahmir discuss making above. And watch their group cypher below.
See Behind-the-Scenes Photos of YBN Nahmir, Stefflon Don and Wifisfuneral's 2018 XXL Freshman Cypher