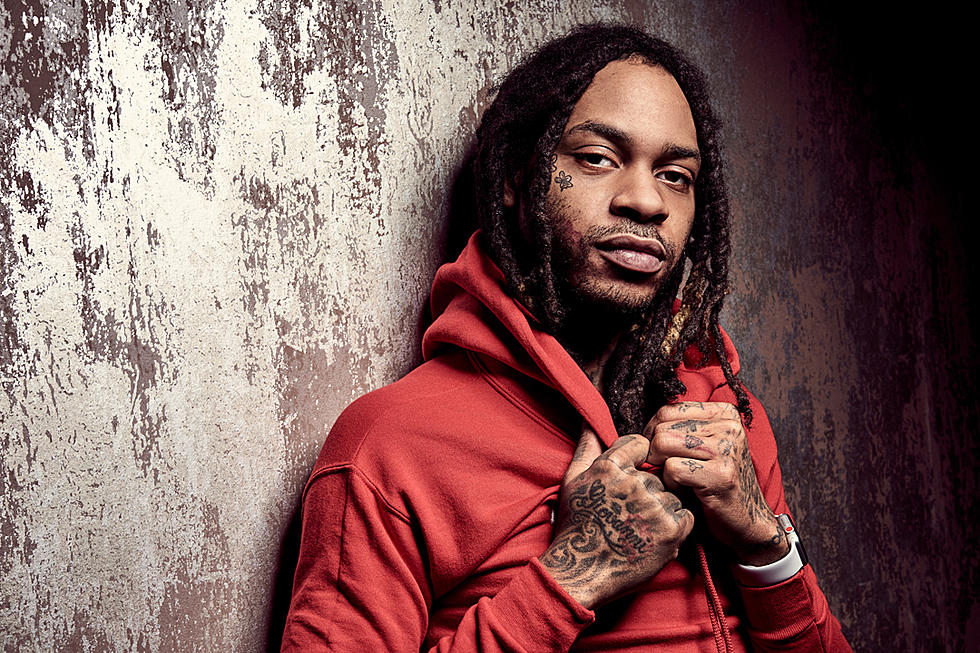 The Break Presents: Valee
Meredith Truax
G.O.O.D. Music's latest recruit Valee finds his creative streak by getting lost in his own head.
"I think so much [that] I could seem boring to a group of people when I'm just sitting still, but I'm really, like, in a rollercoaster ride inside my head thinking about all kind of stuff," the 28-year-old Chicago artist tells XXL. "So I'm excited on the inside, but I'm sitting there looking all dry and boring. It's really weird. Even when I'm at home I keep to myself—skateboarding, riding bikes and stuff in the house. And then, 30 minutes later, I could find myself recording, finally... If a girl call me or something, like 'What you doing?' [I say] 'Shit, bored.' I think me using that word helps me create something."
Since bursting onto the scene with his 12:12 mixtape at the end of 2015, Valee (rhymes with "filet") has made a name for himself by tackling minimalist beats with a knack for melody and a restrained-but-effortless charisma. Since then, he's refined his form. Hidden behind his monotone delivery, Valee shows off some intricate rapping. Just listen to Z-Money's 2017 track "Two 16s," which finds Valee sprinting through his verse in one of the most impressive breath control exhibitions on this side of Kendrick Lamar's "Rigamortis." He's traded raps with other homegrown talent, too, guys like G Herbo and Vic Mensa.
After dropping off his 2016 mixtape, 12:12 Again, and last year's 1988 and VTM, Valee announced his signing to G.O.O.D. Music in February. Earlier this month, he released his G.O.O.D. Job You Found Me EP, a collection of songs that includes a Pusha T-assisted remix of "Miami," one of his biggest tracks to date.
A hallmark of Valee's tracks is that they rarely last longer than two minutes, frequently leaving listeners craving more. Find out why you should feel the same way in the latest edition of XXL's The Break.
I grew up listening to: "I did listen to [Bankroll Fresh] before he left and stuff like that. But the consistency with the beat picking, that was Cash Money. I did play 2 Chainz music, like, since he started... all his beginning mixtapes before he blew up. Just people who pick nice production.
"Mannie Fresh was one of my favorite producers. Cash Money inspired my music selection. I used to play them all, like, every day. Blasting them out the window of the house. I had a friend that stayed across the street, and we would battle—music battle. So it's like, 'You ain't got this new music.'"
My style's been compared to: "With all the music I've been doing, I don't get many comparisons. So that lets me know I'm working hard. But I did see a tweet yesterday that said, 'Valee is the Young Thug of Chicago.' People in Chicago call me the prince of rap—or trap—sometimes. I've never been compared to a Drake or anything like that. I did see a text from Drake. 'Ye showed me Drake likes my music, so that's pretty good."
Most people don't know: "I'm hands-on with everything. From music to a car to remodeling a house—anything. People don't know that stuff, though, 'cause I put all my focus into music and being mysterious a little bit."
My standout records to date have been: "Probably 'Shell.' 'Miami' is going crazy, produced by [Rio Mac]. ChaseTheMoney produced 'I Got Whatever.' It's really difficult because it's so much music, man."
My standout moments to date have been: "'Shell,' because I made it myself and the cosign by Kanye West... that's real big for Chicago."
My goal in hip-hop is: "My goal for the rap game is just to make a lot of really dope music. That's really where I keep my mindset at: Just being obsessed over making something crazy and new every day. Really just looking for the nicest new beat and it'll make me say something cool. I want to work very hard on music, put out a lot of nice product—good quality product—and then just help people out, like a Gucci Mane, like a Future... like a Prince, like a Michael Jackson."
I'm going to be the next: "Huge star [laughs]. I don't like to step on people's toes and stuff, so I can't say, or give myself a label or title or any of that stuff. It pisses people off sometimes. But the next star would be, like, great. I don't think about that. I know it will come with it though. If you work your ass off, they end up saying, 'Man, he could be the next 'Pac,' or 'He could be the next...' But if I say it first, I won't get that from anybody, 'cause I ruined it. I just wanna make good music."
GOOD Job, You Found Me EP
Check Out the 2018 Hip-Hop Music Festivals You Need to See