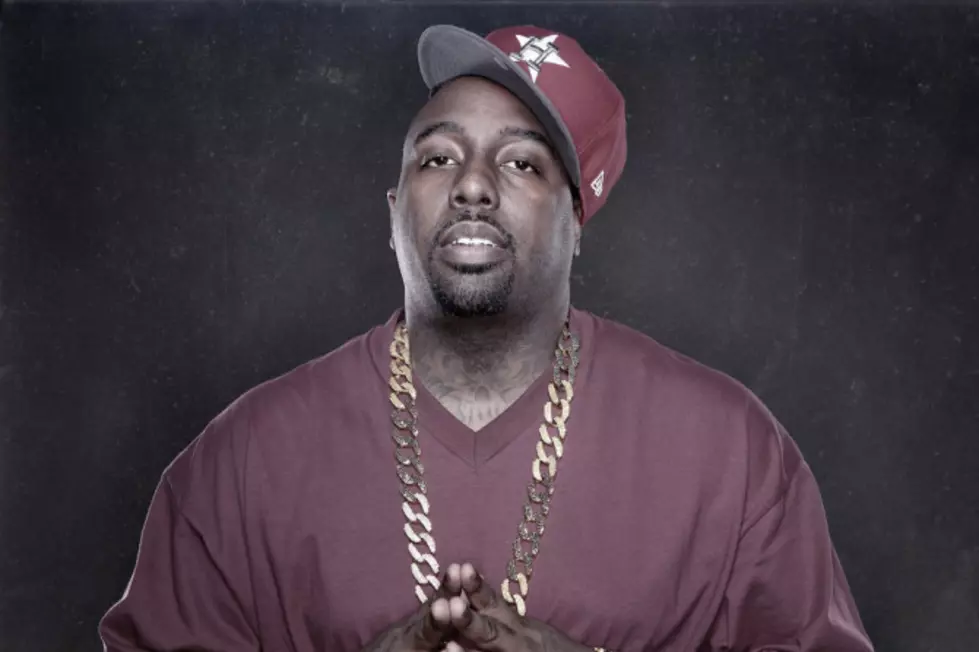 Trae Tha Truth Is Finally Letting Fans Into His World
Photo Courtesy Trae Tha Truth
It's been four years since Trae Tha Truth's last album, Street King, hit shelves, but that doesn't mean the Houston vet has been idle. Instead, the H-Town MC has redoubled his grind, signing on with T.I.'s Grand Hustle Records, dropping five solo mixtapes and a collaborative EP and popping up with star guest spots on projects by everyone from Bun B, Jadakiss, Juvenile, Tip and Tech N9ne to Gucci Mane, Future, Waka Flocka Flame, Young Buck and Mike WiLL Made It. In short, Trae is a rapper's rapper, never afraid to lend support to an up-and-coming MC or slide through with a scorching 16 for one of his fellow OGs in the game.
But things haven't all been so straightforward in the past four years. In June 2012, Trae was shot outside a club in his native Houston in an incident that claimed the lives of three other people, including a close friend. The incident marked a particular low in a rollercoaster period for Trae, which has contributed to his evolution as an MC from a street rapper with an edge to a fully-formed artist unafraid to showcase his more vulnerable side if it fits the occasion.
All of that energy, those ups and downs, help inform Trae Tha Truth's new album and first for Grand Hustle, the appropriately-titled Tha Truth. Armed to the teeth with guest verses from both vets (Boosie BadAzz, Rick Ross, T.I. and J. Cole) and young guns (DeJ Loaf, Lil Bibby, Snootie Wild and Rich Homie Quan) alike, it's a true representation of Trae Tha Truth in his newest incarnation, one who is showing off and letting fans in in a way he has shied away from in the past.
"I've always been the mysterious type, the dark type, you can't really figure me out," Trae told XXL on a recent visit to the Magazine's Midtown Manhattan offices. "But on this album, I feel like I started letting people into my world a little more to where people seeing a lot of the things I was going through."
With Tha Truth on shelves for three weeks and the eighth annual Trae Day—his annual Houston holiday that supports and benefits the youth of his hometown through donations of school supplies, vaccinations and plenty of fun and entertainment—officially in the books, Trae Tha Truth opens up about letting people in. —Dan Rys
XXL: Tha Truth is your first album in four years, right?
Trae Tha Truth: About five or six, I'd say. It was somewhere around [2010], so it's been about five, six years since an official Trae album.
So why now?
It's actually, it's crazy, the album was gonna be a mixtape. J. Cole kinda just opened my eyes to making sure I realized I have a lane within music myself for the type of music that I do and people can appreciate the body of work as a whole when it's more of an album. No matter if you're doing a mixtape with original beats or whatever it is, they're not gonna take it seriously. Then it's free and it doesn't intrigue people as much. People are gonna jam it but not for what I'm really trying to establish and set my mark in the game. He felt like the album would do it.
I feel like the music has all the potential in the world to be the greatest. So I sat and thought about it and I said, you know what, f- it, you know. 'Cause most artists, you're worried about the perception of the media, the fans, if you not selling a couple hundred thousand first week they consider it not good. But when you at the spot where we at in life, it's like, shit, we doin' it for us. As long as I'm pleased, I know I gave my all in my work, it doesn't matter who get it at the end of the day. Somebody will appreciate it.
It is true what you were saying, that an album feels like it holds more weight than a mixtape in a lot of ways.
The only thing I ever debated about was that I give everything my all equally whether it's a mixtape or an album. But I get it, though. Even looking at it as right now, just the attention that I'm getting behind this, people are just excited that I'm putting out an album as opposed to, "Here's another Trae mixtape."
Why call it Tha Truth?
One, because it's my name, and two, because I feel like I've been off the scene so long, I've stayed relevant by being featured on so many other projects, just being in the mix, doing so many collabs and different things and just being dominant with my skills and my presence within the game. I felt like even with all that people still ask me all the time, wanting to know what's really going on with Trae though. "I'm hearing you on this, I'm hearing you on that project, but what's really going on with Trae?" So with that being said, with the songs that I chose for this, I feel like this album is gonna be a representation of me to the fullest, you know?
I've always been the mysterious type, the dark type, you can't really figure me out. But on this album, I feel like I started letting people into my world a little more to where people seeing a lot of the things I was going through, a lot of the things I was experiencing both good or bad and I'm choosing to let them in a little bit more. My fans, they tend to feel like they are me the closer and closer I let them. So I feel like just the fact that they've been there and been so supportive, like family, they watching me through my ups and my downs and I feel like Tha Truth is just me venting with everything that's going on in my life. How's it been in certain situations, what's going on with me. I feel like I lost so much within the past years that I gotta come out fighting.
You have a lot of collabs on there. Do you feel like that, in a way, takes the focus away from you?
I would say no, because I brought them all into my element. As you listen to the album, I don't get out shadowed by anybody. Most people when they do that you tend to lose sight of them, because they might have somebody greater, or to the world is bigger. I think with me I stayed dominant throughout it because it was me, you know? And it even excited the artists that were on the songs, they were excited about it. So I think for me it doesn't take away.
And it seems like a lot of collabs, but at the same time it's a balance of them and then me doing me. It's not like I'm doing one verse here or spitting a piece of a hook or an eight-bar there, I'm full on with my parts. You'll know it's me.
Was there anything particularly that's happened for you that made you make that decision to let the fans in closer?
I think in life, man, when you go through so much shit, losing people back to back, ups and downs, the situations, being placed outcast from everybody, not knowing if you're guaranteed to make it. Just a whole line of things. And I felt like a lot of people stuck with me. And me experiencing a lot of what I've experienced, I used to keep it bottled up, but it made me do a lot of crazy things, man. And I'm at a point in my life now where even when I do my music it's just a form of me venting. And I feel like I needed to vent and I wasn't ashamed to let the people into my world, whether the good or the bad, whether it might be something people are ashamed of or something people are happy about. I just felt like I gotta let them know me for me. They know me, but they're curious about me, but now—I still didn't completely let them in—but it lets them in to the point where they're like, "Okay, I get it a little bit now, and now that I get it I'll be more in tune with it."
I didn't go in the studio with the intention of, "Hey man, I want this type of song, I think the people are gonna love this," nah. I went in just being me, you know. And that work speaks for itself. The quality alone, the sound is so different. I'm Texas to the death, I'm Houston to the death, but if you just heard the project you'd never know where I'm from, you'd just know that I'm on some shit, you know what I'm saying? This project is gonna shock a lot of people. People know I can rap, people know I can hold my own weight, but people aren't gonna expect the type of sound that this project brings. And it's not about going commercial, it ain't got shit to do with commercial, it's just being in its own way.
You've always collaborated with a lot of the younger artists in the game. Why is that important to you?
I'm just the big homie, you know what I'm sayin'? Even not just with the music, even in the city of Houston, I'm always in touch with them, guiding them, putting them in positions that the next person wouldn't put them in. Because you gotta realize, a lot of artists have a number of things going on: 1. Ego. 2. Pride. 3. They don't really like competition. With me, I don't look at it like that. I don't feel I should keep all the doors closed. I open them up as wide as can be and, shit, may the best man win and if you can get up there and hang with me, come on.
A lot of people used to be mad at how many people I let in the game, but I feel like, why not? Shit, coming up nobody helped me to get in, and that's one of the worst feelings in the world when you come fighting in on your own and you gotta be on your own. It make you respect it a lot more but at the same time if I can reach out and give them an alley-oop—and they can dunk it, they can decide to go for the three, they can decide to hold it and let time run out, that's on them—but I feel like it's important for me to do that. Because I put people in different positions, in different lights and it sparks up different stuff. And the majority—I'm not gonna say all, but the majority—they tend not to forget that and that's why any time I reach out they always up for me and vice versa. Every once in a while you get one who decides that they don't remember that shit, but you know.
This year is the eighth annual Trae Day. How important is that for you?
People always look at the entertainment side of what I do, but it's more about the school supplies, the backpacks, the immunizations, the HIV tests and the smiles on the kids' faces. Face painting, bikes, power wheels, carnival rides. It's a day of me being the Big Homie for them, when they're running around, "Thank you Trae!" and I may play a bit, throw snowballs, ride camels and I just kick it with them or whatever it is. I be who I'm supposed to be to them, that motivation to show them that I've been through hell and back in the public eye and I'm still fighting, so you can do the same. So that's what it's really about.
It's gonna go on whether I'm living or dead; my holiday is in the books of Houston, that's it. I'm gonna continue it, period, because that's one day they look forward to. Before it opens they're lined up outside the gates, waiting to get in. So it's a real good thing.