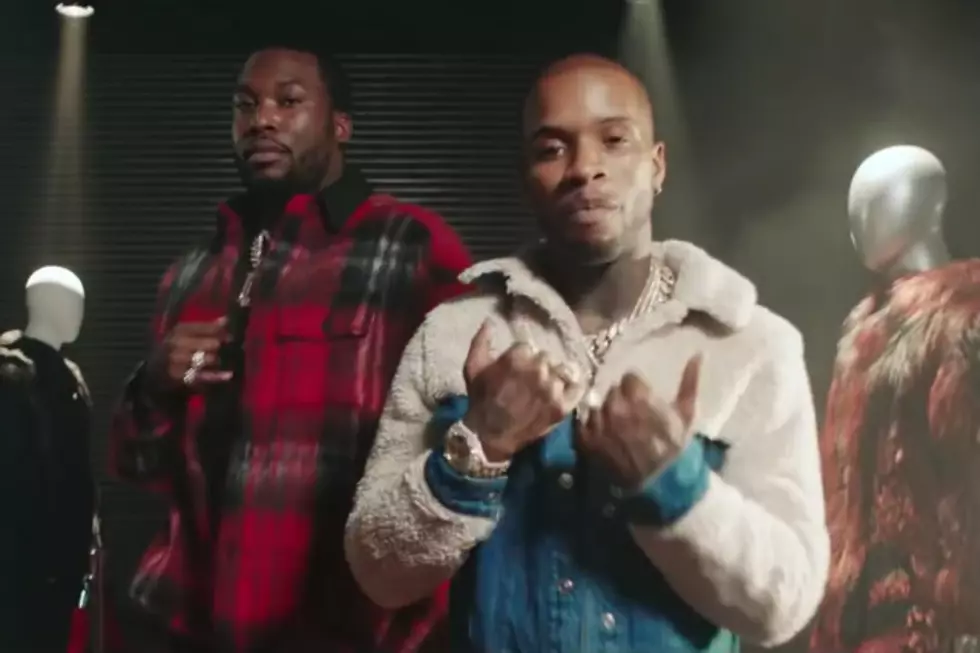 Tory Lanez "Drip Drip Drip" Video Featuring Meek Mill: Watch Them Rap at a Fashion Show
Tory Lanez via YouTube
Tory Lanez wasted no time dropping the video for his Meek Mill-assisted single "Drip Drip Drip." On Friday (Oct. 19), the Canadian rap crooner delivered the cameo-laden visual for the new cut.
Directed by Joshua Farias and Tory, the visual has a fashion, artsy aesthetic and features a runway scene where models strut their stuff while wearing garments made out of over-sized money. Lanez entertains the crowd of spectators with his raps. "Stacks all on me/Big drip on me, aye/Faucet on me, aye/I'm dripping water, aye, aye," Tory spits. "Know you notice, aye/I love it when you tell me that you just the homie, aye/'Cause I can't be committed with these stacks all on me (stacks all)."
XXL's latest cover subject Meek Mill swags through dripping. "Racks on me, had to go in my bag (get in yo' bag)/Bad bitches been fucking me fast (fucking me fast)," he rhymes. "New blue faces up my jeans/Drip, drip like I live in a sink/New Phantom, don't step on this mink/Broke niggas gotta pardon my swag ('scuse me)."
Fabolous, Casanova, Fat Boy SSE, Nicholas Fraser of "Why You Always Lying" Vine fame and more make cameos in the visual.
This is the latest single off Tory's upcoming Love Me Now album. The LP, which features Trippie Redd, Lil Baby, 2 Chainz, A Boogie Wit Da Hoodie, Chris Brown, Trey Songz and more, is slated to drop on Oct. 26. Tory is also prepping a Latin project that should be coming soon as well.
Watch Tory Lanez and Meek Mill's "Drip Drip Drip" video below.
See Tory Lanez's Different Looks Over the Years