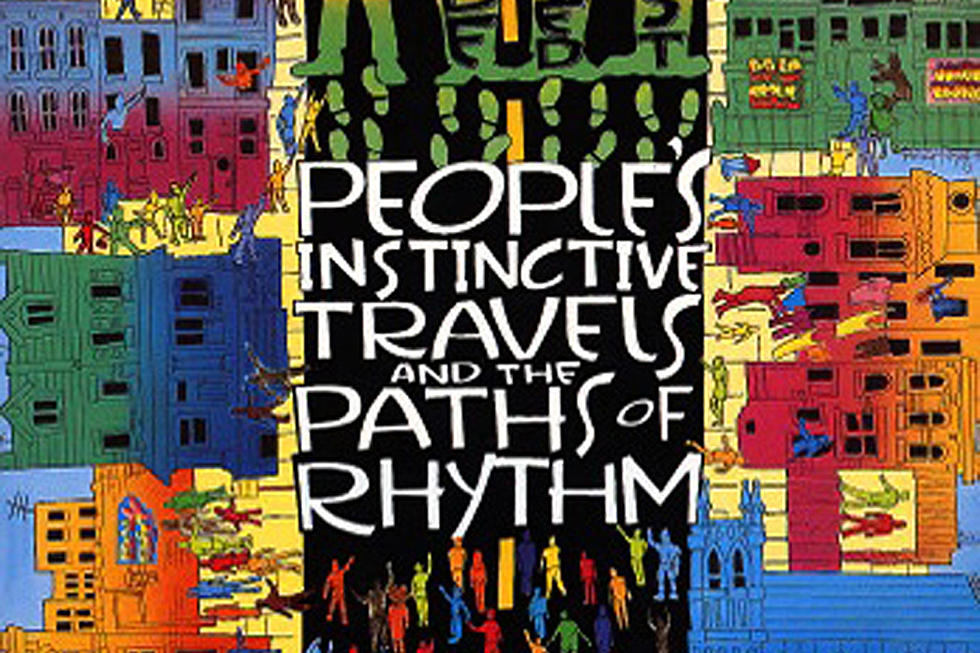 Today in Hip-Hop: A Tribe Called Quest Drop 'People's Instinctive Travels and the Paths of Rhythm' Album
Jive/RCA Records
On this day, April 17, in hip-hop history..
1990: 28 years ago today, the infrastructure of hip-hop was forever modified by a relatively unknown, yet fearlessly youthful group, hailing from New York City. Encompassing both an imaginative and experimental sound, which at the time was largely foreign to most ears, A Tribe Called Quest released their inaugural album People's Instinctive Travels and the Paths of Rhythm permanently saturating the music industry with a certain authentic style that would infinitely cease to be duplicated.
Channeling the individuality and essence of both The Jungle Brothers and De La Soul, who were fellow founding members of the hip-hop collective The Native Tongues, and were the first ever groups to introduce Q-Tip on their records, A Tribe Called Quest embraced those same expressive and colorful components as they began to configure their own unique and vibrant sound. People's Instinctive Travels and the Paths of Rhythm was a respective canvas for the origin of that specific sound that would eventually become the very fabric of Tribe's prosperity.
What A Tribe Called Quest ultimately became the pioneers of, and was on full display throughout the production on their debut album, was a certain proficiency in illustrating and honoring a diverse array of genres that preceded them. In what is mostly attributed to Q-Tip's deep appreciation and understanding of those definitive genres, Tribe's sound was perpetually laced with elements of Jazz, Soul, R&B, and Funk. People's Instinctive Travels and the Paths of Rhythm was a collective jambalaya of obscure samples, plentiful with fragments of original work from The Beatles, to Stevie Wonder, Lou Reed, Sly Stone, and Earth, Wind & Fire, among countless other iconic artists.
The innovative production on this album created an optimal platform for the group's wildly inventive relationship with their words. From a lyrical standpoint, Tribe was both sophisticated and playful in the same breath. While the album was the group's first unified effort, it very much took on the identity of Q-Tip and his musical prowess, as Phife Dawg can only be found rhyming on four of the album's fourteen tracks. People's Instinctive Travels and the Paths of Rhythm produced three widely notable singles in, "Bonita Applebum," "Can I Kick It?," and "I Left My Wallet In El Sugundo," all which found their way into the top ten of Billboard's singles charts. The album as a whole, peaked at number twenty-three on the charts, and six years after its release was certified gold by the Recording Industry Association of America.
While it may not be recognized as A Tribe Called Quest's most significant album, People's Instinctive Travels and the Paths of Rhythm was immensely groundbreaking, and will eternally maintain its relevance within the culture and construction of hip-hop. —Michael Blair
20 of Your Favorite Rappers Naming Their Favorite Rappers