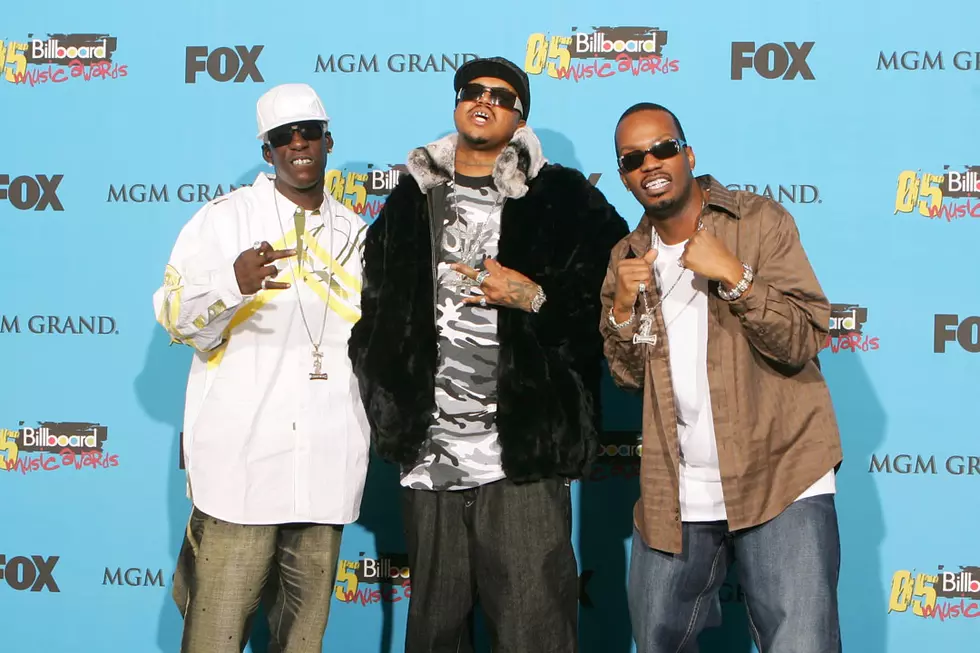 18 Solid Remixes of Three 6 Mafia's 2000 Track "Who Run It"
Ethan Miller, Getty Images
It's been 18 years since legendary rap group Three 6 Mafia released its fourth studio album, When the Smoke Clears: Sixty 6, Sixty 1. While the gang's "Sippin' on Some Sizzurp" with UGK & Project Pat proved to be the LP's standout single, it's "Who Run It" that has reemerged in 2018 and become one of this year's biggest hip-hop samples.
The original "Who Run It" takes cues from The Delfonics' "Ready or Not Here I Come (Can't Hide From Love)." Both tracks' introductions are immediately recognizable, and have been sampled by everyone from Chief Keef to Lauryn Hill. In late March, G Herbo was propelled to drop his own version of the gritty Three 6 single by Drake, who'd heard the Chicago spitter rap over the track during his appearance on a Dallas radio segment. "I've been listening for like five days straight to the same 30-second clip," Drizzy texted Herbo. "You should make that a song and just drop it."
Since the release of Herbo's version, nearly a dozen rappers have stepped to the mic and paid homage to DJ Paul, Juicy J, Crunchy Black, Lord Infamous, Gangsta Boo and Koopsta Knicca by flipping their Southern rap classic. G Herbo teased a Lil Uzi Vert feature on his upcoming "Who Run It" remix, and has drawn so many people toward the Mafia's throwback gem that even Juicy J has stepped back into the booth for a fresh 16, encouraging a #WhoRunIt challenge.
The remixes sprouting from the nearly two-decade old track prove once again that Three 6 Mafia is and has always been ahead of its time. Take a look at every rapper who's taken on the challenge, then head here for 20 of the best hip-hop samples from the group's discography.
"Who Run It Freestyle"

21 Savage

"Who Run It"

Chief Keef and Edai

"Blue Hundreds"

Dave East Featuring Vado

"Who Run It"

Jae Millz and Kelly

"Who Run It Remix"

Key Glock

"Who Run It"

Rico Recklezz

"Who Run It (Remix)"

Trippie Redd and Lil Yachty

"Who Run It Freestyle"

Key Glock

"Who Run It (From Prison)"

600Breezy

"Who Run It Remix"

Blac Youngsta Featuring Rich The Kid