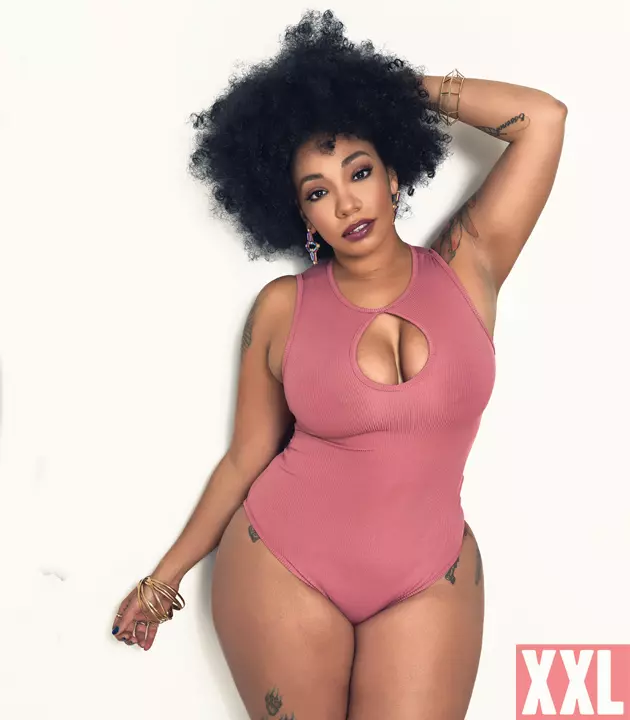 The Real Chela's Way Uses Instagram to Give the Gift That Keeps on Giving
Andrew Link
Eye Candy
As a muchas gracias to her ever growing social media admirers, this Afro-Latina bombshell gives the gift that keeps on giving...her and all of her glorious thickness. De nada.
Words: Sean Malcolm
Editor's Note: This story originally appeared in the Winter 2016 issue of of XXL Magazine, on stands now.
"At first I thought [Instagram] was just to filter photos, then it blossomed into this popular social network," says Chela Perez on the platform that would catapult her name (@TheRealChelasWay), face and signature voluptuousness to viral status. "I still keep most of my private life private. But, what you will definitely find on my page is a mixture of your everyday girl combined with some major sex appeal."
And, such a perfect combination is why the 32-year-old Afro-Latina from The Bronx has amassed over 1.2 million followers on Instagram, having her pics spread throughout the World Wide Web. Oh, and Chela's welcoming thousand-watt smile and 36D-29-49 assets might, just might have something to do with it, too. "I always went through weight loss and weight gain growing up," she says. "I come from generations of thick women."
Giving a salute and a dab to genetics is no doubt warranted, but the self-proclaimed "homebody" is grateful for her place in the social media landscape and is taking it all in stride. "I honestly never thought I'd be getting this kind of attention," she admits. "I've always just went with the flow of things. Wherever life took me. But, I'm looking forward to whatever comes next."
Whatever that is, Chela's fans will follow.
XXL: How does one clock over 1.2 million followers? Tell us your secret!
Chela: I wish I knew. It just keeps growing. But, I'd like to thank anyone who has ever showed admiration and reposted my photos. They've definitely contributed to the growth in followers.
With that many eyeballs on your features, public admiration quickly transitions to private convos going down in the DM. On average, how many do you receive?
Oh, my God! I don't even check anymore, it's ridiculous. I'd like to say 10 to 20 a day.
Pretty sure that's less annoying than the reactions you get when you walk the streets of NYC.
I drive, thankfully. So, I'm able to dodge a lot of the nonsense.
Smart woman. Through your posts you embrace your body, which is needed since thickness still is truly accepted in urban culture and not mainstream.
It's unfortunate that there's a standard on beauty. There really shouldn't be. There is no ideal woman. If that were the case, we wouldn't come in so many shades, shapes and sizes. And there wouldn't be so many men available to have a preference.
To that point, what is your preference of men?
Just a genuine person. No ulterior motives.
Simple. Are those the types that make Chela get her way? See what I did there?
Honestly, I've never been the type to demand things. Anything I've gotten has come naturally. I prefer it that way.
Watch behind-the-scenes footage of our shoot with The Real Chela's Way below.
Check out more from XXL's Winter 2016 issue including our Travis Scott cover story interview, Lin-Manuel Miranda's success with  and more.