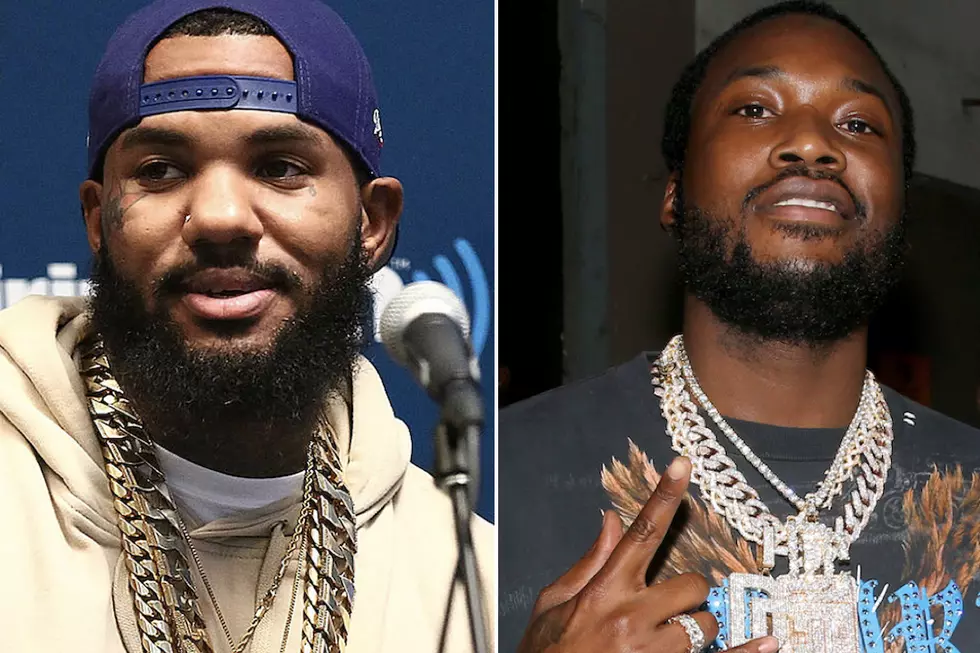 The Game and Meek Mill Ended Their Beef With Phone Call After Jail Release
Astrid Stawiarz / Bennett Raglin, Getty Images (2)
It looks like The Game and Meek Mill have settled their rap feud. On Monday (Dec. 3), the Compton rhymer went on his Instagram account and typed a lengthy message to his once rap rival.
In his heartfelt missive, Game acknowledged that he once had beef with Meek but settled their differences several months back when the Philadelphia MC was released from jail.
"Had beef wit a nigga that could've ended in bloodshed either way. We had differences but when it all boiled down, we were once friends in & out of music," he wrote with an accompanying video of a Meek Mill concert. "As young African American men we grew up in similar situations where a lifespan for us was 21 years of age & that is still the age in which most of us coming from where we come from think we'll never make it to."
"The day after @meekmill got out of jail, he called me & we talked for an hour. Not about the beef but about new beginnings & what the future holds for us as seasoned hip-hop artists," he continued. "That was a few months back & my nigga has done everything he said he would do in the conversation we had."
"Real nigga shit, I never wished jail on you & I was genuinely happy when you got released. I said it over the phone & I'll say it again. Welcome Home nigga," he concluded, adding the hashtag #Championships, #Growth and "LoveisLove."
Game's letter comes after Meek answered a fan's question on Twitter last Friday (Nov. 30) regarding a possible collaboration with The Documentary creator. "Yeah why not!!!" he replied.
The pair's simmering feud started in 2016 over The Game believing that Meek talked to police in regards to who robbed Sean Kingston of $300,000 in jewelry at a Los Angeles nightclub. Meek denied it but barked at Game for calling him out. This prompted the Compton rhymer to release two fiery diss tracks "92 Bars" and "Pest Control" aimed at Meek. The "What's Free" rapper responded back on a remix of Young M.A's street hit "OOOUUU," featuring Beanie Sigel, Omelly and Takbar.
Meek has yet to respond to Game's recent IG post.
11 Rap Beefs That Were Recently Squashed