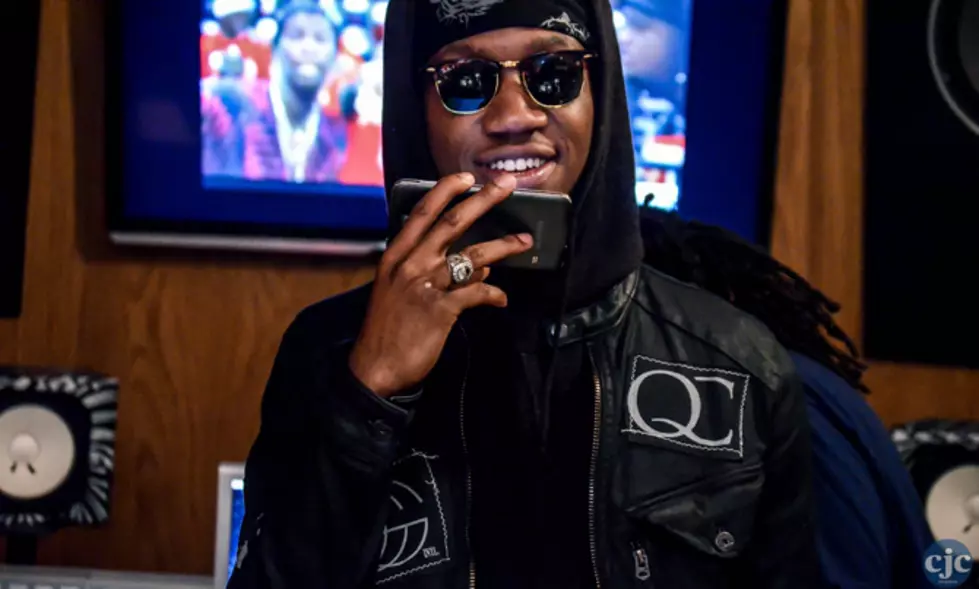 The Break Presents: OG Maco
Photo By: Cedric Colyer
With rappers like Rome Fortune, iLoveMakonnen and Key! all garnering huge buzzes, Atlanta's hip-hop scene continues to churn out intriguing talents. The next one up is Quality Control's newest signee, OG Maco. After dropping his tape Live Life, he gained a lot of attention from his energetic tune "U Guessed It," which is off his collaborative EP with Key! called Give Em Hell. Now, with his video making a lot of noise, OG gets down in The Break to talk how he made the song, his goal of unifying the rap scene, and more.
Hometown: I'm from the Southside, College Park. Old National.
I grew up listening to: A little bit of everything. My dad's Nigerian so my dad really didn't have no affiliation to nothing. He's from overseas. He don't give a fuck, so I listen to Phil Collins. I listen to 2Pac. Biggie. I listen to Abba. It didn't really matter. For real, for real, for real, for real, though.
I'm from the South. So you got Ludacris, you got T.I. You got everybody. I listen to everybody on the West Coast. People from the East Coast. When G-Unit first came out, even if I didn't really understand why it was popping 'cause I'm from down here. All the lyrical shit was real cool, I really liked what they were doing with the words. To actually turn up or feel it, I never really fucked with that shit like that. So everybody in the South [I listened to]: The Guccis, The Rockos, The Shawty Los, like them.
Most people don't know I: That I could sing. My mom can sing as far as I know. My dad can. My sister can. But barely anybody know that. I don't think anybody know that besides me. I can sing.
My style's been compared to: I always get three people at a time. The first group that I got...I'm like the new Mystikal, Future and Young Thug. And then, the next one I got is I am the new Waka, Kid Cudi and somebody else they threw in that shit. I don't know. I don't really care. I fuck with all them people. I feel like Waka had one of the best debut albums. Kid Cudi is my favorite artist. Future is my favorite artist, so I don't really give a fuck who they compare me to, as long as they fucking with me.
My standout records and/or moments to date have been: It's funny. I knew ["U Guessed It"] was going to pop, but I didn't know. It was like this: "Road Running" was the one I made before that. And "Road Running" was doing real good out here. "Road Running" was going crazy. It was in all the little college parties. All the little college kids knew it. "I've been road runnin'!" And then I got drunk as fuck one day and I realized what "Road Running" was doing. And I [told] my engineer, "Look, man. We got a song that's building up. It's building. When 'Road Running' blows, we need to have everything aligned. So I need you to make me some beats."
I was telling him to get this shit like in two weeks. So I finally got there, and he made me no beats when I came back home. I walked upstairs and I was drunk. At first I was like, "Let's let him live." You know what? Fuck it. I got so mad, I came downstairs and I was like, "Man, turn on a beat." And before he could even turn around, I was like, "Fuck that man. Give me the headphones." I put the headphones on and press record. I said, "Press play." He was like, "But you ain't heard it." I don't give a fuck. Press play. So I just drunkenly freestyled that shit. It was basically a drunken rant. If you got drunk as fuck and just recorded a drunken rant, that's what it would sound like. But mine, like that.
"All In 2", definitely. I said I sing, [so] a lot of people don't listen to "All In 2" because I dropped it so solid. I just literally recorded the song and walked out the studio and was like, "Holy shit. What the fuck is this?" Because I recorded it in 30 seconds. Literally, I recorded it in the time of the beat. I didn't even get to really hear it, but I hear it for like half a sec. I was like, "Man, this shit is amazing," so I dropped it that same day. So it made me like 6,000-7,000 plays, but nobody heard it. But everybody that done heard it was like, "Bruh, what the fuck is this?"
My goal in Hip-Hop is: I want to unify the shit one time. You look at the game right now, and so many places and so many avenues for everybody to get money. Money is supposed to be at an all-time low, but it seems like at an all-time high the way they printing the shit. When you got this person over here and you see what Chicago just did. Chicago just completely uprise. Even though they aren't really unified, they have a unified voice and look where it got them. You look at Atlanta, you got Two-9, you got Spillage Village, and you got us. You got all these people and I know these people. These aren't just people I'm calling out their names, I know them. We are all doing this amazing music. We are all unified. Look what happened. Look at my friend Makonnen. Me and Makonnen was bumping each other's shit before anybody. Look at him, he's over at OVO. If all of us really unified and they gon' see what Atlanta can do. We are really the mecca of this shit. Everybody else will do it.
I'm gonna be the next: I think I'll be the first me. Honestly.
Also check out: "Road Running"