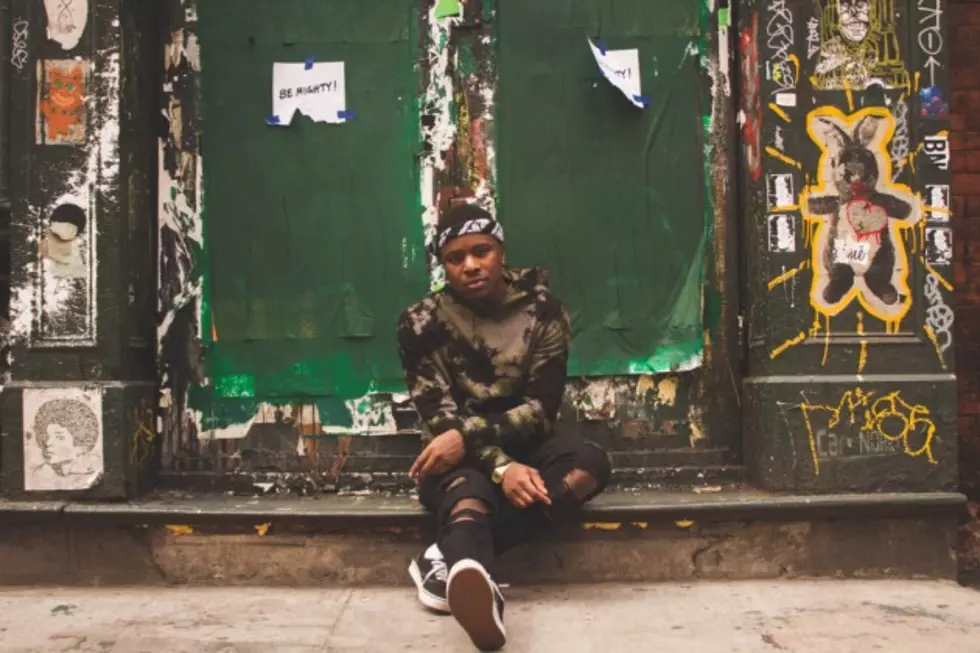 The Break Presents: Jay IDK
Press Photo
Hip-hop has always been a storyteller's game at heart and 23-year-old DMV native Jay IDK has plenty of his own on his sophomore album, SubTRAP released in July. IDK, which stands for "Ignorantly Delivering Knowledge," is the baseline from which the project emanates. Stitching together a series of experiences he garnered during a five year journey from high school to prison to college, IDK tells the stories of those he came in contact with as a way to explain middle America in 2015.
The project itself has vaulted IDK from a local name in the DMV who created a stir with his 2014 debut, Sex, Drugs & Homework. After a series of failed business relationships left him treading water, he re-positioned himself heading into this year. The tone was set in early January when he broke into the national spotlight with the shadowy, bar-filled video for the track "Hungry" that at once established him as a conscious voice and laid the ground work for what was to come. That hunger has manifested itself as of late. SubTRAP has proven to be the young MC's magnum opus thus far. The release has racked up hundreds of thousands of plays on Soundcloud in the months since its release, sending him off on spot dates with Post Malone and garnering him attention from critics and labels alike.
There has been a lot of talk lately about artists at the top addressing issues and social ills, highlighted by the criticism of lyrical content on Future and Drake's What A Time To Be Alive album. It's apparent that more voices are necessary in the conversation and with an ability to look at the world with a leveled worldview and cultured understanding, Jay IDK may be one of best options to drive hip-hop back into a new golden era. One thing's for sure, IDK has made a calculated impact with his sophomore release and appears poised to continue his storytelling for years to come.—Jake Krzeczowski
I grew up listening to: Michael Jackson, Erykah Badu, A Tribe Called Quest, 50 Cent, Awilo Longomba and The Gorillaz. Those particular artists were what I grew up on for the most part. My parents played a lot of it and they're all unique in their own way. I've listened to everybody from Papa Roach to old soul music so that's a big reason why I had such a large scope to pull from on my most recent album SubTrap. The reason I can achieve so many different feelings is because the people I listen to have always been so diverse. In the past four or five years, trap music has had a big influence on my style and the music I make, especially on SubTrap as far as sound-wise or song-wise and I credit that to guys like Gucci and that era.
My style's been compared to: I'm trying not to get caught up in the Kendrick comparisons but my style has definitely been compared to him, especially around Section80. Honestly, it's been a lot of great artists which I guess is a good thing. People have compared me to Lupe Fiasco, Kanye West, Eminem and J. Cole. They bring substance and largely are all good storytellers and those are two of my biggest strengths. It's dope to be compared to people who have longevity in the game because that's the most important thing for me: I want my name to live forever.
My standout records and/or moments to date have been: SubTRAP as a project for sure. "Two Hoes" which was basically the first time I started getting my music posted on publications and the first time I got on the radio and began creating a big online presence and stuff like that. "Hungry" kind of solidified me as a lyricist in the DMV and I started getting a lot of notoriety around the DMV really seriously after that. Shout out to DJ Alizay and Marc InFinit. A moment was when Peter Rosenberg mentioned he had been playing my song on Hot 97. That was one of the people I've always been watching. Since I've been in hip-hop, he's one of the people I really value so that was really cool.
My goal in Hip-Hop is: To bring about real change and be remembered. In fact, my goal is to be remembered period. I wanna be the most successful socially aware artist: Grammys, number one singles, albums, overseas and internationally-known household name, all that. I feel as though I'm making the right moves to get there. I just did a verse for Chaka Khan! People have been telling me that SubTrap has been making them think more and some have been saying it has become like their voice, saying what they can't say themselves in front of an audience. Our movement and the people in it, the Hxly Tribe, are starting to grow every day. Shout out to them.
I'm going to be the next: I'm going to be the first rapper to win the Nobel Peace Prize. I don't know exactly what it would be for specifically but I want it to be a change I make in the world with my music.