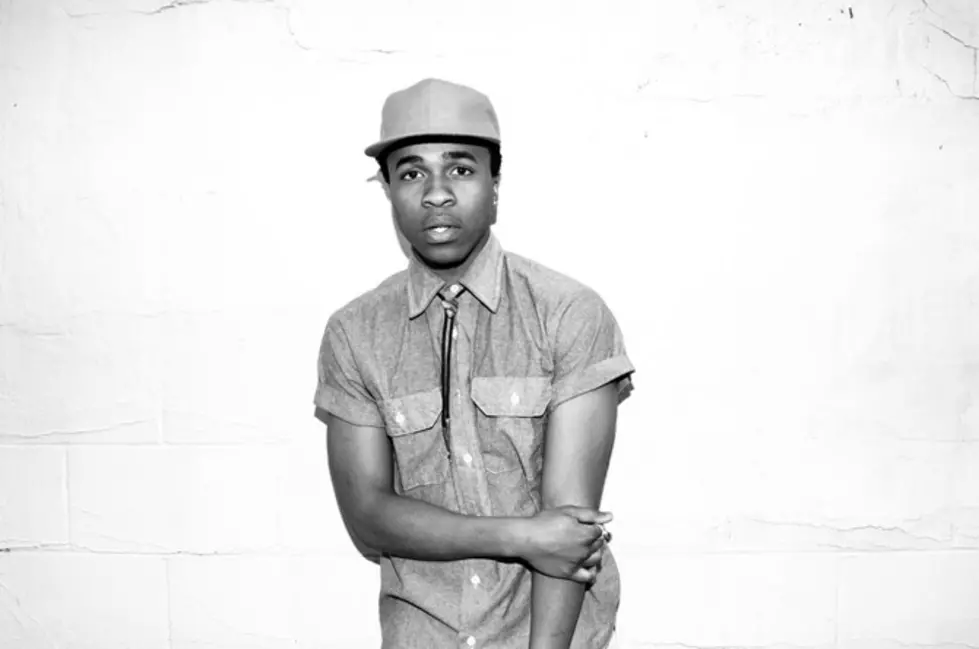 The Break Presents: Allan Kingdom
Press Photo
When you are listening to Allan Kingdom's music, your first impression may be that he's your everyday "hipster" rapper, but he's more than that. Allan Kingdom is your everyday kid who fell in love with the ability of making people happy through music. Music is a form of self-expression for him; a way to say things that people may not be able to say for themselves. Along with rapping, Allan produces his beats. His sound is a mixture of the sub-cultures that he's surrounded by: African, Canadian, and American. Catching the attention of the music world with "Evergreens," Allan Kingdom sits down in The Break to give us a further insight into the Northern Gentlemen.—Raven Irabor
Hometown: I guess my hometown right now is St. Paul because it's where I come back to after I travel.
I grew up listening to: Everything. I grew up listening to a lot pop, African music like music from the Congo, dance music. I got into rap when I was older, but just like a mix of everything on the radio. A lot of like the top, like you know Nelly, you know what I mean, Aaliyah. Just like the regular stuff.
Most people don't know I: Well, like a lot of people don't know that I make a lot of my own pants. I tailor a lot of my own clothes. Not so much anymore because I've gotten busy, but most of the clothes that I still have I did something to them. And I'm starting to get into cars. I'm not like a mechanic or anything but I'm starting to get into cars a lot.
My style's been compared to: Everything. I've heard everything. I've heard everything honestly. Like some people like would just say I'm R&B. some people would say I'm a rapper. But mostly it's the new school stuff that I'd really be interested by, like stylistically. The Andre and like Pharrell, and you know, like that type of stuff. That type of pretty normal, like that lane. I've heard everything. I've heard a lot. Some people just say my music sounds African. Like it just depends on who is listening to it and where they're coming from.
My standout records and/or moments to date have been: Probably seeing just like the transformation of people. It's not even like one thing. If I had to give you a couple of events, like one of them would definitely be linking up with up Plain Pat. That's always going to be a main thing because of how he's influenced me. I think just going to New York the first time and performing was cool because it's like the capital. It's where hip-hop started. The stereotypes about the New York crowd and being able to impress them, that was pretty dope. I think the third thing is like continuously, I try not focus on singular events because I feel like I won't progress. But I try to think of the progression and the fact that I've been doing this for a couple a years, you know what I mean? That's like the probably the number one thing that I'm happy about is the fact that I still keep going.
My goal in Hip-Hop is: I'm just trying to make everyone feel better. It's always what I say. It's not like any distinct like agenda. I feel like agendas have time limits and like once that mission is done then it's done. And then your mission is over for like the generation or whenever. I just know that there's people that lack things or don't have things or do have things and for lack of a better term I just want to make them feel better about themselves. That's what I like doing the most. It's why I like making music the most. When I get letters or feedback about something that made someone else feel good is the best feeling.
I'm gonna be the next: That's a hard question because I don't really think that I'm gonna be the next anything, I just kind of see myself making my own pocket, like my own lane. I don't know. I try to not think in those terms, even though it's hard. Like looking up these people it's like "Aw man look at what Andre's done, look at what Pharrell's done." But you just have to keep your own tunnel vision on and look at what you can contribute to everything that hasn't been yet. So that's what I'm most focused on; to contribute to what hasn't been yet.
Also check out: "Wavey" featuring Spooky Black

Download Allan Kingdom's Future Memoirs here.