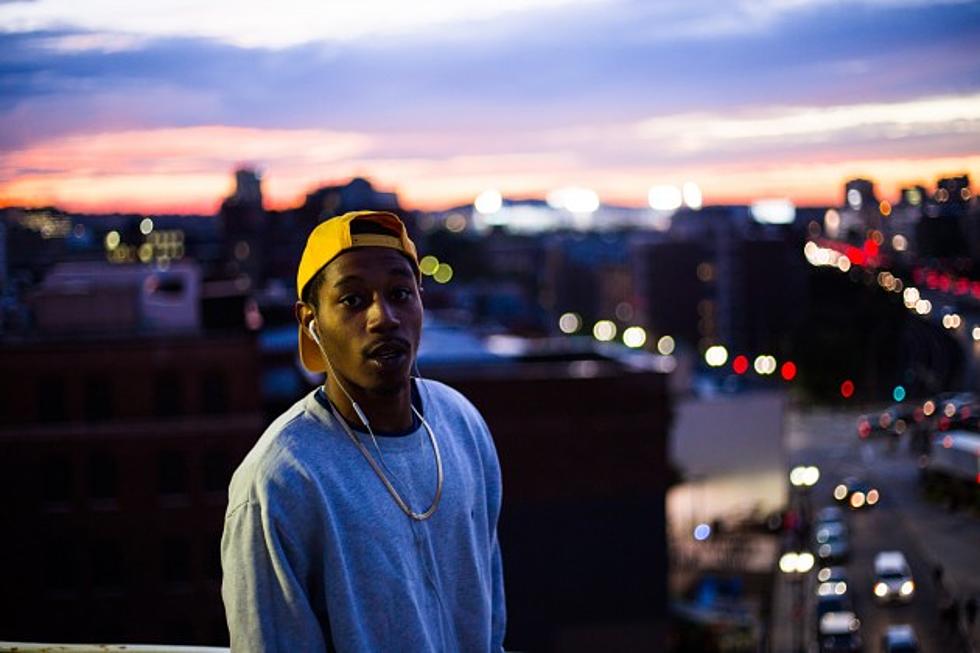 The Break Presents: Cousin Stizz
Press Photo
For years, Boston hip-hop artists have come and gone without making much of an impact outside of the city. Chasing the ghost of Guru from Gang Starr, rappers from the biggest city in New England have never been able to get over the proverbial hump that separates regional stars from mainstream riches. Dorchester native Cousin Stizz has a chance to change all that.
The 23-year-old MC's Suffolk County mixtape has been turning heads with its crisp production, trap influence and his effortless flow. Last October, Stizz gained major recognition when videos of Drake celebrating his birthday with the rapper's "Shoutout" track blaring in the background surfaced and his national buzz has been growing ever since. Having already sold out shows in his hometown, it's time for Stizz to blow on a national level.—Peter Walsh
Hometown: Fields Corner, Dorchester, Mass.
I grew up listening to: My dad has a crazy record collection so I grew up with a lot of old soul music. I listened to a lot of Tribe, Erykah Badu, a lot of Biggie and Puff. I also listened to a lot of singing, too. A whole lot of Keith Sweat, that soulful shit. When I grew up, I downloaded my own music and it really switched to trap music. When I first listened to Gucci Mane, it changed everything for me. When I first heard "Lemonade," that was it, it was donezo after that for any other music besides trap shit. When I heard Writing On the Wall, I went back and listened to Gucci's whole discography, and from there I only listened to trap shit. Gucci and Max B are definitely some of the most influential artists on this generation. Max B is to the East Coast what Gucci Mane is to the South as far as A&R'ing and giving people wave.
I was listening to a whole lot of Max in high school. About two years after I got hip to Gucci, I got hip to Max in the trap house, really. That's what we used to trap to. I didn't really like it at first but that grew on me like a muthafucka and I only listened to Max for a long period of time.
I listen to beat tapes a lot of the time, too. Niggas like Toro y Moi influence my music, too. I listen to everything. It's not all about trap shit. It's just about making good music that feels good and sounds good.
My style's been compared to: I get a lot of cool comparisons, I really fuck with the people I've been compared to. People have said I sound like Wiz, Dom Kennedy, a mix of A$AP. I hear a lot of shit but I fuck with all those dudes. I listen to their music. Recently I heard Kid Cudi. I guess I can see that because I listened to him during my junior year of high school because I ended up going to school in the suburbs—it was either there or military school and that choice was easy. When I was out there, my new white friends put me on to Kid Cudi.
My standout records and/or moments to date have been: The best response I've been getting is for "No Bells," "Shoutout" and "Dum Dope." I got my own favorites and songs that are really special to me. "No Explanation" is really special to me, "Bonds" is really special to me.
As far as standout moments, the hometown show in Boston was bananas. That show sold out and people were still sneaking their way in the back door. The whole city came out, it was really crazy to me. I knew that I got love here but that was something special. The turning point with all this shit was probably SXSW. I realized a lot of this is tangible and can happen to anyone if you want it to. Drake playing my song at his birthday party was big, too. That really showed me that this whole thing is tangible and that I can do this shit.
My goal in Hip-Hop is: I want to make dope music for as long as I can. I want to take care of my sisters and my mom and dad for as I long as I can. I definitely want to give back to Fields Corner and the community centers where I grew up. When I was growing up, we didn't have shit in there so we went on different paths and fell into different things. Had we been more busy maybe we wouldn't be doing a lot of those things.
I'm going to be the next: I'm going to be the first Stizz. I can't really look up to anyone in hip-hop. I love a bunch of people's music, don't get me wrong, but I don't know them like that to say I look up to them. I don't really look up to anyone from where I stay at so I can't really look up to a rapper. I can only look up to myself and put those expectations on myself to be great.
Standouts: Suffolk County mixtape