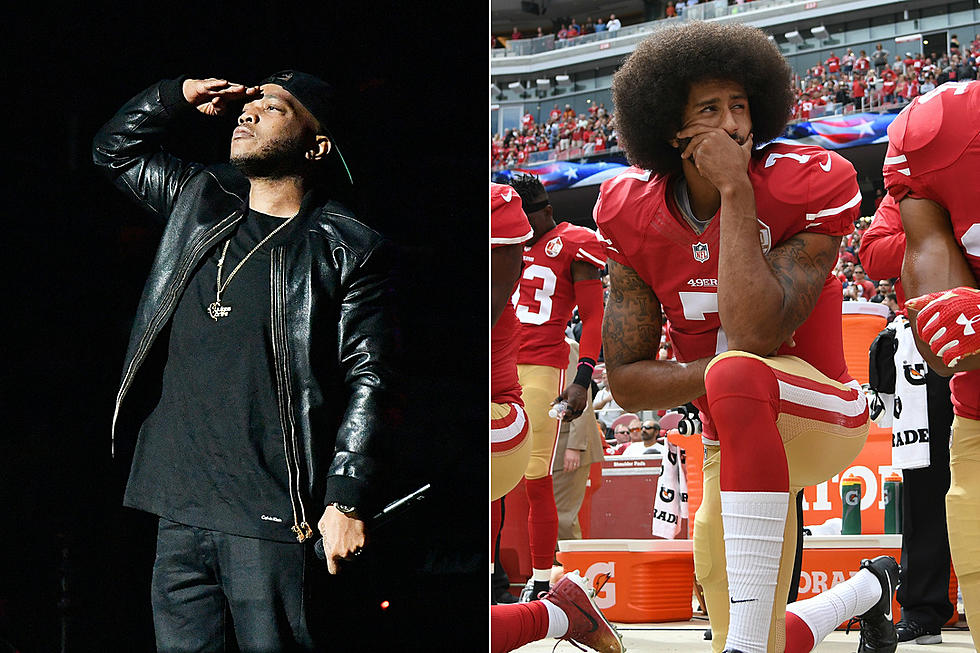 Styles P Supports Colin Kaepernick's Stance on the National Anthem
Larry French / Thearon W. Henderson, Getty Images (2)
Styles P fully supports San Francisco 49ers quarterback Colin Kaepernick's protest of the national anthem. Earlier today (Oct. 17), The L.O.X. member expressed his approval of Kaepernick's ongoing demonstration.
"I would think a lot more players would take the same stance as @Kaepernick7," Styles P wrote. "I salute that man for being a stand up guy and human being. Fuck the anthem."
Kaepernick has been protesting the anthem since the NFL preseason, which began with him sitting during the anthem. The quarterback's protest was spurred on by months of tragedy in which multiple black men were shot by police officers.
"I am not going to stand up to show pride in a flag for a country that oppresses black people and people of color," Kaepernick said of his protest. "To me, this is bigger than football and it would be selfish on my part to look the other way. There are bodies in the street and people getting paid leave and getting away with murder."
Kaepernick later switched to kneeling after having a conversation with former NFL player and military veteran Nate Boyer. Kaepernick deemed kneeling to be more respectful to the military while still getting his message across. Many other players around the NFL have joined the quarterback in his protest.
Although Kaepernick has received a lot of support for his actions, he has also dealt with many critics. One objecting opinion came from Fat Joe, who felt the protest was disrespectful.
"Having [thought] about it, I ain't with protesting the #NationalAnthem," Fat Joe wrote in a since-deleted tweet. "Soldiers died fighting 4 our freedom not cops. Why [disrespect] them?"
Fat Joe's opinion seems to be an outlier in the hip-hop community. J. Cole has worn a Kaepernick jersey during a performance, Chris Brown followed the NFL player's lead by protesting the anthem at a charity game and Vince Staples criticized the anthem and, saying he has never sung it in his life.
134 Rapper-Launched Record Labels From the Past and Present