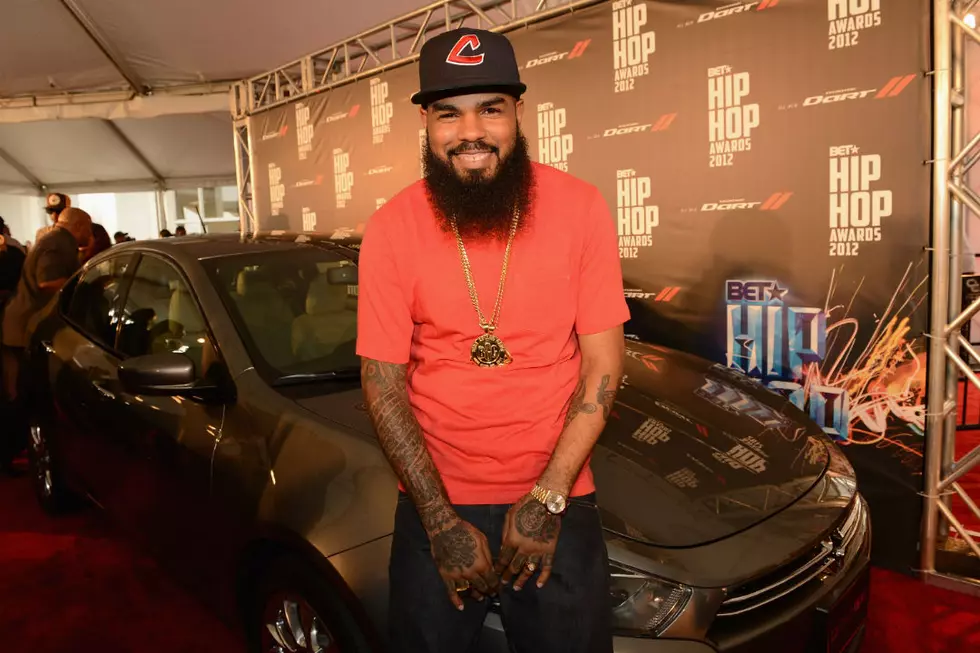 Stalley Wants People to Stop Sleeping on His Talent – Exclusive
Rick Diamond, Getty Images
Stalley is staking his claim in hip-hop with his latest mixtape, Saving Yusuf. Released in late January for digital download, the project has been well-received by hip-hop fans and critics alike -- just take a look in the Twitter streets.
"I really just wanted to put out a solid body of work to let people know I'm here and that I ain't going nowhere," says the 33-year-old rapper of the tape.
Titled after the prophet Yusuf, Stalley's new mixtape features 15 original cuts like "Midwest Hustler" and "Shooter" and production from the likes of Black Diamond, Block Beattaz, Rashad, FKi, J Bryce, RE and Ceez. With guest appearances from Ray Cash, Big K.R.I.T., Goldie and others, Stalley delivers a strong project that ranks among his critically-acclaimed mixtapes.
While still reppin' for the MMG brand, the Massillon, Ohio rapper's focus is to push his Blue Collar Gang label to new limits starting with Saving Yusuf. "I really want to help the people and artists that's been around me throughout my career," says Stalley of his BCG crew.
Currently on the road for his "From Me to You" tour, Stalley stopped by the XXL office during his New York stop to talk more in-depth about his Saving Yusuf mixtape, his plans for the BCG brand and gives an update on the Self Made 4 compilation.
XXL: Talk about the concept and the meaning behind Saving Yusuf?
Stalley: The title is inspired by the prophet Yusuf. What I really want people to do is kind of spend time reading and studying on the prophet and his story. But in short, Yusuf dealt with a lot of demons and a lot of evil, but at the end of the day he came out on top and that's what I feel like I've dealt with in the past and even in the last couple of years dealing with a lot. So that's really what it is, you know what I'm saying? Just me saving myself.
From start to finish, how long did Saving Yusuf take for you to record?
Oh man, it probably took me I would say from start to finish maybe two months.
Is this mixtape a warm-up release for your next full-length studio album?
I wanted to start off the new year right, so I got the "From Me to You" tour, but you know Saving Yusuf is a real kick starter for the new project. I'm getting back to what I do, you know? Making raw music, good music, music with lyrics and concepts. I just wanted this to be a good project from top to bottom for the fans and it's the same for the tour. It's about giving back to the fans and bringing back that energy that they know me for.
What do you think is the difference between this new mixtape, Saving Yusuf, and the mixtape you dropped last year?
I think last year's Laughing Introvert was a good introduction to this project. You know, both have been received with that critically-acclaimed stamp and there's been a lot of love for both mixtapes from the press, the media and of course, the fans. The reception has been overwhelming and it's lovely, so again, I just wanted to open back up the notebook and give the fans and the people who have supported me, just a piece of my life and just let them know what I've been going through the last few years.
The project features production from some familiar producers you've worked with in the past. What is it about Black Diamond, Block Beattaz and Rashad that makes you use them as frequent producers for your projects?
If anybody pays attention to the music that I've been putting out since Lincoln Way Nights, it's all been with a lot of the producers I work with. You know, Lincoln Way Nights was Rashad, Savage Journey to the American Dream was a lot of Block Beattaz. Honest Cowboy was Black Diamond and the Block Beattaz and some Rashad. Ohio, the album, was a mix of all three producers, so I really wanted to get those people who I have been developing a sound with and really put it on this project.
What do you want people to take away from this project?
Man... I want people to stop sleeping, just to keep it blunt. You know what I mean? I've been doing this for some time now and I've been consistent with it. I've been putting out great music and I really just wanted to put out a solid body of work to let people know I'm here and that I ain't going nowhere. It's time for y'all to really start recognizing the talent and it's been happening.
I see a lot of haters turning into fans and I see a lot of new fans coming that might've not been paying attention before and again, the fans that have been there since day one that are really satisfied with what I'm doing and that's really what this project is meant for, to give a piece of myself and open up to the fans and keep driving from there.
How did the artwork for the project come about?
It was King Vadar and I. Vadar is also one of the artists signed to my label as an artist, but he's also an amazing drawer/painter/artist and I told him what the title was and he was like, "Man, I got an idea," and he came back with the art featuring the beard and the hat and it just pretty much represents growth. The wood on the image represents that strong foundation and then the beard represents the growth and then the hat with the Blue Collar Gang logo is me and it's just me giving my heart to the fans.
What's the current situation with your label, BCG?
So that's what we're developing. This year my focus is on that as well. I have Black Diamond, he's under BCG. The Block Beattaz are also under BCG. I got King Vadar, we're about to release his single. It's called "Money Phone" and it's crazy! So just developing that and we got some other people that we're working with too like trying to make some situations right, but I really want to drive the Blue Collar Gang brand and the movement this year and I really want to help the people and artists that's been around me throughout my career.
MMG is MMG you know what I'm saying? Like that's another thing with Saving Yusuf I really wanted to step out my own and apart from that and really solidify myself. I feel like I've been under the thumb, you know under the shadows for too long. I feel like a lot of people see and I'm sure if you go online and see the comments a lot of people are always saying Stalley is overlooked. He's underrated. He's the best of MMG. So it comes across and it comes in through the comments.
Again, my fans deserve better than that and what they've been waiting for, and that's for me to really step out on my own and be that superstar. Be that artist that they want me to be so that's what I'm developing with the BCG brand and that's why I feel like it's the perfect time for me and for me to bring artists along with me. I've learned a lot being with Atlantic and MMG through the time, so I know the game a little bit now. I know what needs to happen and how we need to move so just ready for this year.
Can we expect another MMG compilation?
Yeah, Self Made 4. I believe it's on the way so that should be coming out soon but that's [Rick] Ross' call on when it drops.
You have the BCG merch too. What's next for the clothing brand of BCG?
We got the Blue Collar Gang hats. Those will be on the way and available online, but we've been selling them at the shows. I got a collaboration with Stance socks on the way. I got a New Era collaboration hat with the Cleveland Indians coming out very soon, so I'm excited. A lot of cool things on the way. The next thing we gonna work on is the sneaker...[laughs].
Listen to Stalley's Saving Yusuf Mixtape
See 40 Hip-Hop Albums Turning 20 in 2016